Details

Hits: 3783
WWII veterans share with students

FIRST-HAND KNOWLEDGE — Bud Shurson, second from right, visits with family members and NRHEG students during a recent breakfast at the high school. Also pictured: Dennis Dinneen, Brooklyn Hullett, Emmablu Jameson, Ellarose Jameson, Georgia Dinneen, Phyllis Shurson. Bud Shurson and Richard Crumb spoke at the 2016 Veterans Day program and to students in an NRHEG classroom. (Photo by Maci Surat)
By DEB BENTLY
Contributing Writer
The students are curious: What's war like?
The two World War II veterans aren't sure they have the answer. They can't speak to "war" as a whole, only to the parts of it they knew.
A different question then, "Is war hell?"
This one, Bud Shurson, a 94-year-old former B-17 gunner, can answer without hesitation: "Yes." Watching his face, his eyes, as he considers the question, one can nearly see the moments he has already described. A sky full of B-17 bombers flying nearly wing to wing. Constant engine noise, the wind through the openings in his gunnery bay. The chance that an enemy fighter plane might appear out of the sky at any moment and begin firing.
He has described how his plane flew at 25,000 feet, so he never saw the bombs from his own plane as they struck the targets below. But that does not mean he could ignore the consequences. "Those were people, and it was our job to kill them." 
Details

Hits: 4083
Team opens season Saturday vs. Harvard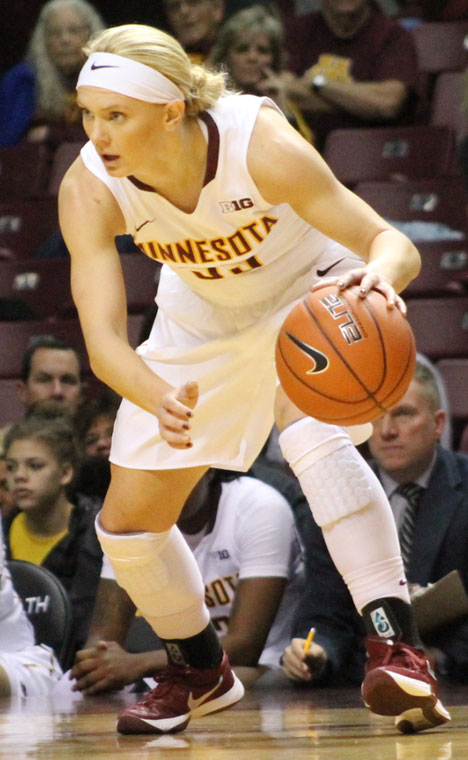 HOMETOWN HERO — Carlie Wagner again hopes to give NRHEG fans plenty to cheer about in her junior season at the University of Minnesota. (Star Eagle photo by Jim Lutgens)
By JIM LUTGENS
Editor/Publisher
Last season, Carlie Wagner was content to contribute however possible and let Rachel Banham handle the bulk of the scoring for the University of Minnesota women's basketball team.
That won't happen this year.
Banham graduated, off to the WNBA as the Gophers' all-time scoring leader, leaving New Richland's hometown hero Wagner as the focal point on this year's team, which opens the 2016-17 season Saturday, Nov. 12 against Harvard. Tip-off is at 2 p.m. at Williams Arena in Minneapolis.
"Carlie will move into a leadership role," said Gophers coach Marlene Stollings. "I love the fact she's gotten so much experience. Carlie has been able to excel in her position with all the speed and talent that surrounds her on the perimeter."
Details

Hits: 3444
Panthers advance in playoffs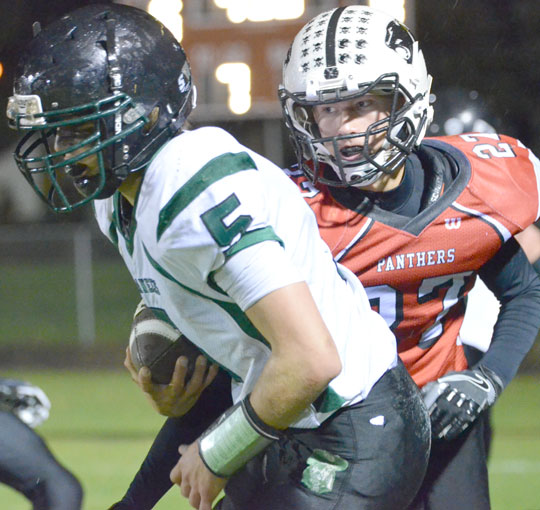 The Panthers' Brady Agrimson (27) prepares to tackle Taylor Glende of WEM during Section 2AA quarterfinal football action at New Richland in a game that started Tuesday, Oct. 25 but was not concluded until Wednesday because of lightning. The Panthers, who led 6-0 when the game was stopped, held on for a 6-0 victory — and a season sweep of WEM — and advanced to the section semifinals Monday at 7 p.m. at No. 2 seed Kenyon-Wanamingo. The Panthers lost 21-12 to KW, ending their season with a 7-3 record. (Star Eagle photo by Chris Schlaak)
Details

Hits: 3673
Sharing a spot of tea during the NRHEG Drama Club Day at NRHEG Elementary are Dalton Kraay, left, and Alexis Olson. For more on the drama club and other NRHEG school activities, see the Panther Press, Pages 8-10, in this week's Star Eagle.
Details

Hits: 2825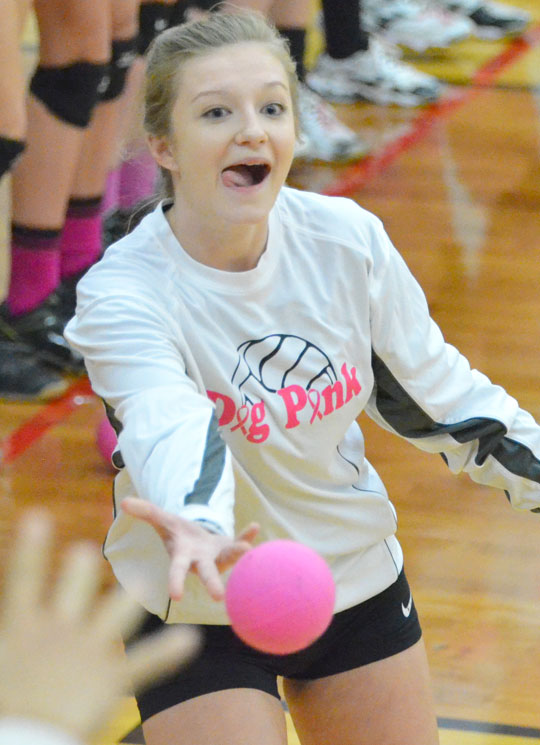 Junior Emily Crabtree of the NRHEG High School volleyball team tosses a ball into the crowd during the Panthers' Dig Pink night Thursday, Oct. 13 in New Richland. The Panthers defeated United South Central 3-1. (Star Eagle photo by Chris Schlaak)