Details

Hits: 2986
NRHEG girls return to Section 2AA title game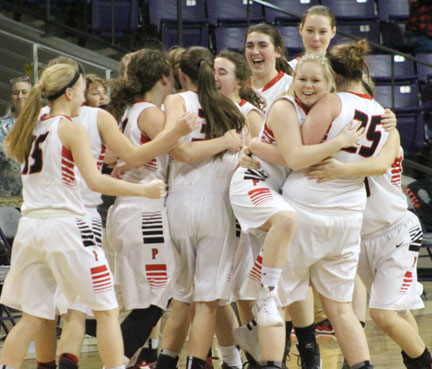 Members of the NRHEG girls' basketball team celebrate their 55-52 victory over top-seeded Waterville-Elysian-Morristown for the Section 2AA South Sub-Section championship at Minnesota State University-Mankato Monday, March 7. After a one-year hiatus, the Panthers are back in the Section 2AA title game and one win away from state, and face Norwood-Young America Friday, March 11 at 8 p.m. at MSU. (Star Eagle photo by Jim Lutgens)
Details

Hits: 2871
Fitterer takes silver medal at state
NRHEG High School senior Wyatt Fitterer celebrates a fall during this weekend's Minnesota State High School Wrestling Tournament at the Xcel Energy Center in St. Paul. Fitterer capped an outstanding season and career, finishing second in the state at 285 pounds in Class A. Read about it in sports. (Star Eagle photo by Nikki Erickson)
Details

Hits: 2553
Trinity Lutheran to host annual event
NEVER TOO MANY COOKS — From left, Gail Batt, Sharon Eckart, Norm Eckart and Larry Goehring perform a skit during last year's Groove 4 Food at Trinity Lutheran Church. (File photo)
The Area Food Shelf of New Richland will host Groove 4 Food at 1:30 p.m. Sunday, Feb. 28 at Trinity Lutheran Church, New Richland.
The event is the biggest fundraiser of the year for the food shelf, which invites area folks to enjoy master of ceremonies Al Batt, live entertainment and a live auction. Entertainment confirmed includes the musical group Just Friends, Josh Gegel, Mr. Jacob Bender, NRHEG band instructor.
Between sets of each group will be a live auction. Admission to Groove 4 Food is free, but everyone is encouraged to bring non-perishable food donations or cash to help the food shelf.
Details

Hits: 2756
Danny pops the question at Williams Arena
WHAT ELSE WOULD SHE SAY? — Danny Wagner gets on bended knee for his marriage proposal to Kristina Cole Monday, Feb. 15 during the University of Minnesota women's basketball game at Williams Arena in Minneapolis. (Photo by Pam Agrimson)
By JIM LUTGENS
Editor/Publisher
There was never really any mystery about whether Danny Wagner would finally ask Kristina Cole to be his bride.
The question was when, where, and how.
"I was expecting something kind of secluded," said Kristina.
"I had an opportunity to go big," explained Danny.
So, big it was.
On bended knee, Danny popped the question before thousands of spectators during the Gopher women's basketball game against Iowa at Williams Arena in Minneapolis Monday, Feb. 15.
She said yes, as the overhead scoreboard proclaimed.
Details

Hits: 2969
Peterson, Fitterer return to Xcel Energy Center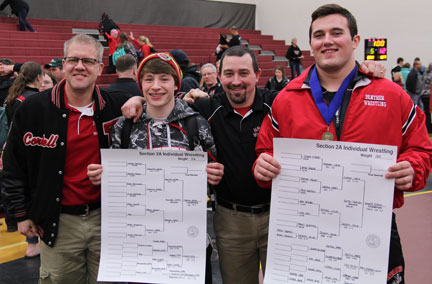 NRHEG High School seniors Cordell Peterson, second from left, and Wyatt Fitterer, right, pose for a photo with coaches Nathan Jensen and Shawn Larson at the conclusion of the Section 2A Individual Wrestling Tournament at Blue Earth Saturday, Feb. 20. Peterson was the section runner-up at 126 pounds and Fitterer was the champion at 285, advancing to this week's state tournament at the Xcel Energy Center in St. Paul. (Star Eagle photo by Nikki Erickson)