Details

Hits: 3429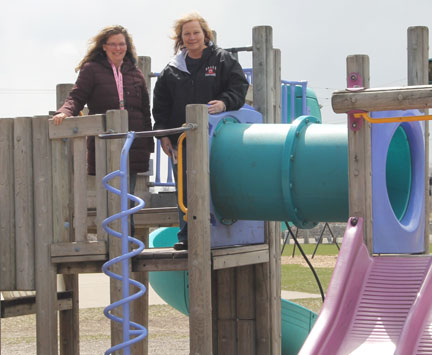 PLAYGROUND PLANS — Kim Routh and Beckie Johnson stand on some of the current playground equipment at NRHEG Elementary. (Star Eagle photo by Melanie Piltingsrud)
By MELANIE PILTINGSRUD
Contributing Writer
Early in the morning and during afternoon recess, 450 children gather in long lines at NRHEG Elementary School, waiting patiently for their turn on the playground equipment – much loved and dilapidated equipment that, 25 years ago, served only 250 children before the Ellendale-Geneva school merged with New Richland-Hartland.
Some of the sturdier equipment has been on the playground for at least 50 years and is still serving the children well, but now, the wooden playset in the middle of the playground stands crooked and is missing pieces that can no longer be acquired. Members of the Playground Committee call the wooden playground set "dangerous."
Details

Hits: 2892
Schultz nets milestone win
Coach Wendy Schultz and the NRHEG softball team pose for a photo after the Panthers defeated Blooming Prairie 9-2 Tuesday, April 12 in New Richland for Schultz's 200th career coaching victory. Front from left: Paige Knudson, Grace Johns, Torrie Stencel and Rachel Collins. Back: Kate Quam, Jayna Finseth, Natalie Aaseth, Kylie Arndt, Skylar Lembke, Wendy Schultz, Kayley Camerer, Jade Schultz, Anna Lundberg and Gabby Muri. (Star Eagle photo by Chris Schlaak)
Details

Hits: 3009
Panthers' run ends in section title game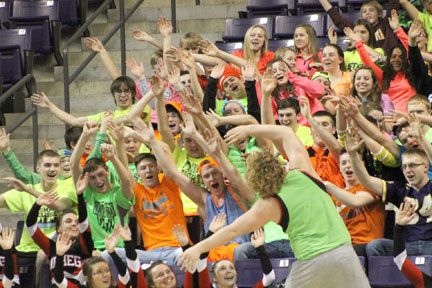 Jack Schultz leads Panther Nation in a cheer during the Section 2AA girls' basketball championship game between NRHEG and Norwood-Young America at Minnesota State-Mankato Friday, March 11. The Panthers gave it a good effort but came up short against the much taller Raiders, 67-56. (Star Eagle photo by Jim Lutgens)
Details

Hits: 3243
Benefit set for April 3
STILL ON THE JOB — A benefit is planned for April 3 for Dean Grubstad, left who along with his wife, Theresa, owns the Red Leaf Cafe in New Richland. Dean remains on the job despite his battles with a rare bone infection. (Star Eagle photo by Jessica Lutgens)
By JESSICA LUTGENS
Staff Writer
When Dean Grubstad started experiencing soreness last fall, he assumed it was whiplash from a past accident. He did not expect it to lead to a three-week, life-changing hospital stay — and he wasn't the only one who didn't see it coming.
It was around Thanksgiving of 2015 when Dean's symptoms surfaced. He went in to the doctor, who agreed that it was probably whiplash and put him on steroids. After three days, Dean began feeling better, but the fourth day was a different story.
"It was like I took a 180," said Grubstad, who owns the Red Leaf Café in New Richland along with his wife, Theresa. "I couldn't move my left arm, and I started having convulsions."
He and Theresa then went to the Owatonna hospital. He was admitted and treated for two days for what doctors had thought was pneumonia after x-rays showed a mass that appeared to be on Dean's lung. However, an MRI revealed that the fluid (mass) was actually located behind the lung, which changed things.
Details

Hits: 3129
NRHEG girls return to Section 2AA title game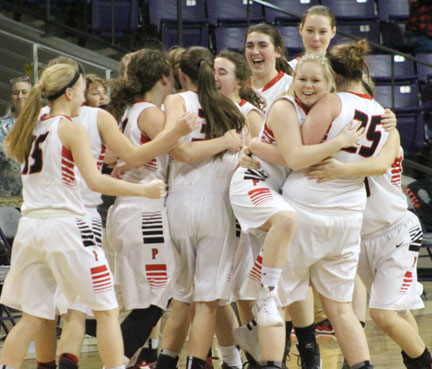 Members of the NRHEG girls' basketball team celebrate their 55-52 victory over top-seeded Waterville-Elysian-Morristown for the Section 2AA South Sub-Section championship at Minnesota State University-Mankato Monday, March 7. After a one-year hiatus, the Panthers are back in the Section 2AA title game and one win away from state, and face Norwood-Young America Friday, March 11 at 8 p.m. at MSU. (Star Eagle photo by Jim Lutgens)