Details

Hits: 13743
2nd annual 5K set for July 9

 THE SMILE — That's what will be remembered most about Preston Peterson by his parents, Tammy and Tom. Entry forms for the Press On For Preston 5K can be found on the Facebook page Preston Fund Memorial 5K Run/Walk. (Star Eagle photo by Jim Lutgens)
 By JIM LUTGENS
Editor/Publisher
Usually, Tammy Peterson is the parent who breaks down when thinking or talking about her late son, Preston.
Not this time.
It was the dad, the strong and stoic Tom Peterson, who got up from the table to compose himself as the Petersons talked about the second annual fun run/walk in Preston's honor, set for July 9 during New Richland's Farm and City Days. The Press On For Preston 5K begins at 8 a.m. at NR City Hall, where you can pick up entry forms.
Lyndsay Carlson, Abbey Holland and Cyndi Bartness, friends of the Peterson family, organized the first run last year to remember Preston and fund a memorial scholarship.
What does Tammy remember about Preston?
"His smile," she said. "Just his good-natured, kind attitude. He really was just so kind-hearted and loving."
Details

Hits: 4912
Teacher Recognition 2016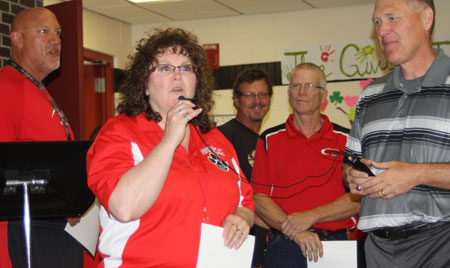 Staff members at NRHEG were recognized at the annual ceremony Friday, June 3. Above from left: John Schultz (30 years), Ann Howe (30 years), custodian Dan Bell (30 Years), Richard Ellerbusch (30 years), superintendent Dale Carlson. Below, retirees Chuck Crabtree (bus driver, 23 years), Marty Nelson (bus driver, 23 years), Sue Hill (lead cook, 25 years), Joanne Phillips (11 years) and Bonnie Jacobson (24 years); not pictured: Jill Schlaak (23 years). (Star Eagle photos by Eli Lutgens)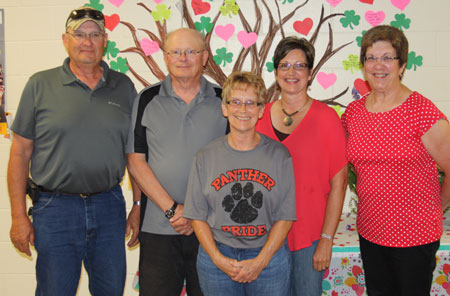 By ELI LUTGENS
Editorial Assistant
Staff members at NRHEG Schools were recognized during the annual Years of Service and Retirement Recognition program Friday, June 3 at the high school in New Richland.
After a reception, including slideshow and refreshments, Years of Service Awards were presented.
They were as follows:
• 5 years — Kari McNeil, teacher; Kelsey Pederson, teacher; Emily Schultz, paraprofessional; Mychelle Lynch, paraprofessional
• 10 years — Jenny Bunn, teacher; Diana Foster, teacher; Sara Ihrke, teacher; Clarice Clausen, paraprofessional
• 15 years — Beckie Johnson, custodian; Jim Steen, custodian; Michelle Thiele, community education
Details

Hits: 3414
Panthers fall despite Schultz no-hitter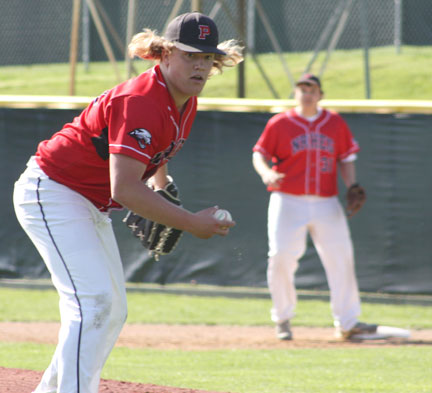 NRHEG's Jack Schultz, left, checks the baserunner at third before firing to Eli Lutgens for the out at first during Thursday's Section 2AA Baseball Tournament at St. James. The Panthers' season ended with a 2-1 loss despite a complete-game no-hitter for Schultz. (Star Eagle photo by Jim Lutgens)
Details

Hits: 6773
Class of 2016 graduates
Emotions ran the gamut as the NRHEG High School class of 2016 graduated Sunday, June 5. Here, graduates exchange congratulations outside the school following commencement. (Star Eagle photo by Chris Schlaak)
Details

Hits: 3137

NRHEG class of 2016 to graduate Sunday
By JIM LUTGENS
Editor/Publisher
A total of 63 students, many of whom have known each other since preschool, will gather as a group for the final time Sunday, June 5 at 2 p.m., as the New Richland-Hartland-Ellendale-Geneva High School class of 2016 graduates.
This year's Valedictorian is Jessica Nafe, daughter of Terry and Karen Nafe. She was NRHEG's homecoming queen last fall and is involved in almost everything. She plans to attend Bethel University with a major in organizational communications and a minor in Spanish. Nafe's favorite teacher was Mrs. Bently.
Her advice: "Don't be afraid to try new clubs and sports! You're only in high school once so make the most of it!"