Star Eagle office
Details

Hits: 165
Details

Hits: 827
NRHEG's favorite daughter ponders future after college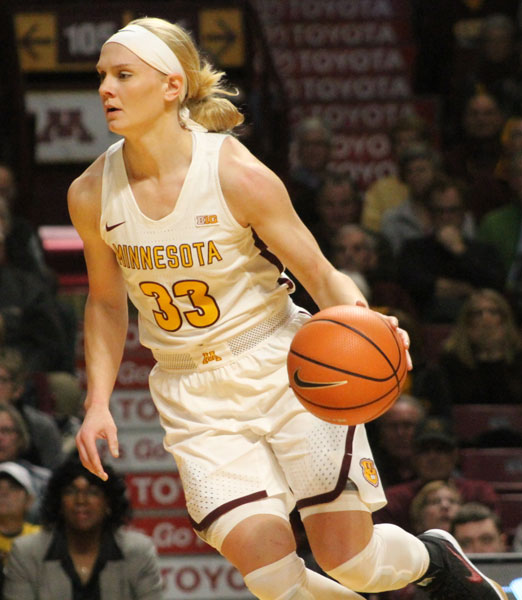 MOVING ON — After leading NRHEG High School to consecutive state titles and finishing No. 3 on the University of Minnesota's all-time scoring list, Carlie Wagner is pondering her future. (Star Eagle photo by Jim Lutgens)
By MARK DOMEIER
Contributing Writer
Carlie Wagner was known as the golden girl of NRHEG girls' basketball while in high school, helping lead the team to three straight state tournaments and back-to-back championships. She then became a Golden Gopher, excelling at the University of Minnesota and setting records for the women's basketball program in the process.
Now she has finished her college career and looks toward graduation and the future. Carlie was kind enough to take time to answer some questions for the Star-Eagle and reflect on her basketball career... so far.
Star-Eagle: So let's start by just sitting back and reflecting on your basketball career. Nine years ago, you made your varsity debut at NRHEG as an 8th grader. How did you feel at that age? Did you already have goals in place for your varsity career?
Wagner: Being an 8th grader playing varsity is scary at first just because of the age difference and level of maturity, so I was nervous being in 8th grade playing with all these girls that were quite a bit older than me. At that point in time, I didn't have goals in place for my high school career. I was just having fun and enjoying the game.
Star-Eagle: As you and the team got better and better, when did you really feel like this could be a state championship team? Did you even think about that before the playoff run your sophomore year, when you ended up finishing third at state?
Wagner: I think my whole high school career we always had a strong girls basketball program. It was the end of my freshman year when I knew we had something special going on. We were a very young team that was beating very solid teams, and well respected teams. At that point, I knew the next few years were going to be fun. So, going to state sophomore year wasn't a big surprise to me because I knew how good we were.
Details

Hits: 2768
WWII veteran Thompson to take Honor Flight
HE SERVED WITH PRIDE — Mitch Thompson, left, and his brother Mike, right, are very proud of their father Harold (seated), one of only 2,000 Minnesota WWII veterans remaining. This weekend, Harold Thompson will join approximately 170 veterans and their guardian volunteers for Honor Flight Twin Cities. (Star Eagle photo by Melanie Piltingsrud)
By MELANIE PILTINGSRUD
Contributing Writer
New Richland has the distinct honor of having Harold Thompson living in our community. One of only 2,000 Minnesota WWII veterans left, Thompson lied about his age when he was 17, claiming he was a year older, because he wanted to enlist in the army to be with his brothers, who were serving in New Guinea.
Thompson is a native to the area. He grew up in Hartland and went to high school in Freeborn until the school closed, and then graduated from New Richland-Hartland High School in 1943.
Now, back in New Richland, Thompson gets some well-deserved attention for the baseball cap he wears; it's covered with medals for his service in the army. A purple heart attests to the time he was wounded by a hand grenade. A bronze star is a reminder of the time he risked his life to save another soldier. Many more imitation medals decorate the hat, while the originals are kept in a glass case.
After Thompson enlisted, he was brought first to New Guinea. "I was the youngest one, so I had to run between the squads," said Thompson, "give them information, you know, from the third sergeant. That was dangerous."
Thompson estimates that he was in New Guinea for about half a year, after which he spent a year in the Philippines, where the myriad of close calls he experienced earned him the nickname "Damn Lucky to Be Alive." Thompson still has shrapnel in his neck and hand from the hand grenade that found its target while he and his fellow soldiers sheltered in a foxhole in the Philippines, eating Australian bully beef and other canned foods. "I was in the foxhole for 127 days," said Thompson. Thompson tried to walk to safety with wounds in his chest, neck and arms, but blood loss caused him to pass out. "And then they put him on a stretcher," said Mitch, Thompson's son, "and then they walked right through the Jap line, and they didn't shoot him. […] And then they got in an airplane, and when it was taking off, it crashed, so that's why they called him Damn Lucky."
Details

Hits: 752
Benefit Sunday for cancer-stricken NR resident Reese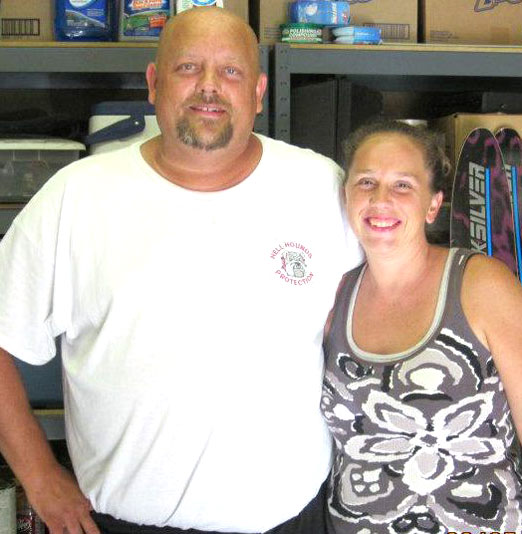 BETTER DAYS — Darrin Reese and his sister, Diana Weller, as they appear on his Facebook page.

By ELI LUTGENS
Contributing Writer
A benefit for Darrin Reese will be held on this Sunday, April 8, at New Richland City Hall. Donations will be sought to help cover medical bills associated with treatment. Breakfast will be served by the New Richland Lions Club. 
Reese has been an active volunteer in the community. For years, Darrin has volunteered with the Ellendale food shelf and has worked in the community helping anyone in need. It is now time for the NRHEG community to return the favor. 
Reese was diagnosed with Hodgkin's lymphoma on Feb. 28. This form of cancer is aggressive and has no cure. It is however, treatable. With six rounds of chemotherapy, every 28 days, he can go into remission. Currently in stage two, if the chemotherapy is successful, Reese could go into remission for anywhere from six months to 10 years. 
Details

Hits: 1885
1,000-point scorer Lundberg a man of many interests
IT DIDN'T GO TO HIS HEAD — Benji Lundberg is crowned NRHEG Homecoming King by high school pricipal David Bunn. (Star Eagle photo by Chris Schlaak)
By MELANIE PILTINGSRUD
Contributing Writer
The Panthers will be losing an outstanding basketball player, and the high school an outstanding student when Benji Lundberg graduates this spring.
Lundberg, who recently made his 1,000th point, plans to play basketball and major in accounting and business at Gustavus Adolphus in St. Peter this coming fall. Lundberg says that will be fun because one of the role models from his freshman year, Spencer Tollefson, will be a senior there next year. "He was a senior when I was a freshman in high school, so it'll be the same in college then," says Lundberg.
"They were really interested in me for basketball," says Lundberg of Gustavus Adolphus, listing some of the campus attractions. "I've been around the college a lot of times before because my brother and sister went there before me, and I know St. Peter really well. I know people who have gone there, and they said it was always really fun, and the visits I took were phenomenal. It's close to Mankato, and it's like an hour from the Cities, so it's in a good area."
Lundberg is saving up for a car to make those future trips to Mankato and Minneapolis. He currently works as a cashier at Casey's in Ellendale. "I enjoy getting to interact with lots of people and talk to them," he says. "And a lot of people that come through are regulars, so they sit or stand by the register and just talk to me for a while, and ask about how basketball was and how life's been, so it's fun."