Star Eagle office
Details

Hits: 3417
SBNR to match donations to NR Area Foundation
TEAMING UP — SBNR President Kristi Harrington, left, and NRAF coordinator Gail Schmidt hope to see the NRAF fund go up by the end of the year. (Star Eagle photo by Jim Lutgens)
By JIM LUTGENS
Editor/Publisher
It's that time of year again. No, not Christmas, although that's also on the agenda.
It's the time every year that the New Richland Area Foundation goes all out in its fund-raising efforts, and this year the State Bank of New Richland is proud to participate.
For every dollar donated from now through Dec. 31, the bank will provide a matching donation up to a total of $10,000.
"The bank is excited to initiate this end-of-the-year matching grant initiative," said SBNR President Kristi Harrington. "Gift to the foundation yet in 2016 and see your contribution go farther."
Details

Hits: 3467
 NRHEG grad a key member of college volleyball squad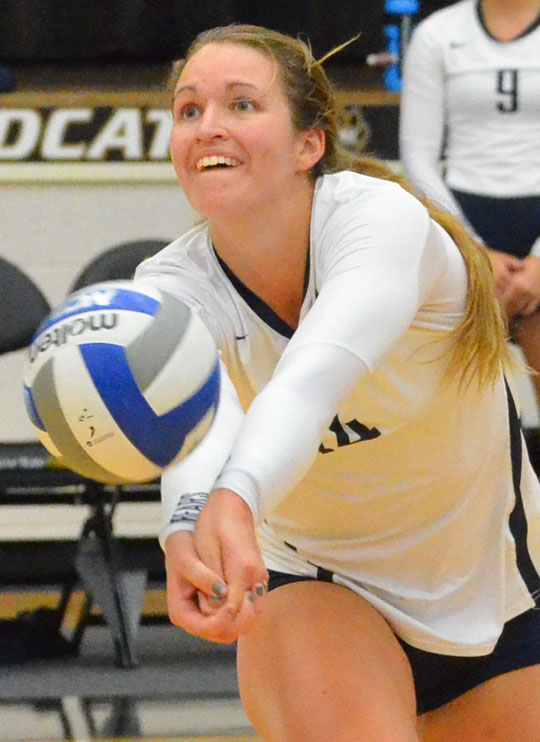 KEY PLAYER — NRHEG High School graduate Anna Schlaak has been a key member of the national powerhouse Concordia-St. Paul volleyball team, with more than 1,000 career kills and 1,000 digs. Her squad is in won its eighth national championship this past weekend as Schlaak was named the tournament's Most Outstanding Player. (Star Eagle photo by Chris Schlaak)
By JIM LUTGENS
Editor/Publisher
The only NRHEG graduate to make her hometown proud at the collegiate level does not play her home games at Williams Arena, and her sport is not basketball. She plays volleyball across the river, at Gangelhoff Arena, on the campus of Concordia-St. Paul, and her squad is on the brink of its eighth NCAA Division II national championship in the past 10 years.
Her name is Anna Schlaak.
Schlaak was a senior at NRHEG when she and Carlie Wagner played together at Gangelhoff Arena, where Wagner set a state tournament scoring record as the Panthers placed third in the girls' basketball state tournament. The Panthers, of course, went on to win two straight state championships and Wagner has been a standout with the Minnesota Gophers.
Details

Hits: 3099
Band culminates marching season with indoor show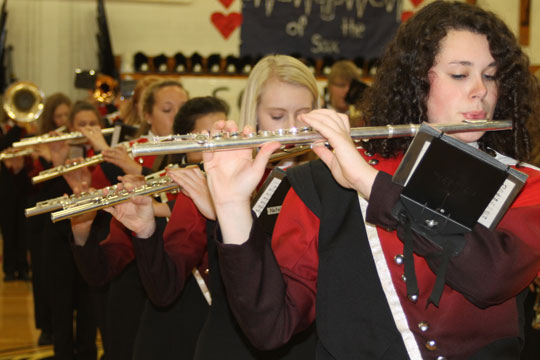 FAMILIAR ROUTINE — Jill Jongbloedt and the flute section perform during the 2016 Indoor Marching Band Concert Tuesday, Nov. 22. (Photo by Deb Bently)
By DEB BENTLY
Contributing Writer
The NRHEG Marching Panthers closed the 2016 marching season last Monday and Tuesday evenings in front of near-capacity crowds at the annual Indoor Marching Band Concert in the high school gym.
Excitement and a bit of nostalgia were the order of the evening as students culminated the season which began last spring and carried through the summer, performing the year's routine, "The Sound of Music," together for the last time. The concert's theme was "Sounds of the '60s."
An especially awaited feature of the Tuesday evening performance was the announcement of band members who have been chosen for season-long awards, and to occupy leadership positions beginning next spring. Retiring senior drum major Kallie Spooner was named "Panther of the Year," freshman Jayna Domeier was named "Rookie of the Year."  Devin Buendorf received the "Most Improved Drumline Member" title, while Autumn Thompson took "most improved" honors among the wind sections. Emma Tollefson and Taytum Ihrke were announced as next year's color guard captains, and Jayna Finseth as the new junior drum major. Kyra Possin will advance to senior drum major.
Details

Hits: 4010
WWII veterans share with students

FIRST-HAND KNOWLEDGE — Bud Shurson, second from right, visits with family members and NRHEG students during a recent breakfast at the high school. Also pictured: Dennis Dinneen, Brooklyn Hullett, Emmablu Jameson, Ellarose Jameson, Georgia Dinneen, Phyllis Shurson. Bud Shurson and Richard Crumb spoke at the 2016 Veterans Day program and to students in an NRHEG classroom. (Photo by Maci Surat)
By DEB BENTLY
Contributing Writer
The students are curious: What's war like?
The two World War II veterans aren't sure they have the answer. They can't speak to "war" as a whole, only to the parts of it they knew.
A different question then, "Is war hell?"
This one, Bud Shurson, a 94-year-old former B-17 gunner, can answer without hesitation: "Yes." Watching his face, his eyes, as he considers the question, one can nearly see the moments he has already described. A sky full of B-17 bombers flying nearly wing to wing. Constant engine noise, the wind through the openings in his gunnery bay. The chance that an enemy fighter plane might appear out of the sky at any moment and begin firing.
He has described how his plane flew at 25,000 feet, so he never saw the bombs from his own plane as they struck the targets below. But that does not mean he could ignore the consequences. "Those were people, and it was our job to kill them." 
Details

Hits: 4263
Team opens season Saturday vs. Harvard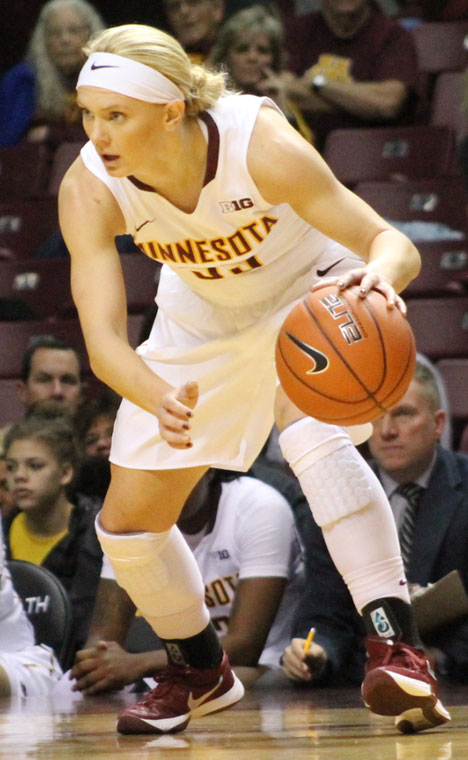 HOMETOWN HERO — Carlie Wagner again hopes to give NRHEG fans plenty to cheer about in her junior season at the University of Minnesota. (Star Eagle photo by Jim Lutgens)
By JIM LUTGENS
Editor/Publisher
Last season, Carlie Wagner was content to contribute however possible and let Rachel Banham handle the bulk of the scoring for the University of Minnesota women's basketball team.
That won't happen this year.
Banham graduated, off to the WNBA as the Gophers' all-time scoring leader, leaving New Richland's hometown hero Wagner as the focal point on this year's team, which opens the 2016-17 season Saturday, Nov. 12 against Harvard. Tip-off is at 2 p.m. at Williams Arena in Minneapolis.
"Carlie will move into a leadership role," said Gophers coach Marlene Stollings. "I love the fact she's gotten so much experience. Carlie has been able to excel in her position with all the speed and talent that surrounds her on the perimeter."