Star Eagle office
Details

Hits: 2595
Benji, Makenzi are 2017 Homecoming royalty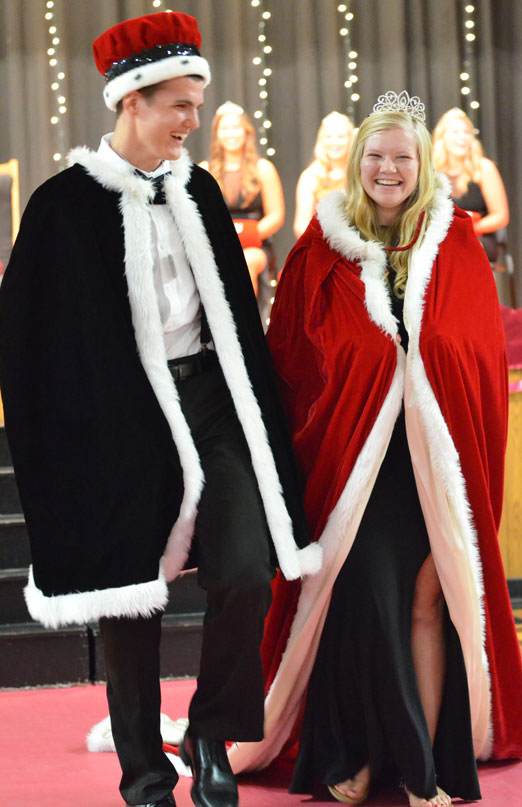 Benji Lundberg, left, and Makenzi Rhoades were crowned 2017 NRHEG Homecoming King and Queen, respectively, during coronation Sunday night in the high school gymnasium in New Richland. The Panthers face GFW in the Homecoming football game Friday at 7 p.m. For more on Homecoming past and present, see Pages 6-7 of the Sept. 21 edition of the Star Eagle. (Star Eagle photo by Chris Schlaak)
Details

Hits: 2959
Coronation set for 7 p.m. at NRHEG High School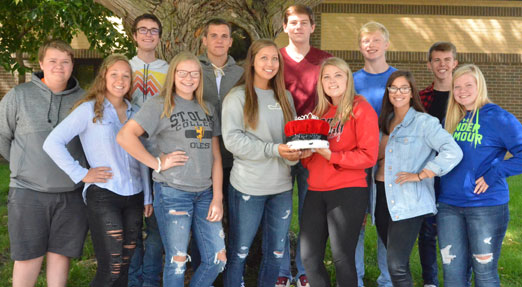 WHO WILL REIGN? — Homecoming queen and king candidates for 2017 at NRHEG High School. Front from left: Emily Prigge, Lillian Bell, Tali Wayne, Taytum Ihrke, Natalia Galindo and Makenzi Rhoades. Back from left: Cole Broitzman, Landon Johnson, Benji Lundberg, Jerret Utpadel, Perry Peterson and Ben Lewer. (Star Eagle photo by Chris Schlaak)
By JIM LUTGENS
Editor/Publisher
Homecoming week 2017 at NRHEG High School kicks off Sunday, Sept. 17 when the queen and king are crowned. Coronation is set for 7 p.m. in the high school gymnasium in New Richland.
The royalty will be crowned — based on a vote of the grade 9-12 student body — and will reign over Homecoming week.
This year's candidates, based on vote by their classmates, are:
Queen
• Lillian Bell, daughter of Angela and Alex Bell
• Natalia Galindo, daughter of Ann Arvarez
• Taytum Ihrke, daughter of Amy and Mike Ihrke
• Emily Prigge, daughter of Terry and Carey Prigge
• Makenzi Rhoades, daughter of Shannon Rhoades and Daniel Rhoades
• Tali Wayne, daughter of Kari and Tom Wayne
Details

Hits: 3096
Longtime teacher retires from NRHEG

FAREWELL TO NRHEG — LaDona Flowers, left, listens as superintendent Dale Carlson reads a plaque given in her honor after 42 years of teaching at NRHEG during staff recognition day. (Star Eagle photo by Aloni Duncan)
By MELANIE PILTINGSRUD
Contributing Writer
After teaching for one year in Austin, TX, and at NRHEG for 42 years, LaDona Flowers is retiring. 
Flowers has taught a broad range of classes over the course of her career. She has taught 7th and 8th-grade Family and Consumer Science classes, Succeed on Your Own, Internet Investing, Culinary Arts, International Cuisine, Sport and Foods, Food Science, Child Development, Future Parenting, Housing/Interior Design, Pinterest Projects, and Relationships/Self Defense.
Flowers says that one of the most humbling experiences of her career was when Bethany Otto Mikesell requested that her mother Emily Otto nominate her as the 1999 NRHEG Teacher of the Year. Flowers says, "After submitting a portfolio to Education Minnesota, I was recognized as one of the 20 Minn. Teachers of Excellence. It was indeed an honor to represent the NRHEG teachers at the recognition banquet where all of the teachers in the state are honored."
Another highlight of Flowers' career occurred during her internship: "While working on my Specialist of Education Degree in Curriculum and Instruction, I conducted seminars for an import/export company in Shanghai, China.
Flowers also considered it a privilege to be able to work with three student teachers throughout her career.
Flowers knows how to get involved in the community for a good cause, too. "To celebrate the Bicentennial, an FHA Rock-A-Thon was organized," she explains. "The FHA members and I rocked in rocking chairs for 24 hrs. to raise funds for the future baseball field. Tracy Loken, organized another major FHA/FLA fundraiser for the March of Dimes."
Details

Hits: 3137
Dobberstein thoroughly enjoyed
four decades of teaching at NRHEG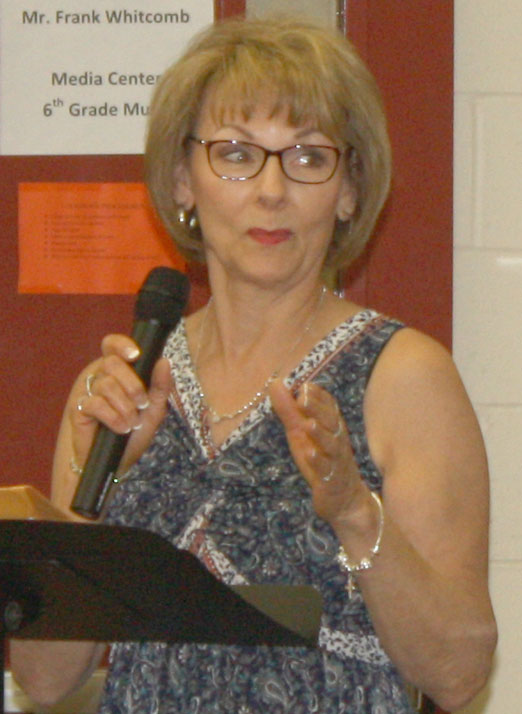 SWEET GOODBYE — Marilyn Dobberstein addresses those gathered at NRHEG's Staff Appreciation day. (Star Eagle photo by Aloni Duncan)
By MELANIE PILTINGSRUD
Contributing Writer
Marilyn Dobberstein, who grew up in Ellendale, Minn., is retiring having taught for 40 years in the local school district.
Dobberstein taught Home Economics, which is now called Family and Consumer Science, to 7th–12th grade students. "I went into teaching because I loved all of the aspects of Home Ec.," says Dobberstein. "I loved to sew, cook, etc., and I wanted to make a difference in children's lives. I had an awesome Home Ec. teacher in high school and she really encouraged me to pursue my degree in education.
"My first job was in Lanesboro, Minn.," Dobberstein continues. "I taught there for one year. The last eight years I have been in NRHEG and USC serving as Community Ed. Director."
After many years of teaching 7th–12th grade students, Dobberstein's job transitioned into teaching 7th- 8th grade students when her school combined with the New Richland-Hartland School district. "I gained the Community Education Director position when the elementary principal left our district," says Dobberstein. "ECFE was then being developed in the state of Minnesota, so I implemented that into our district. I also taught Parent Education in the evenings along with my full time job. I have enjoyed teaching a variety of Community Education classes throughout the years.
Details

Hits: 3553
Farm & City Days 2017

LEADING THE PARADE — 2017 New Richland Farm and City Days parade grand marshals Mary Ebnet and Rick Schultz. (Star Eagle photo by Melanie Piltingsrud)
By MELANIE PILTINGSRUD
Contributing Writer
Jim Kozan, in his usual inimitable style, announced the two grand marshals of Farm and City Days at the Fire Hall Pancake Breakfast on July 8. Rick Schultz and Mary Ebnet were both completely surprised to be chosen as this year's grand marshals.
"I was so happy for you, I didn't even hear my name!" said Ebnet to Schultz after the two shook hands with numerous people following the announcement.
Both Ebnet and Schultz are native New Richland residents. Schultz grew up on a farm west of New Richland, and now continues to live there with his wife, Jackie. The two have one daughter, Hallie. Ebnet grew up on a farm, too, but she and her husband, Lavoy, have lived in town now for 14 years. Her husband helps Schultz with his farming. Lavoy and Mary have four children, Carmen, Vyanna, Rob, and Michael.
Besides farming, Schultz is involved in the Dekalb Asgrow dealership, and is president of the NRHEG School Board. He also organizes bus trips to the University of Minnesota, so that anyone who wants to can see Carlie Wagner play basketball. He said, "I'd just like to thank the community. We've got such a great support group here as far as if you ever need anything. We're very fortunate to have support for the school district, and all the other areas of interest here. It's a great community. I wouldn't want to live anywhere else."