Star Eagle office
Details

Hits: 4304
Panthers nip Jordan for section title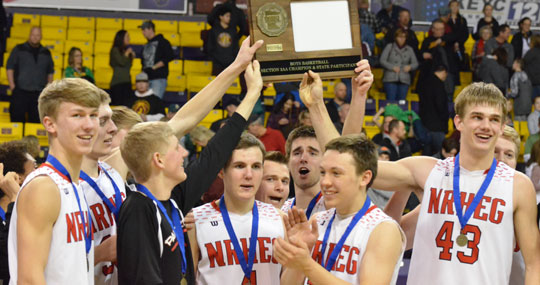 Members of the NRHEG boys' basketball team celebrate winning the Section 2AA championship for the first time in school history Friday night at Minnesota State-Mankato with a 65-64 victory over Jordan. The Panthers, unseeded at state, play Wednesday at 6 p.m. against No. 2 seed St. Cloud Cathedral in the opening round at Williams Arena in Minneapolis. If they win, they play Friday at 8 p.m. at Target Center. If they lose, they play Thursday at 8 p.m. at Concordia University of St. Paul. (Star Eagle photo by Chris Schlaak)
Finally.
After coming so close so many times, the hopes, dreams and aspirations of NRHEG boys' basketball have been fulfilled.
The Panthers advanced to state, defeating Jordan 65-64 in an exhilarating Section 2AA final Friday night at Minnesota State-Mankato.
"This was a great high school basketball game between two evenly matched teams," said Panthers coach Pat Churchill.
That was apparent from the outset. NRHEG led most of the way, but every time they tried to break it open, the Hubmen were there to answer.
Sam Prigge was hot early for the Panthers, hitting a pair of baskets and providing a spark plug as NRHEG opened a 9-5 lead at about the 13-minute mark.
Details

Hits: 4836
Girls upset Norwood-Young America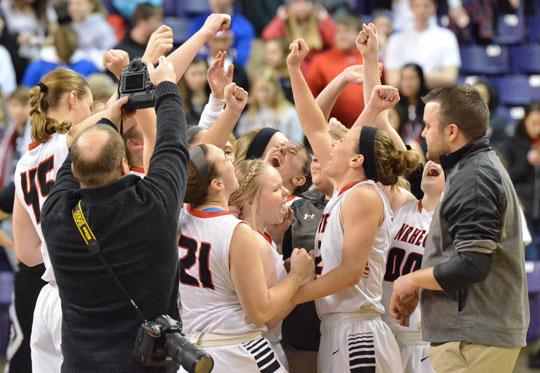 Members of the NRHEG girls' basketball team celebrate their 53-45 victory over Norwood-Young America Friday, March 10 at Minnesota Stat-Mankato, winning their first Section 2AA championship in three years and advancing to the state tournament for the fifth time in school history. (Star Eagle photo by Chris Schlaak)
By JIM LUTGENS
Editor/Publisher
The Panthers are back.
After a three-year hiatus from the state girls' basketball tournament, the Panthers earned a return trip with a 53-48 upset of No. 2 rated Norwood-Young America in the Section 2AA finals at Minnesota-State Mankato Friday, March 10.
It's the Panthers' first trip to state since 2014, when Carlie Wagner graduated and took her talents to the University of Minnesota. Overall, the Panthers have been to state five times, placing first twice, third and winning the consolation championship in 2004.
NRHEG improved its overall record to 25-5 while handing the Raiders only their second loss of the season.
The Panthers will take an 18-game winning streak to state, their last loss coming on Jan. 7 at Hayfield.
Details

Hits: 6027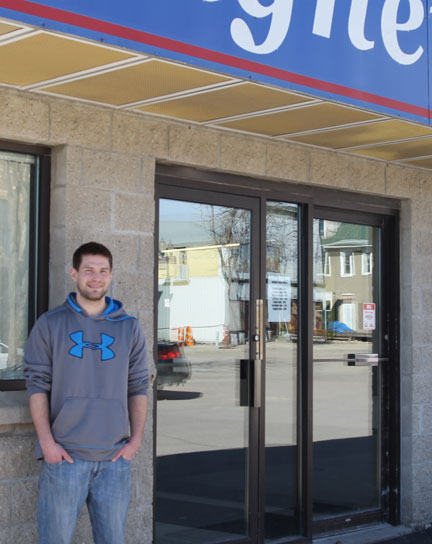 HE LIVES HERE – Wagner Foods' new owner Mitch Heimer is no stranger to locals, since he's been managing the store for over two years, while living in New Richland and attending MSU in Mankato. (Star Eagle photo by Jessica Lutgens)
By JESSICA LUTGENS
Staff Writer
Wagner Foods has changed hands, and its new owner, Mitch Heimer, is no stranger to the business. 
In his hometown of Adams, MN, Heimer's dad owned a grocery store that he purchased from Dan Wagner—father of the now former owner of Wagner Foods, Pete Wagner. 
For the past two and a half years, Heimer has been managing New Richland's grocery store while attending college at Minnesota State University, Mankato. During his senior year of college, he was asked if he'd be interested in owning the store, as Wagner had purchased another store and was having difficulties managing two grocery stores. 
"I worked in the front and back of a grocery store before college, so I kind of knew the ropes before I arrived here," Heimer said. "But I've picked up a lot, and there's more to learn."
Details

Hits: 5010
Lucky landing brings plane down by Beaver Lake
By KATHY PAULSEN
Staff Writer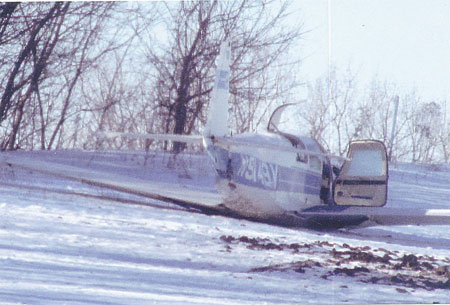 If you don't believe in God, guardian angels, miracles and fate you may think twice about the airplane crash that took place north of Beaver Lake on Thursday night, February 2.
Daniel Johnathan Bass, 39, who works in the area of metal fabrication, filed a flight plan and left the Duluth airport at 6:10 on Thursday night.  It is thought that he headed his single engine Mooney M20M airplane on a direct flight, south bound for home, to Winona.
Bass has experienced many hours of flying time, and once in the air it is thought that he had put his plane on automatic pilot.
Details

Hits: 4533
Geneva Cancer Auction

JUST AHEAD —Keith Hagen holds a sign made and donated by Kelly Simon for the 33rd Annual Geneva Cancer Auction, which wrapped up Saturday night at Geneva Bar & Grill. (Star Eagle photos by Kathy Paulsen)
By KATHY PAULSEN
Staff Writer
Many of us have read or heard the "Green Eggs and Ham" story.
This year, the Eagles Cancer organization took that same idea and put it on T-shirts: "I do not like cancer here or there, I do not like cancer anywhere."
This past weekend, several people helping with the 33rd Annual Geneva Cancer Auction proudly wore them.
Whitey Hagen welcomed everyone to Geneva Bar & Grill for the big event, which wrapped up two weekends of action Friday night and Saturday.
Whitey reiterated that the cancer auction was a super event to be involved with, and said the auctions were a lot of work and many local people put a lot of effort into donating items, especially all the home-baked goodies. Whitey said he and his wife, LaJune, really appreciate all the things everyone does to help and support the event each year. He especially appreciates all the people who turn out to take part or help with the many events.
"I know of nobody better to fight cancer than the people from our area," said Whitey.