Star Eagle office
Details

Hits: 4067
Hundreds of items up for bid on opening weekend

OPENING WEEKEND — Makenna Jacobs gets her hair cut for a "Locks of Love" donation during the Geneva Cancer Auction last weekend. The auction concludes this weekend. Drop off items to donate at Geneva Bar & Grill. (Star Eagle photo by Kathy Paulsen)
By KATHY PAULSEN
Staff Writer
It has been more than 30 years since Whitey Hagen first helped raise money for cancer research. He caught a chicken one night after work at Wilson Foods in Albert Lea. He then sought donations for that chicken while at the bar and proceeded to donate the money to the Eagles Cancer Telethon.
The rest is history.
Several years later he and his wife, LaJune, along with Hank and Judy Thompson, organized the first Geneva Cancer Auction, and the auctions continue to provide a great mix of items that people will never find in department stores.
About 150 people registered for bidding numbers for the 33rd annual auction, which kicked off two weekends of action Friday, Jan. 13 at Geneva Bar and Grill. A total of 108 items were put up for bid on Friday night and 262 items on Saturday.
The action resumes Friday, Jan. 20 at 7 p.m. and again Saturday, Jan. 21 at 2 p.m.
Details

Hits: 3344
16-year New Richland fireman succeeds Mike Shurson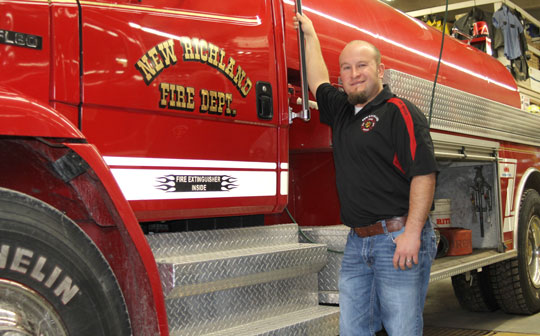 NEW LEADER — Josh Moen was voted New Richland Fire Chief at the department's organizational meeting Thursday, Jan. 5. (Star Eagle photo by Jim Lutgens)
By JIM LUTGENS
Editor/Publisher
Josh Moen was elected New Richland Fire Chief at the department's annual organizational meeting Thursday, Jan. 5. Moen, 31, succeeds Mike Shurson.
Also elected: Tyler Hansen, Assistant Chief; Shannon Young, Deputy Chief; Chad Neitzel, Captain; Adam Wacholz, 1st Lientenant; Brian Ziemke, 2nd Lieutenant; Tom Gislason, Secretary; Shurson, Gambling Manager. All terms are for one year.
The New Richland Fire Dept. has 25 members, all volunteer. Several, including Moen, serve as First Responders.
Moen, a 2004 graduate of NRHEG High School, has been a member of the New Richland Fire Dept. since December of 2005, having previously served as first lieutenant and assistant chief. He's looking forward to serving as chief.
Details

Hits: 3783
Panthers upend Maple River, win tourney

NRHEG senior Tyler Raimann (43) goes above the rim against Ethan Sindelir of Maple River during the finals of the Bethany Holiday Tournament at Mankato. The Panthers defeated Maple River 55-50 in the championship game, their first win over the Eagles in two years and first title at Bethany since 2009. (Star Eagle photo by Pam Agrimson)
Details

Hits: 3068
SBNR to match donations to NR Area Foundation
TEAMING UP — SBNR President Kristi Harrington, left, and NRAF coordinator Gail Schmidt hope to see the NRAF fund go up by the end of the year. (Star Eagle photo by Jim Lutgens)
By JIM LUTGENS
Editor/Publisher
It's that time of year again. No, not Christmas, although that's also on the agenda.
It's the time every year that the New Richland Area Foundation goes all out in its fund-raising efforts, and this year the State Bank of New Richland is proud to participate.
For every dollar donated from now through Dec. 31, the bank will provide a matching donation up to a total of $10,000.
"The bank is excited to initiate this end-of-the-year matching grant initiative," said SBNR President Kristi Harrington. "Gift to the foundation yet in 2016 and see your contribution go farther."
Details

Hits: 3125
 NRHEG grad a key member of college volleyball squad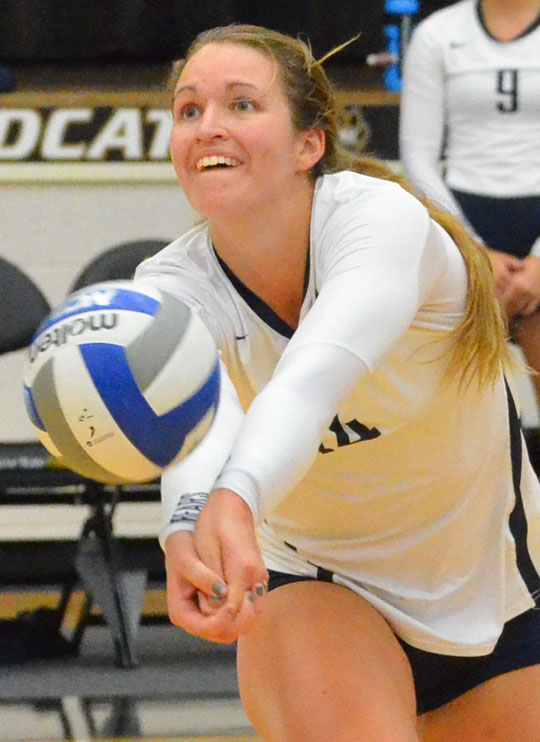 KEY PLAYER — NRHEG High School graduate Anna Schlaak has been a key member of the national powerhouse Concordia-St. Paul volleyball team, with more than 1,000 career kills and 1,000 digs. Her squad is in won its eighth national championship this past weekend as Schlaak was named the tournament's Most Outstanding Player. (Star Eagle photo by Chris Schlaak)
By JIM LUTGENS
Editor/Publisher
The only NRHEG graduate to make her hometown proud at the collegiate level does not play her home games at Williams Arena, and her sport is not basketball. She plays volleyball across the river, at Gangelhoff Arena, on the campus of Concordia-St. Paul, and her squad is on the brink of its eighth NCAA Division II national championship in the past 10 years.
Her name is Anna Schlaak.
Schlaak was a senior at NRHEG when she and Carlie Wagner played together at Gangelhoff Arena, where Wagner set a state tournament scoring record as the Panthers placed third in the girls' basketball state tournament. The Panthers, of course, went on to win two straight state championships and Wagner has been a standout with the Minnesota Gophers.