Star Eagle office
Details

Hits: 3387
2016 NRHEG Homecoming Coronation
Rachel Collins and Alex Blaschko were crowned Homecoming Queen and King Monday night in the NRHEG High School gymnasium. (Star Eagle photo by Chris Schlaak)
Details

Hits: 4589
Coronation set for Monday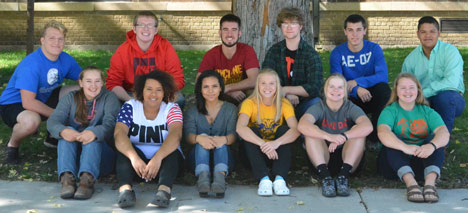 The 2016 NRHEG High School Homecoming court. Front from left: Lacey Nelson, Mercedes Dickerson, Cynthia Quezada, Rachel Collins, Grace Johns and Kallie Spooner. Back: Jack Schultz, Alex Blaschko, Chad Agrimson, Will Rudau, Josh Fleming and Luis Gaona. Coronation will be the Monday, Oct. 10 at 7:30 p.m. This year's homecoming game will be Friday, Oct. 14, against the Lake Crystal-Wellcome-Memorial Knights. The homecoming parade will be around 2:15 on the 14th. Dress-up days during the week will feature Minnesota Monday, Zoo Tuesday, Crazy Socks Wednesday, Dig Pink Thursday, and Panther Apparel Friday. (Star Eagle photo by Chris Schlaak)
Details

Hits: 4389
New Richland area deals with flooding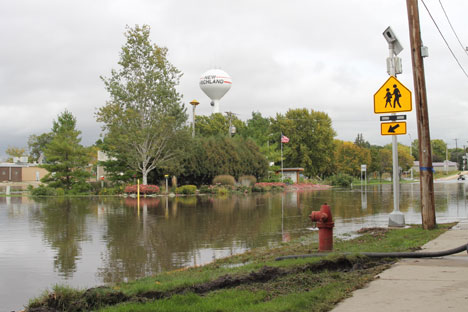 The scene on Hwy. 30 in front of NRHEG High School Thursday afternoon. The town and entire Southern Minnesota region have been busy sandbagging and cleaning up from Wednesday night's rainfall event, which had reported totals of between 4 and 13-plus inches. Roads in town were reopened Friday. The heavy rains came almost six years to the day that New Richland experienced a "100-year" rainfall. (Star Eagle photo by Jim Lutgens)
Details

Hits: 4281
Peterson leads Panthers past WEM

NRHEG's Perry Peterson (22) follows the block of Noah Sletten (24) on the way to one of his big plays in Friday night's football game against arch rival Waterville-Elysian-Morristown in New Richland. The Panthers scored a rare victory over the Bucs, 30-22, as Peterson ran for 262 yards and three touchdowns. (Star Eagle photo by Jim Lutgens)
Details

Hits: 6195
Historic water tower disassembled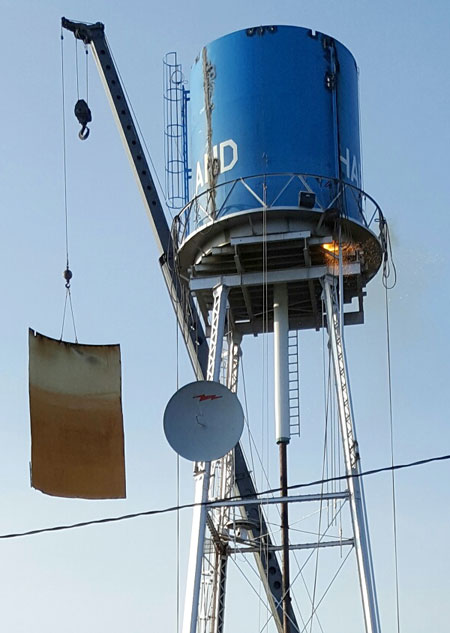 GOING, GOING, GONE — Workers needed only hours to disassemble Hartland's historic water tower as crowds of spectators gathered to watch. (Photo by Nancy Toot)
By RODNEY HATLE
Contributing Writer
Down and away in one day, the last in August.
The very old and old-fashioned Hartland water tower, centered in town for more than 100 years, has been replaced by the new model two blocks south.
The new so slim and winsome.
The old one once so handsome.
The original designed for one village.
The current designed for two towns exactly six miles apart, Hartland and Freeborn. Their combined population is about 600.