Star Eagle office
Details

Hits: 3695
Thompson keeps NRCC garden looking good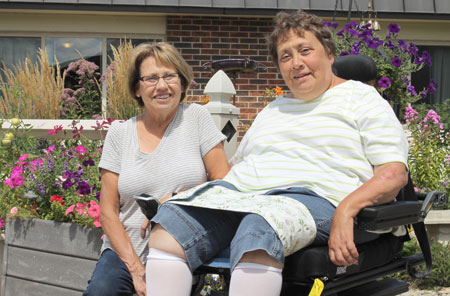 GROUP EFFORT — Barb Thompson, right, keeps the garden at New Richland Care Center colorful throughout the summer with the help of her sister, Julie Economy, a retired NRHEG school teacher. (Star Eagle photo by Jessica Lutgens)
By JESSICA LUTGENS
Staff Writer
The staff at New Richland Care Center is the main reason it has a reputation as one of the best senior living facilities around.
But there is also a resident doing her part to brighten the place.
Barb Thompson, with the help of others, keeps the garden at the care center healthy and blooming throughout the growing season for residents, visitors and staff to enjoy.
"If it's a droopy summer, bright zinnias never hurt," she said, beginning a tour of the garden.
Nestled between two outer walls on the back of the building, a concrete sidewalk leads to an open area with a large picnic shelter in the center. A white fence lines the garden's perimeter, guarding the various flowers, trees, bushes, herbs, vegetables, and other plants that grow behind it. The sidewalk continues through a small gate in the fence, circling the whole garden, with more plants on each side. Vibrant pink, purple, orange, red, gold, maroon, and green are everywhere you look, creating a beautiful, pleasant environment.
Details

Hits: 14046
2nd annual 5K set for July 9

 THE SMILE — That's what will be remembered most about Preston Peterson by his parents, Tammy and Tom. Entry forms for the Press On For Preston 5K can be found on the Facebook page Preston Fund Memorial 5K Run/Walk. (Star Eagle photo by Jim Lutgens)
 By JIM LUTGENS
Editor/Publisher
Usually, Tammy Peterson is the parent who breaks down when thinking or talking about her late son, Preston.
Not this time.
It was the dad, the strong and stoic Tom Peterson, who got up from the table to compose himself as the Petersons talked about the second annual fun run/walk in Preston's honor, set for July 9 during New Richland's Farm and City Days. The Press On For Preston 5K begins at 8 a.m. at NR City Hall, where you can pick up entry forms.
Lyndsay Carlson, Abbey Holland and Cyndi Bartness, friends of the Peterson family, organized the first run last year to remember Preston and fund a memorial scholarship.
What does Tammy remember about Preston?
"His smile," she said. "Just his good-natured, kind attitude. He really was just so kind-hearted and loving."
Details

Hits: 5319
Reunion held for Wayne Feder, town's first-ever cross country coach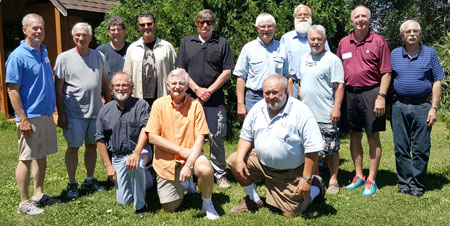 CARDINALS — Former New Richland-Hartland cross country runners with coach Wayne Feder. Front from left: Bruce Himmerich, Randy Meyer, Denny Prescher. Back: Dennis Byron, Mike Berg, Richard Swenson, Dave Lyndgaard, David Liane, Feder, Bob Yerhot, Greg Swenson, Dave Shurson, Bill Bartholmey. (Submitted photo)
By JIM LUTGENS
Editor/Publisher
There was a time, not all that long ago, when cross country in New Richland was thought of as the route you took to visit Disneyland.
Then Wayne Feder came along.
It was the fall of 1966 when Feder, a first-year teacher, convinced Superintendent G.T. Norswing to let him start a cross country program at New Richland-Hartland High School.
He created something special, obviously.
Feder's former runners — spearheaded by Denny Prescher — held a reunion to honor their coach and the 50th anniversary of the first-ever Cardinal cross country team on Saturday, July 9 at the NR Sportsmen's Club during Farm & City Days. They rode a float in the parade.
Feder, now retired and living in Blue Earth, was overwhelmed by it all.
Details

Hits: 6363
Farm & City Days 2016

 I KNOW THIS! — "Lawn Boy and his Weed Whippers" won the Family Feud competition in downtown New Richland Thursday, July 7. From left: Megan Manthey, Brenda Strenge, Katie Manthey, Laura Wenzel, Ethan Strenge. At right is Sydney Schultz. (Star Eagle photo by Jessica Lutgens)
By JIM LUTGENS
Editor/Publisher
Cherry Gun rocked, the Weed Whippers rolled, and the Town and Country Garden Club ruled.
That was the synopsis for 2016 New Richland Farm and City Days, which wrapped up four days of festivities on Sunday, July 10.
The Little Miss/Little Mr. Pageant was held Thursday night at NR City Hall. Winners were: Miss NR Colorful, Kynzlie Garza; Miss NR Thoughtful, Brynlee Neitzel; Miss NR Artist, Hazel Botten; Miss NR Considerate, Violette Botten; Miss NR Graceful, Izley Boerner. There were no misters.
The New Richland Lions Potato Bake/Root Beer Float event at city hall Friday evening was well attended.
For the second year in a row, Family Feud was the Friday night entertainment on Broadway Ave. in front of the Star Eagle office. The winning team was "Lawn Boy and his Weed Whippers," which included Ethan Strenge, Brenda Strenge, Megan Manthey, Laura Wenzel and Katie Manthey. Just for Kix dancers performed.
Details

Hits: 5029
Teacher Recognition 2016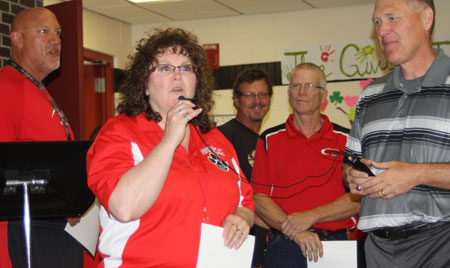 Staff members at NRHEG were recognized at the annual ceremony Friday, June 3. Above from left: John Schultz (30 years), Ann Howe (30 years), custodian Dan Bell (30 Years), Richard Ellerbusch (30 years), superintendent Dale Carlson. Below, retirees Chuck Crabtree (bus driver, 23 years), Marty Nelson (bus driver, 23 years), Sue Hill (lead cook, 25 years), Joanne Phillips (11 years) and Bonnie Jacobson (24 years); not pictured: Jill Schlaak (23 years). (Star Eagle photos by Eli Lutgens)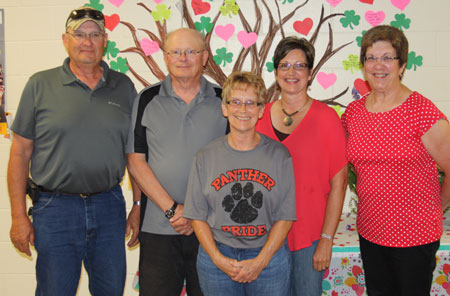 By ELI LUTGENS
Editorial Assistant
Staff members at NRHEG Schools were recognized during the annual Years of Service and Retirement Recognition program Friday, June 3 at the high school in New Richland.
After a reception, including slideshow and refreshments, Years of Service Awards were presented.
They were as follows:
• 5 years — Kari McNeil, teacher; Kelsey Pederson, teacher; Emily Schultz, paraprofessional; Mychelle Lynch, paraprofessional
• 10 years — Jenny Bunn, teacher; Diana Foster, teacher; Sara Ihrke, teacher; Clarice Clausen, paraprofessional
• 15 years — Beckie Johnson, custodian; Jim Steen, custodian; Michelle Thiele, community education