Star Eagle office
Details

Hits: 6040
Historic water tower disassembled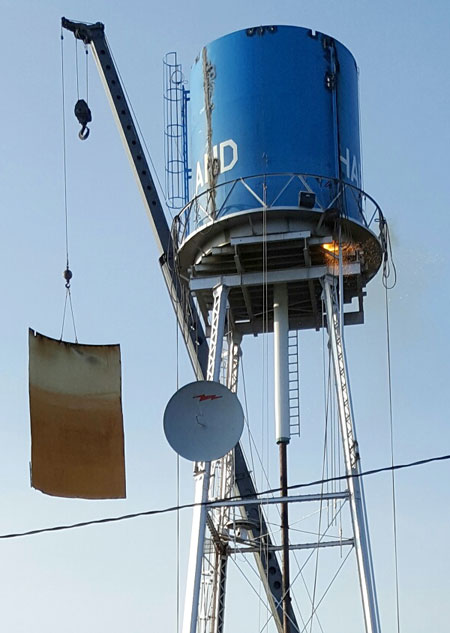 GOING, GOING, GONE — Workers needed only hours to disassemble Hartland's historic water tower as crowds of spectators gathered to watch. (Photo by Nancy Toot)
By RODNEY HATLE
Contributing Writer
Down and away in one day, the last in August.
The very old and old-fashioned Hartland water tower, centered in town for more than 100 years, has been replaced by the new model two blocks south.
The new so slim and winsome.
The old one once so handsome.
The original designed for one village.
The current designed for two towns exactly six miles apart, Hartland and Freeborn. Their combined population is about 600.
Details

Hits: 27121
Police Chief Eads dies in apparent suicide

Scott Eads in a 2007 Star Eagle file photo.
By JIM LUTGENS
Editor/Publisher
 Few details have been released regarding the death of New Richland Police Chief Scott Eads, who reportedly took his own life Monday evening in rural Freeborn County.
"With deep sorrow, I'm announcing the passing of my boss," wrote NR Patrolman Ryan Gehrke in a Tuesday press release. "Scott leaves behind his wife and two young children. I'm asking everyone to keep in their thoughts and prayers the Eads family and friends, the citizens of New Richland, the New Richland Police Dept., and all law enforcement as this death will have an impact on us all. Thank you and God bless."
Eads, originally from Mountain Lake, Minn., was hired in New Richland Oct. 1, 2000 as a patrolman. He was promoted to chief Aug. 17, 2007 when Brad Flor retired.
Eads did not show up for work Monday, according to NR Assistant City Clerk Sara Jo Vulcan. He was on the agenda for Monday night's city council meeting but did not show.
Details

Hits: 4892
Panthers humbled by Mayer Lutheran
NRHEG's Chad Agrimson (74) and Tyler Jacobson (4) combine to take down Mayer Lutheran quarterback Baden Noennig in the backfield during the first quarter of the football season opener Friday, Sept. 2 in New Richland. In the background at left is Agrimson's dad, Dale. The Panthers lost 36-13. (Star Eagle photo by Chris Schlaak)
Details

Hits: 4888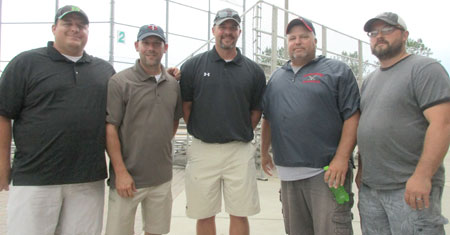 WELL WISHERS — Kyle Goslee, center, with former teammates Brody Richards, Ryan Glynn, Kevin Lindblad and Scott Klocek. (Star Eagle photo by Kathy Paulsen)
By KATHY PAULSEN
Staff Writer
Kyle Goslee was pretty much Mr. Everything in high school, starring in football, basketball and baseball at NRHEG.
Since then, he made his mark in another sport.
Goslee established himself as one of the best in the nation at fast-pitch softball, and in August he was honored as such by being named to the North American Fastpitch Association Hall of Fame during the NAFA World Series at Caswell Park in Mankato.
A 1996 graduate of NRHEG, Goslee got plenty of athletic support in high school from his parents, Keith and Marilyn, and sister Melanie. Keith passed in 2005. Marilyn remarried and she and Bob Jurrens live in Longville, Minn. Melanie, a CPA at Streaters in Albert Lea, is married to Scott Crabtree, a Minnesota State Trooper, and they live in Geneva with daughters Emily and Hanna.
Details

Hits: 3411
Hartland's Alice Miller turns 100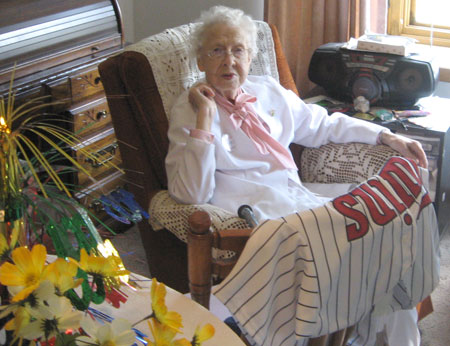 100 AND COUNTING — Alice Miller of Hartland with a Minnesota Twins jersey presented to her by the city in honor of her 100th birthday Monday, Aug. 22.
By JIM LUTGENS
Editor/Publisher
How does it feel to be 100 years old?
According to Alice Miller, not much different than 99.
Miller was asked the question Monday, Aug. 22, the day she reached the century mark, a day after a big birthday celebration at the community center in Hartland, where she was born, raised and still lives.
"There were so many people there," said Miller, who still retains her physical health and mental faculties. "I met so many people I hadn't seen for many years. A couple of them said, 'You're sharp as a tack.' I remember things pretty good. I'm just a little hard of hearing."
So, how does it feel to be 100?