Feature Stories from the Star Eagle pages.
Details

Hits: 42
NRHEG's AAA (Arts, Academics and Athletics) Award winners were honored before the NRHEG boys' basketball game Friday, Feb. 16 and posed for a picture with their parents. From left: Leon Schoenrock, Beth Schoenrock, Betsy Schoenrock, Ben Lewer, Sarah Lewer, Tim Lewer. (Star Eagle photo by Chris Schlaak)
Details

Hits: 425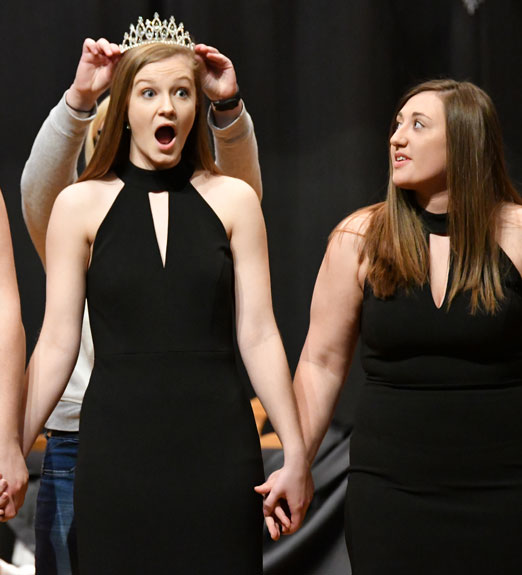 NRHEG High School Snow Week coronation was held Monday afternoon in the high school gymnasium in New Richland. Michelle Katzung looks on as Emily Crabtree is crowned Snow Week Queen. A talent show open to the public is set for Friday afternoon and Snow Week concludes with a semi-formal for students in grades 9-12 from 8-11 p.m. (Star Eagle photo by Chris Schlaak)
Details

Hits: 1212
NRHEG 2nd-grade teacher originally hails from Geneva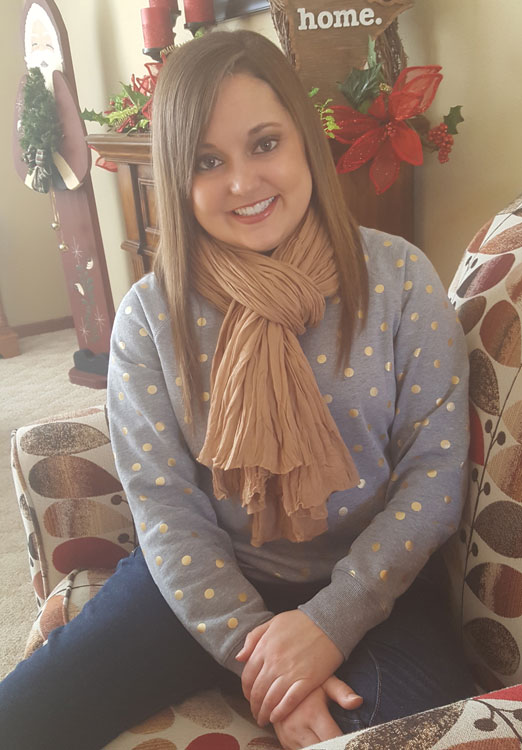 HOME AGAIN — New second-grade teacher Kiley Beenken is very happy to be living and working in the NRHEG school district.
By MELANIE PILTINGSRUD
Contributing Writer
Kiley Beenken, originally from Geneva, MN, is the new 2nd-grade elementary teacher at NRHEG this year. She graduated in May from Minnesota State University-Mankato with a bachelor's degree in Elementary Education (K-6) and a certificate in STEM education.
As someone who grew up in this area, Beenken is excited to have the opportunity to teach in her home district.
Beenken says she decided to go into teaching because she wanted to make a difference in students' lives. "I believe that helping to shape young lives is an absolute privilege," says Beenken. "Throughout my college career the most common question I was asked was "Why do you want to be a teacher?" For me, it was, and still is, a simple question to answer because teaching is my passion. My goal in life is to help all students become lifelong learners who will contribute positively to our society. Teaching is my tool which will allow me to help children soar in their academics and will also help me shape students into kind, caring, and respectable individuals."
Even though this is her first year of teaching, Beenken knows exactly what type of classroom she wants to have – a welcoming one that helps students grow academically and personally. "But I also want our classroom to have an environment that promotes equity, offers unconditional support, and makes children feel safe and appreciated," says Beenken. That's why the theme this year in her classroom is "Home." "The students know that it's not just 'My' classroom, it's 'Our' classroom. It's important for me that all students feel 'At Home' when they come into our classroom. I also want my students to feel that they always have a welcoming place to come learn in and express who they are as individuals. I want to help all of my students reach their full potential!"
Details

Hits: 1484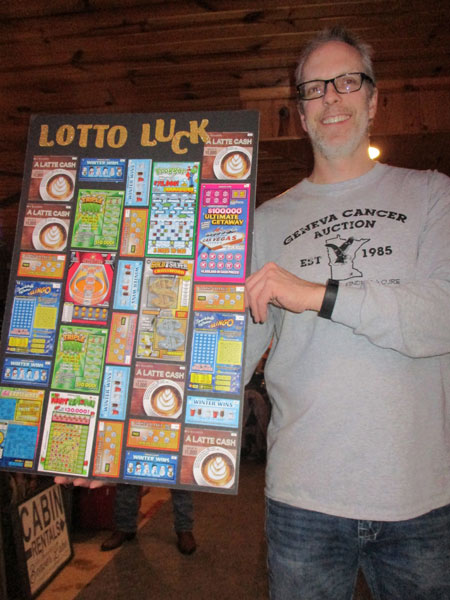 34TH ANNUAL GENEVA CANCER AUCTION — Keith Hagen holds the "Lotto Luck" scratch-off board that created and donated by Keith and Ruth Hagen. (Star Eagle photo by Kathy Paulsen)
By KATHY PAULSEN
Staff Writer
On Friday, Jan. 19, Whitey Hagen again welcomed everyone to the 34th Annual Geneva Cancer Auction.
"I appreciate all the years people have been coming to help fight cancer," said Hagen. "You all do a super job and I feel that we are going to show you a good time again tonight". 
Whitey went on to say that the farm and sports related portions of the cancer auction would be held on Saturday afternoon. He said that he was glad that people, including many local seed dealers, had stepped up and donated a number of items for that portion of the auction again this year.
He then said, "I hope you are ready to get started."
Again the first item up for bid was a quart jar of Vi Blazek's pickles that are now made by her daughter, Sue Hill. That was followed by the Geneva Cancer Auction's famous "stew maker," a bag of potatoes, a bag of onions, along with a pound of Hope butter. Next up was an oil change and grease job from Dave Syverson Ford, which Whitey explained have helped the local auction for a lot of years
A plate of peanut clusters made by Judy Christensen and donated in memory of LeRoy Christensen was also put up for bid and it was followed by many things ,including another subscription to the Star Eagle. Whitey thanked the Star Eagle for all the great coverage that they have given of all the cancer fundraising activities over the years.
Jamie Hagen then took over as auctioneer and asked everyone to thank his dad, DeWayne, and Hank Thompson for first getting the cancer fundraising event started back in 1985.
Details

Hits: 221
Editor's note: Looking Back is a weekly feature on the pages of the Star Eagle.
100 Years Back – 1917
• There are to be no Christmas programs at the school this year. This is due to the fact that the children are over-taxed at this time of the year and it is thought better to prepare an elaborate program for Washington's birthday.
• Albert Verplank lost a fine new milch cow one day last week. With butter bringing 49 cents a pound retail, the loss of a new milch cow is especially noticeable to the owner right now.
• Virnig's Pre-Inventory Sale: Monarch steel range, $78; Royal Seal range, $45; 18-in. Moore Hot Blast, $24.50; Royal Elmhurst hard coal heater, $68; Voss Swing Wringer wash machine $28; Swing Wringer power washer, $26; Short globe lanterns, 98c; Barn door latches, while they last, 35c; 5-gal. EZflow oil and gas cans, $1.35; No. 2 Lisk Roaster, $2.65; No. 3 Lisk Roaster, $2.85; Blue enamel tea kettles, $1.23; Galvanized baskets, 1 ½ bushels, 98c; Manila rope, 33c; Sisel rope, 24c; Harrisons House Paint, $2; 10% discount on all aluminum ware, silverware and cutlery—C. I. Virnig Hardware Co.
• A quiet wedding was solemnized at the German Lutheran parsonage when Miss Olga Possin of Gibbons and Lewis Reick of Otisco were united in marriage, the Rev. E. Schultz officiating. The groom is a prosperous young farmer with many friends in this vicinity and Otisco.
• Conditions in Russia are becoming intolerable and American Ambassador Francis is advising Americans to leave. Food supplies throughout Russia are becoming so scarce as to suggest an approaching famine.