Feature Stories from the Star Eagle pages.
Details

Hits: 2768
WWII veteran Thompson to take Honor Flight
HE SERVED WITH PRIDE — Mitch Thompson, left, and his brother Mike, right, are very proud of their father Harold (seated), one of only 2,000 Minnesota WWII veterans remaining. This weekend, Harold Thompson will join approximately 170 veterans and their guardian volunteers for Honor Flight Twin Cities. (Star Eagle photo by Melanie Piltingsrud)
By MELANIE PILTINGSRUD
Contributing Writer
New Richland has the distinct honor of having Harold Thompson living in our community. One of only 2,000 Minnesota WWII veterans left, Thompson lied about his age when he was 17, claiming he was a year older, because he wanted to enlist in the army to be with his brothers, who were serving in New Guinea.
Thompson is a native to the area. He grew up in Hartland and went to high school in Freeborn until the school closed, and then graduated from New Richland-Hartland High School in 1943.
Now, back in New Richland, Thompson gets some well-deserved attention for the baseball cap he wears; it's covered with medals for his service in the army. A purple heart attests to the time he was wounded by a hand grenade. A bronze star is a reminder of the time he risked his life to save another soldier. Many more imitation medals decorate the hat, while the originals are kept in a glass case.
After Thompson enlisted, he was brought first to New Guinea. "I was the youngest one, so I had to run between the squads," said Thompson, "give them information, you know, from the third sergeant. That was dangerous."
Thompson estimates that he was in New Guinea for about half a year, after which he spent a year in the Philippines, where the myriad of close calls he experienced earned him the nickname "Damn Lucky to Be Alive." Thompson still has shrapnel in his neck and hand from the hand grenade that found its target while he and his fellow soldiers sheltered in a foxhole in the Philippines, eating Australian bully beef and other canned foods. "I was in the foxhole for 127 days," said Thompson. Thompson tried to walk to safety with wounds in his chest, neck and arms, but blood loss caused him to pass out. "And then they put him on a stretcher," said Mitch, Thompson's son, "and then they walked right through the Jap line, and they didn't shoot him. […] And then they got in an airplane, and when it was taking off, it crashed, so that's why they called him Damn Lucky."
Details

Hits: 351
NRHEG Secondary School Principal David Bunn has announced the honor rolls for the second quarter of the 2017-2018 school year.
A HONOR ROLL
GRADE 12 – Lillian Bell, Kelly Harden, Kaleb Johnson, Benjamin Lewer, Benjamin Lundberg, Justin Mortensen, Sadie Mortenson, Hanna Olien, Aaron Olson, Nikita Peterson, Kyra Possin, Emily Prigge, Betsy Schoenrock, Solveig Stafford, Christopher Stenzel, Emma Tollefson
GRADE 11 – Alexis Anderson, Olivia Christopherson, Jayna Finseth, Caitlin Goette, Shaun Gullickson, Rachel Horejsi, Lexie Ignaszewski, Ellarose Jameson, Aubrey Johnson, Jazzlyn Johnson, Caitlyn Nelson, Hailey Stenzel, Kallie Thompson
GRADE 10 - Alexandra Combs, Jayna Domeier, Evan Fell, Agro Gushwa, Emmablu Jameson, Elizabeth Karl, Summer Kath, Grace Kofstad, Tiara Malakowsky, Maggie Maloney, Paige Peterson, Annie Prigge, Naomi Retallick, Aracelis Sepulveda, Holly Stene
GRADE 9 - Elli Baker, Alexis Barber, Bridgette Blowers, Tory Christenson, Hanna Crabtree, Kelly Dobberstein, Luis Quizada Gaona, Tewodros Gushwa, Hannah Huisman, Anna Jacobson, Kendall Johnson, Cassidy Martin, Cambria Nissen, Luisa Gaona Quezada, Caden Riewer, Kordell Schlaak, Nicklas Staloch, Carter Stencel, Lorelei Strom, Grace Tufte
GRADE 8 – Madalynn Baas, Jaxon Beck, Hunter Bogue, Bo Budach, Alex Dobberstein, Severin Eads, Elsabet Gushwa, Ashley Hagen, Cora Harpel, Jordan Horejsi, Madison Johannsen, Brenlee Knudson, Cassie Kormann, Kylee Krueger, Ava Kyllo, Miranda LaCanne, Rhys Martin, Matthew Mueller, Cameron Nicholson, Ethan Peters, Anna Peterson, Porter Peterson, Clay Stenzel, Sophie Stork, Journey Utpadel, Torri Vaale, Nathan Vanek, Haley VanWinkle
Details

Hits: 2108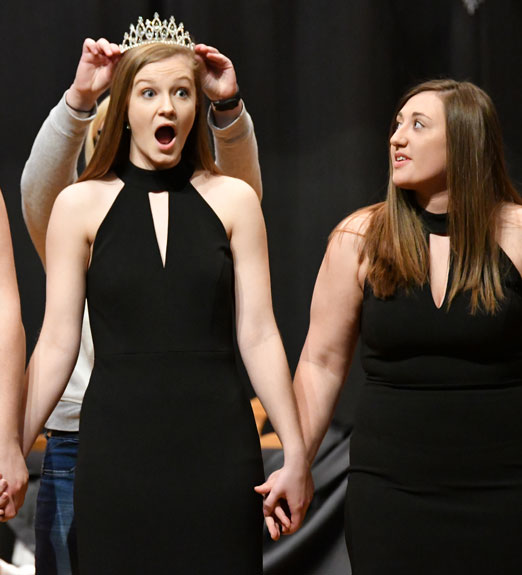 NRHEG High School Snow Week coronation was held Monday afternoon in the high school gymnasium in New Richland. Michelle Katzung looks on as Emily Crabtree is crowned Snow Week Queen. A talent show open to the public is set for Friday afternoon and Snow Week concludes with a semi-formal for students in grades 9-12 from 8-11 p.m. (Star Eagle photo by Chris Schlaak)
Details

Hits: 1822
NRHEG's AAA (Arts, Academics and Athletics) Award winners were honored before the NRHEG boys' basketball game Friday, Feb. 16 and posed for a picture with their parents. From left: Leon Schoenrock, Beth Schoenrock, Betsy Schoenrock, Ben Lewer, Sarah Lewer, Tim Lewer. (Star Eagle photo by Chris Schlaak)
Details

Hits: 3276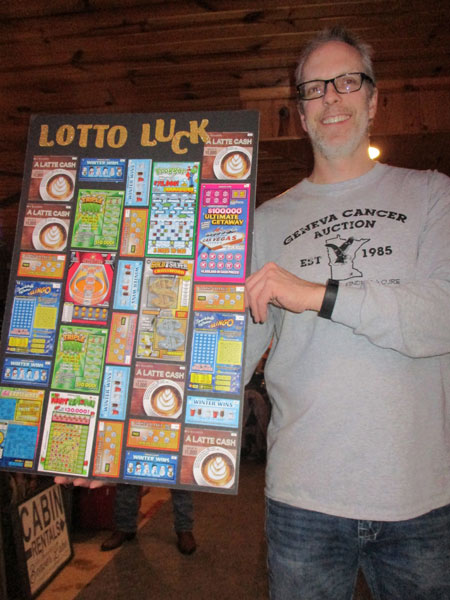 34TH ANNUAL GENEVA CANCER AUCTION — Keith Hagen holds the "Lotto Luck" scratch-off board that created and donated by Keith and Ruth Hagen. (Star Eagle photo by Kathy Paulsen)
By KATHY PAULSEN
Staff Writer
On Friday, Jan. 19, Whitey Hagen again welcomed everyone to the 34th Annual Geneva Cancer Auction.
"I appreciate all the years people have been coming to help fight cancer," said Hagen. "You all do a super job and I feel that we are going to show you a good time again tonight". 
Whitey went on to say that the farm and sports related portions of the cancer auction would be held on Saturday afternoon. He said that he was glad that people, including many local seed dealers, had stepped up and donated a number of items for that portion of the auction again this year.
He then said, "I hope you are ready to get started."
Again the first item up for bid was a quart jar of Vi Blazek's pickles that are now made by her daughter, Sue Hill. That was followed by the Geneva Cancer Auction's famous "stew maker," a bag of potatoes, a bag of onions, along with a pound of Hope butter. Next up was an oil change and grease job from Dave Syverson Ford, which Whitey explained have helped the local auction for a lot of years
A plate of peanut clusters made by Judy Christensen and donated in memory of LeRoy Christensen was also put up for bid and it was followed by many things ,including another subscription to the Star Eagle. Whitey thanked the Star Eagle for all the great coverage that they have given of all the cancer fundraising activities over the years.
Jamie Hagen then took over as auctioneer and asked everyone to thank his dad, DeWayne, and Hank Thompson for first getting the cancer fundraising event started back in 1985.