Feature Stories from the Star Eagle pages.
Details

Hits: 19
Ellendale lady celebrates 95th birthday
STILL GOING — Gen Wayne of Ellendale is still going strong at age 95, evidenced by the bounty of birthday presents received Sunday, April 2. (Star Eagle photo by Kathy Paulsen)
By KATHY PAULSEN
Staff Writer
Genevieve "Gen" Wayne turned 95 on Sunday, April 2, and a large number of her family and friends turned out to wish her another year filled with God's blessings.
Genevieve Paulson, daughter of Manford and Alice Paulson, was born on the family farm, which was located north of Ellendale, in 1922. Dr. Ertel, the local doctor at the time who is well remembered by many people in the Ellendale area, delivered Genevieve.
Gen loved their farm and she and her dad spent a great deal of time together doing this, that and whatever. She especially remembers helping her dad with the milking of their Holstein cows, herding the cattle on horseback, helping to cultivate the corn, as well as baling hay.
Gen was selected as Homecoming Queen in the fall of 1939, and went on to graduate from Ellendale High School in 1940. She later married Howard Koppen in 1945, and they moved on to a farm adjoining her parents' land following their wedding.
Details

Hits: 770
Editor's note: Looking Back is a regular feature on the pages of the Star Eagle.
100 Years Back – 1916
• "Music is the fourth great essential of human nature—first food, then raiment, then shelter, then music."—Bovee
• Miss Olivia Midgarden arrived here Monday morning from Washington, D. C., having been notified Saturday of her father's critical condition. It seems hardly believable that the distance between here and the capital city could be covered in a day and a half, but Miss Midgarden's arrival was complete proof that it can be done.
• Charles and Walter Stearns returned last Sunday from a few days' trip to the northern part of the state. While there they visited with their brother, Ed., and spent a few days at Duluth and Superior. The Ellendalites were quite favorably impressed with the industries of these two cities. Five days were spent in the vicinity of Cass Lake. Big game, which they were in the quest of seemed to be a rarity at this time or else the "big ones" sniffed the something-doing atmosphere and kept out of range.
Details

Hits: 3139
Coronation set for Monday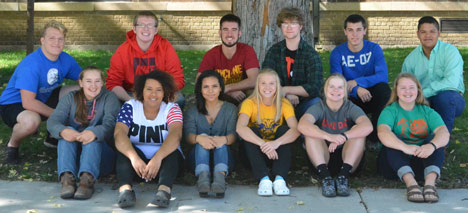 The 2016 NRHEG High School Homecoming court. Front from left: Lacey Nelson, Mercedes Dickerson, Cynthia Quezada, Rachel Collins, Grace Johns and Kallie Spooner. Back: Jack Schultz, Alex Blaschko, Chad Agrimson, Will Rudau, Josh Fleming and Luis Gaona. Coronation will be the Monday, Oct. 10 at 7:30 p.m. This year's homecoming game will be Friday, Oct. 14, against the Lake Crystal-Wellcome-Memorial Knights. The homecoming parade will be around 2:15 on the 14th. Dress-up days during the week will feature Minnesota Monday, Zoo Tuesday, Crazy Socks Wednesday, Dig Pink Thursday, and Panther Apparel Friday. (Star Eagle photo by Chris Schlaak)
Details

Hits: 2074
WWII veterans share with students

FIRST-HAND KNOWLEDGE — Bud Shurson, second from right, visits with family members and NRHEG students during a recent breakfast at the high school. Also pictured: Dennis Dinneen, Brooklyn Hullett, Emmablu Jameson, Ellarose Jameson, Georgia Dinneen, Phyllis Shurson. Bud Shurson and Richard Crumb spoke at the 2016 Veterans Day program and to students in an NRHEG classroom. (Photo by Maci Surat)
By DEB BENTLY
Contributing Writer
The students are curious: What's war like?
The two World War II veterans aren't sure they have the answer. They can't speak to "war" as a whole, only to the parts of it they knew.
A different question then, "Is war hell?"
This one, Bud Shurson, a 94-year-old former B-17 gunner, can answer without hesitation: "Yes." Watching his face, his eyes, as he considers the question, one can nearly see the moments he has already described. A sky full of B-17 bombers flying nearly wing to wing. Constant engine noise, the wind through the openings in his gunnery bay. The chance that an enemy fighter plane might appear out of the sky at any moment and begin firing.
He has described how his plane flew at 25,000 feet, so he never saw the bombs from his own plane as they struck the targets below. But that does not mean he could ignore the consequences. "Those were people, and it was our job to kill them." 
Details

Hits: 2839
Town & Country Garden Club honored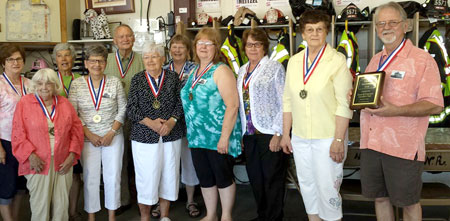 Members of the Town and Country Garden Club were chosen grand marshals for the 2016 New Richland Farm & City Days parade. From left: Kris Pfeffer, Delores Bartholmey, Mary Sack, Joanie Proehl, Pastor Charles Espe, Lou Anderson, Julie Phinney, Jodi Johnson, Betty Hullopeter, Avis Rugroden, Mike Phinney. Not pictured: Barb Finseth, Kay Adams, Dawn Halgren, Gerald Hullopeter, Eleanor Schlaak, Janae Janike. (Photo by Pam Goehring)