Feature Stories from the Star Eagle pages.
Details

Hits: 3806
WWII veterans share with students

FIRST-HAND KNOWLEDGE — Bud Shurson, second from right, visits with family members and NRHEG students during a recent breakfast at the high school. Also pictured: Dennis Dinneen, Brooklyn Hullett, Emmablu Jameson, Ellarose Jameson, Georgia Dinneen, Phyllis Shurson. Bud Shurson and Richard Crumb spoke at the 2016 Veterans Day program and to students in an NRHEG classroom. (Photo by Maci Surat)
By DEB BENTLY
Contributing Writer
The students are curious: What's war like?
The two World War II veterans aren't sure they have the answer. They can't speak to "war" as a whole, only to the parts of it they knew.
A different question then, "Is war hell?"
This one, Bud Shurson, a 94-year-old former B-17 gunner, can answer without hesitation: "Yes." Watching his face, his eyes, as he considers the question, one can nearly see the moments he has already described. A sky full of B-17 bombers flying nearly wing to wing. Constant engine noise, the wind through the openings in his gunnery bay. The chance that an enemy fighter plane might appear out of the sky at any moment and begin firing.
He has described how his plane flew at 25,000 feet, so he never saw the bombs from his own plane as they struck the targets below. But that does not mean he could ignore the consequences. "Those were people, and it was our job to kill them." 
Details

Hits: 4610
Coronation set for Monday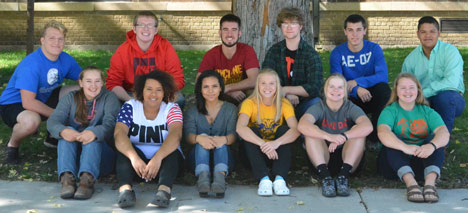 The 2016 NRHEG High School Homecoming court. Front from left: Lacey Nelson, Mercedes Dickerson, Cynthia Quezada, Rachel Collins, Grace Johns and Kallie Spooner. Back: Jack Schultz, Alex Blaschko, Chad Agrimson, Will Rudau, Josh Fleming and Luis Gaona. Coronation will be the Monday, Oct. 10 at 7:30 p.m. This year's homecoming game will be Friday, Oct. 14, against the Lake Crystal-Wellcome-Memorial Knights. The homecoming parade will be around 2:15 on the 14th. Dress-up days during the week will feature Minnesota Monday, Zoo Tuesday, Crazy Socks Wednesday, Dig Pink Thursday, and Panther Apparel Friday. (Star Eagle photo by Chris Schlaak)
Details

Hits: 3788
NRHEG band presents personal performance
When preparing to march in the St. Peter 4th of July parade last weekend, the NRHEG band learned the home they were parked in front of belonged to Jim and Margaret Miller. The 91-year-old Jim is not able to get around well and would not be attending the parade, so the band decided to give the Millers a private show in their front yard. Between the performance and the hugs and handshakes from band members, Jim Miller (one of three remaining WWII vets in St. Peter) and Margaret were moved to tears. NRHEG Band Director Jacob Bender posted the following message on Facebook for his students: "This was the highlight of the day in St. Peter. I hope you all realize the special impact you made by performing for this wonderful couple. Years from now you won't remember marching in the parade but you will remember this moment. This is what music can do!" (Photo by Laina Rajala)
Details

Hits: 3344
Town & Country Garden Club honored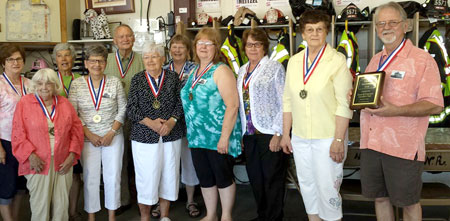 Members of the Town and Country Garden Club were chosen grand marshals for the 2016 New Richland Farm & City Days parade. From left: Kris Pfeffer, Delores Bartholmey, Mary Sack, Joanie Proehl, Pastor Charles Espe, Lou Anderson, Julie Phinney, Jodi Johnson, Betty Hullopeter, Avis Rugroden, Mike Phinney. Not pictured: Barb Finseth, Kay Adams, Dawn Halgren, Gerald Hullopeter, Eleanor Schlaak, Janae Janike. (Photo by Pam Goehring)
Details

Hits: 14157
2nd annual 5K set for July 9

 THE SMILE — That's what will be remembered most about Preston Peterson by his parents, Tammy and Tom. Entry forms for the Press On For Preston 5K can be found on the Facebook page Preston Fund Memorial 5K Run/Walk. (Star Eagle photo by Jim Lutgens)
 By JIM LUTGENS
Editor/Publisher
Usually, Tammy Peterson is the parent who breaks down when thinking or talking about her late son, Preston.
Not this time.
It was the dad, the strong and stoic Tom Peterson, who got up from the table to compose himself as the Petersons talked about the second annual fun run/walk in Preston's honor, set for July 9 during New Richland's Farm and City Days. The Press On For Preston 5K begins at 8 a.m. at NR City Hall, where you can pick up entry forms.
Lyndsay Carlson, Abbey Holland and Cyndi Bartness, friends of the Peterson family, organized the first run last year to remember Preston and fund a memorial scholarship.
What does Tammy remember about Preston?
"His smile," she said. "Just his good-natured, kind attitude. He really was just so kind-hearted and loving."