Feature Stories from the Star Eagle pages.
Details

Hits: 2836
100 Years Back – 1915
• Our school record for attendance and tardiness has been very bad. During the first two months of school the number of days lost was 289; number of days tardiness 115. In other words during the first two months, the entire school was absent one and one-sixth days, at a cost of $70 to the district. The superintendent will make this appeal to parents: Do not keep pupils out of school for work; also do not make them run errands just before nine o'clock. We are trying to teach pupils punctuality, yet oftentimes parents, by giving children duties to perform which cause them to become tardy, are creating just the opposite habit. Please help the school to establish a better record by insisting that your child makes a perfect attendance record.
Details

Hits: 5507
Friends, family pay tribute to one of Geneva's favorite citizens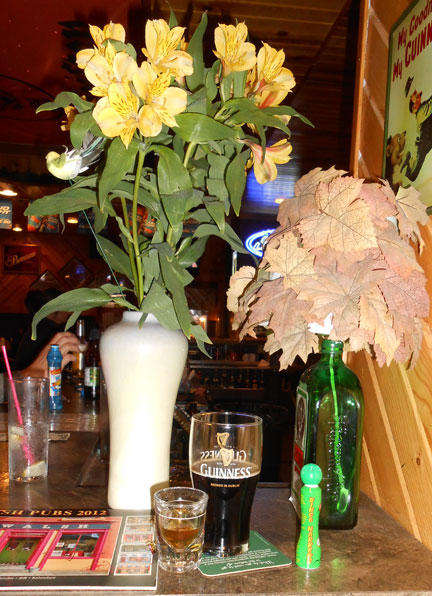 SOMETHING'S MISSING — A glass of Guinness, a shot of whiskey and other items were placed at Digger's usual spot at Geneva Bar and Grill during a recent bar bingo. (Star Eagle photo by Kathy Paulsen)
By KATHY PAULSEN
Staff Writer
This is a difficult story to write.
Difficult because in no way can it do justice to a special man who so warmed our hearts and left us with a vast amount of touching memories.
Leprechauns are special people who roam the world with their spirit full of tricks and laughter. They always smile and make you feel good.
It has been said if you find a leprechaun you will find a pot of gold at the end of the rainbow. That certainly holds true for the people in our area. The pot of gold was in the heart of Thomas Desmond Donnelly IV, and the rainbow of happiness always seemed to shine after the rain.
Tom was proud of his Irish heritage and could often be seen wearing green. Following his death, people passing by his home on Central Avenue in Geneva could see a lit green shamrock in one of the front windows.
Details

Hits: 2318
Jacob's Run raises funds, helps people remember
By KATHY PAULSEN
Staff Writer
We all look at facts and figures.
Anything can contribute to the fact that there are those who choose to no longer live, but only God knows why.
Though suicide causes incredible sorrow, perhaps guilt and an unsolved mystery, it is not to be taken lightly, nor something of shame.
It just is.
There are those whose family has been affected by it and choose to do what they can to correct whatever it is that possesses the mind in these mysterious ways. Instead of wallowing in sorrow, they do what they can so others won't have to suffer the same fate.
Details

Hits: 3798
STATERS — NRHEG cheerleaders trying out for the All State team were, from left: Nicole Edon, Jessica Nafe, Taylar Tieskotter, Abby Christopherson, Abby Wacholz, Bayli Possin and Lizzy Hagen. (Submitted photo)
By JIM LUTGENS
Editor/Publisher
If you live around here and you're paying attention, you already know the NRHEG High School cheerleaders are among the best in the state of Minnesota.
They proved it again Saturday, Oct. 10.
Seven NRHEG seniors tried out for Minnesota All State at Park Center High School. Five made the cut.
"All the girls did an amazing job and we're very proud of each of them," said NRHEG cheerleading advisor Kari Buendorf. "They will be learning a new routine with the members of the All State team this winter and then performing at the Minnesota State Cheerleading competition in late January."
Details

Hits: 3940
Speaker leaves students spellbound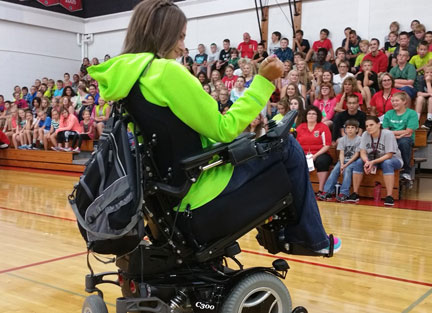 SPELLBOUND STUDENTS — Tasha Schuh, a quadriplegic from Ellsworth, Wis., held the interest of NRHEG students on the first day of school. (Submitted photo)
By MARK DOMEIER
Contributing Writer
Sixteen feet is a long way to fall. Falling that far and landing on your head on a concrete floor is often a tragic fall; survival odds are long.
Yet, that's just what Tasha Schuh of Ellsworth, Wis., did in 1997. While working on a production of The Wizard of Oz at her high school in Red Wing, Minn., Schuh fell through a trapdoor, breaking her neck, fracturing her skull, and crushing her spinal cord. She was in a coma for eight days and wasn't given much chance to live.
Yet there she was in front of the NRHEG student body on the first day of school, speaking about her life experiences and how to deal with adversity. "Yes I can," was a phrase she taught students to say in sign language, a phrase she has used as a mantra often during her recovery and subsequent embarkation on a career as an inspirational speaker.