Feature Stories from the Star Eagle pages.
Details

Hits: 4050
Speaker leaves students spellbound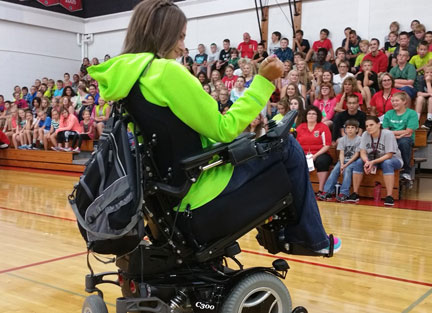 SPELLBOUND STUDENTS — Tasha Schuh, a quadriplegic from Ellsworth, Wis., held the interest of NRHEG students on the first day of school. (Submitted photo)
By MARK DOMEIER
Contributing Writer
Sixteen feet is a long way to fall. Falling that far and landing on your head on a concrete floor is often a tragic fall; survival odds are long.
Yet, that's just what Tasha Schuh of Ellsworth, Wis., did in 1997. While working on a production of The Wizard of Oz at her high school in Red Wing, Minn., Schuh fell through a trapdoor, breaking her neck, fracturing her skull, and crushing her spinal cord. She was in a coma for eight days and wasn't given much chance to live.
Yet there she was in front of the NRHEG student body on the first day of school, speaking about her life experiences and how to deal with adversity. "Yes I can," was a phrase she taught students to say in sign language, a phrase she has used as a mantra often during her recovery and subsequent embarkation on a career as an inspirational speaker.
Details

Hits: 2759
Clara White to celebrate Sunday
By KATHY PAULSEN
Staff Writer
Former Ellendale resident Clara White, mother of Ed Jensen of Beaver Lake; Dennis Jensen of Albert Lea; and Joanne Neuhart of LaCrosse, Wisconsin, will celebrate her 105th birthday Sunday, July 26. 
Clara felt bad when she had to leave Southern Minnesota area back in 2004 and misses seeing so many of her dear friends and family, but getting mail from the people back home is greatly appreciated. 
Clara was first married to Gordon Jensen and they were the proud parents of five children: Marshall, Edwin, Wyman, Dennis, and Joanne. Marshall and Wyman are no longer with us but are remembered, especially when the family gathers for special events.
Details

Hits: 2145
NRHEG High School Principal David Bunn has announced the names of students selected to the Honor Roll for 4th Quarter 2014-15
"A" Honor Roll
Grade 12 — Dylan Arnold, Brady Beenken, Brittany Blaschko, Lydia Culver, Alyssa Esplan, Karina Gaona, Colton Hagen, Ryann Hagen, Kaylee Hanson, Jade Hill, Kevin Kalis, Logan Knutson, Bianca Kohnert, Jake Langlie, Melissa Malakowsky, Anita Maloney, Sandra Quezada, Sarah Riecke, Cassidy Sletten, Anna Stork, Aurora Strom, Spencer Tollefson, Trevor Tracy, Jet Wayne
Grade 11 — Anna Bailey, Abby Christopherson, Nicole Edon, Jorey Fischer, Lizzy Hagen, Cole Ignaszewski, Katharine Lewer, Anna Lundberg, Whittney McCamish, Marissa Mortenson, Jessica Nafe, Clayton Nelson, Luke Overgaard, Corrie Powell, Tyler Schlaak, Hailey Schuller, Torrie Stencel
Grade 10 — Chad Agrimson, Oakley Baker, Rachel Collins, Grace Johns, Maurya Johnson, Jennifer McKay, Lacey Nelson, Samuel Prigge, Nora Retallick, Jack Schultz, Maci Surat, Marnie Wagner
Details

Hits: 3197
Museum grand opening July 11
By KATHY PAULSEN
Staff Writer
Dreams do come true if you are patient and willing to put some equity into them. It helps to believe and say a few prayers.
The Clarks Grove Area Heritage Society began about 20 years ago with just a few people thinking ahead and interested in preserving the artifacts, pictures and stories that made Clarks Grove the great town it is.
From that humble beginning, loyal citizens kept meeting and discussing how nice it would be if there was a place in town that could be established to preserve the pictures and memorabilia that people might want to donate. Phyllis Hanson and Kathy Jensen talked often about a museum and the topic of finding a place was brought up at nearly every heritage society meeting. Several members of the society started checking out possible sites that might be available. 
The old creamery was thought ideal, being the first cooperative creamery in Minnesota, but there were too many drawbacks. The condition and layout of the building made it inadequate and too difficult to accommodate the elderly and handicapped.
Details

Hits: 4053
The NRHEG High School Band marches in a recent parade in Mapleton. Carrying the letters for NRHEG are, from left, Mia Williams, Ethan Thompson, Jayna Domeier, Maddie Bartelt and Grace Kofstad. Area folks will get a chance to see director Sam Boerboom's Marching Panthers Saturday, June 27 for Ellendale Days and Saturday, July 11 for New Richland's Farm and City Days. (Star Eagle photo by Nikki Erickson)