Feature Stories from the Star Eagle pages.
Details

Hits: 776
By KATHY PAULSEN
Staff Writer
The Star Eagle recently received a letter from Joan (Radke) Cutajar, who resides in Australia. Joan graduated from Ellendale High School in 1965, which means in 2015 it will be the 50th anniversary of their graduation. Joan is concerned and anxious to get in touch with former classmates and to find out if anyone is doing anything to organize this historical event.
Details

Hits: 1036
NRHEG High School Principal David Bunn has announced the names of students selected to the honor roll for fourth quarter 2013-14: 
A Honor Roll
Grade 12 —Adam Anderson, Emily Christensen, Hailie Clausen, Dalton Dahl, Kendra Grothem, Stormi Hagen, Presley Johnson, Hannah Lundberg, Jadyn Nelson-Spies, Paige Overgaard, Ryan Patraw, Douglas Rudau, Morgan Staloch, Carlie Wagner, Alexis Wyatt
Grade 11 — Nicholas Bartness, Brady Beenken, Jana-Elin Brand, Alyssa Esplan, Karina Gaona Quezada, Ryann Hagen, Jade Hill, Celia Ilisch, Julia Kanngiesser, Jake Langlie, Melissa Malakowsky, Keith Maxon, Hudson Mrotz, Sandra Quezada, Shanna Stencel, Anna Stork, Aurora Strom, Spencer Tollefson, Trevor Tracy
Details

Hits: 1120
Wagon train rolls through area
Led by wagon master John Davis and his wife, Monica, the Friendship Wagon Train rolled through the area last weekend, with stops in New Richland, Hartland, Ellendale, Geneva and Clarks Grove. The wagon train finishes its route Saturday in Adams. Read about it in this week's Star Eagle. (Star Eagle photo by Jim Lutgens)
Details

Hits: 1281
Rain stays away for parade
FLYING THE COLORS — It was breezy Saturday afternoon for the Ellendale Days parade, evidenced by flags dancing in the wind. Veterans riding in Francis Misgen's jeep are, from left, Earl Cleven, Ed Jensen, Jerry Thompson and Rick Johnson. (Star Eagle photos by Jim Lutgens)
RED HATTERS HAVE MORE FUN — Gail Skroch and Joyce Wayne enjoy a laugh while riding in the Elendale Days parade Saturday, June 28.
Details

Hits: 1377
Wind, rain wreak havoc around area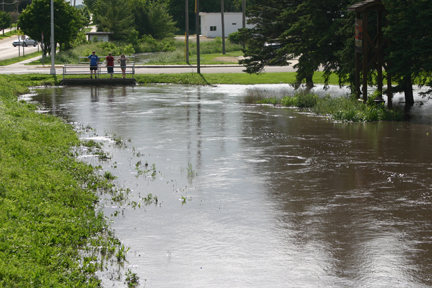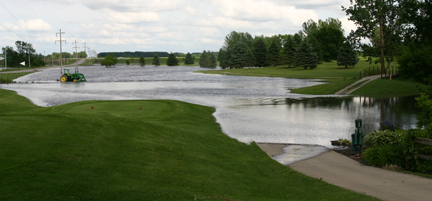 The NRHEG area has experienced a lot of storm activity the past several days. Above is a partially-flooded New Richland City Park, in the middle is a very flooded Legion Field and at the bottom is Riverview Golf Course Wednesday afternoon. Rain and high winds have caused much damage to crops and structures throughout the area. Between Saturday and Tuesday, six inches of rain fell in Waseca County, according to the Southern Research and Outreach Center, making it the third wettest June in recorded history — so far. More rain is in the forecast. (Star Eagle photos by Jim Lutgens)