Feature Stories from the Star Eagle pages.
Details

Hits: 1199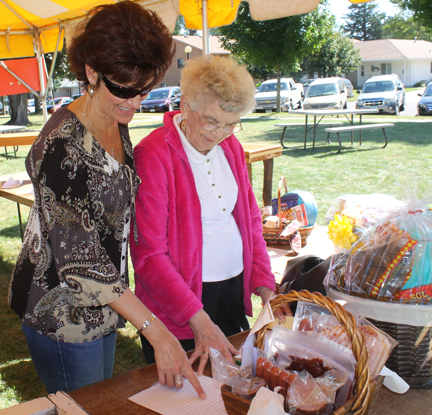 All Saints Catholic Church in New Richland held its annual Fall Festival recently. Many people, young and old alike, enjoyed a turkey dinner with all the trimmings and outdoor games as well as bingo. People were also able to bid on items for a silent auction, enter a raffle, and buy things at the country store. The event lasted from 11 a.m. until 3 p.m. Above, Margaret Chicos of New Richland, right, and friend Deb Lexvold of Zumbrota look over items being auctioned off. Below, Sheila Adams and Lori Anderson of New Richland hang out at the entrance to the festival. (Star Eagle photos by Nicole Billing)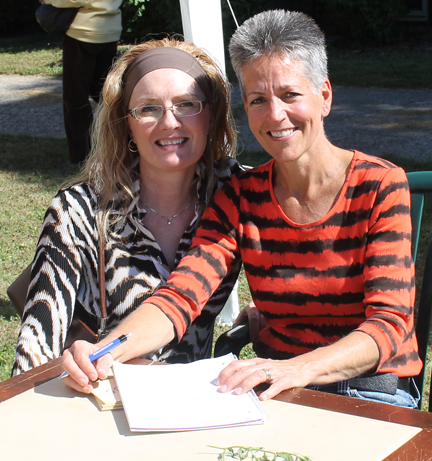 Details

Hits: 722
Vista Covenant event raises funds for food shelf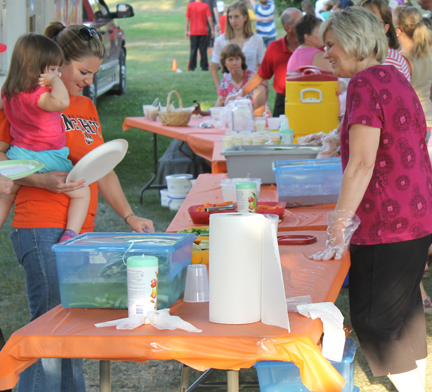 There were over 200 people at the 2013 Vista Covenant Church Party in the Park on Wednesday, September 4. Only an hour into the event, they had already raised over $2,000 and had several boxes of food. Pictured below taking money donations, from left, are Josie Jackson and Cindy Markeson. People paid in either money or food donations and would then be able to eat a corn dog and drink a root beer float. (Star Eagle photos by Nicole Billing)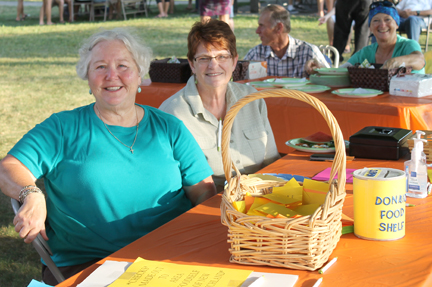 Details

Hits: 2457
By KATHY PAULSEN
Staff Writer
A sloppy joe dinner and silent auction for Shyleigh Howe is being planned for Saturday, July 27 at The Refuge, 702 3rd Street South in Ellendale. It starts at 4 p.m.
Shyleigh Lynne Howe, the daughter of Brad and Sarah (Bosshart) Howe, of Ellendale, was born June 4. She weighed 7 lbs., 4 ounces and measured 19 inches at the time of her birth.
Following Shyleigh Lynne's birth, she underwent several tests at the Rochester Mayo Clinic. The doctors determined Shyleigh has a very rare genetic condition called Trisomy 13 and had to remain in the hospital for several weeks for further treatment. The Mayo Clinic has only seen one other case. It is hoped the early intervention that Shyleigh received will help her avoid some of the devastating effects of this rare condition.
Details

Hits: 838
Hundreds turn out for annual event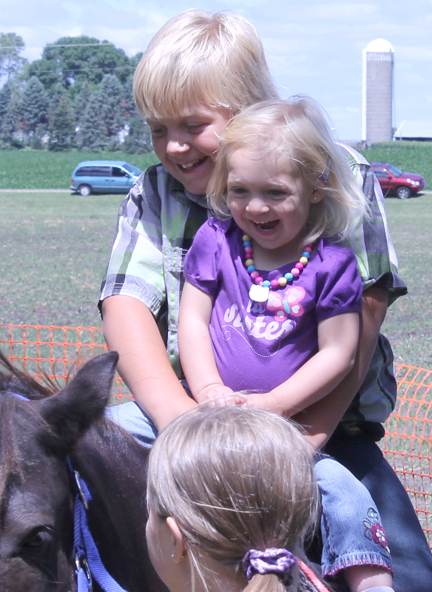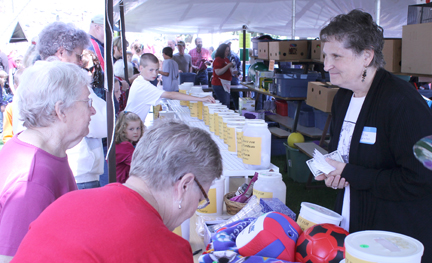 Hundreds of area folks — young and old — flocked to the annual Litomysl Church Summer Festival Sunday, July 28. For more photos, see Page 9 of this week's Star Eagle. (Star Eagle photos by Nicole Billing)
Details

Hits: 1310
Inaugural event honoring Zoe, Sue surpasses expectations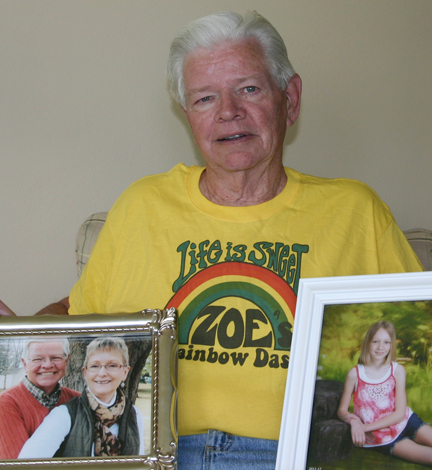 CHATTANOOGA BOUND — Mike McDouough of New Richland holds pictures of he and his late wife, Sue, and his late granddaugter Zoe. McDonough and many others are going to Chattanooga, Tenn., for the inaugural Zoe's Rainbow Dash, an event honoring Sue and Zoe McDonough, killed in a July 5, 2012 boating accident. The event is expected to draw 5,000 runners. (Star Eagle photo by Jim Lutgens)
By JIM LUTGENS
Editor/Publisher
It was almost one year ago to the day when beloved New Richland resident Sue McDonough and her granddaughter, Zoe, were killed in a tragic boating accident in Tennessee.
On Thursday, July 4, thousands will gather and celebrate their memory in the inaugural Zoe's Rainbow Dash 5K run in Chattanooga. The event, backed by dozens of influential Chattanooga area businesspeople, will benefit several charities, including the New Richland Area Food Shelf.
According to the event's Web Site — zoesrainbowdash.com — participants are invited to "Run, walk or roll your way through a bombardment of color and find yourself wearing a Rainbow at the finish line. Have a blast and benefit some of your favorite charities at the same time….what better way to celebrate the rest of your life? Life is sweet…pass it on!"