Feature Stories from the Star Eagle pages.
Details

Hits: 780
Homecoming 2012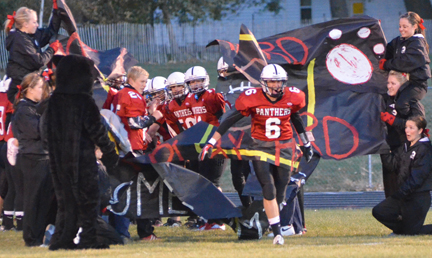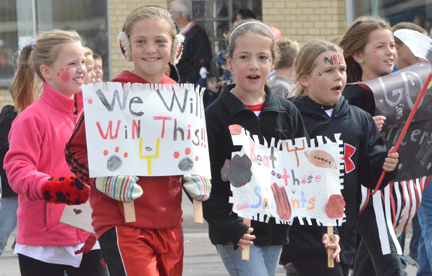 Spirits and hopes were high for Homecoming week at NRHEG High School last week. Above, Spencer Tollefson leads the Panthers on the field for the big game. Below, elementary students get into the act during the parade at Ellendale. See Pages 8 and 12 of this week's Star Eagle for more Homecoming photos. See Page 6 for results of the game. (Star Eagle photo by Chris Schlaak)
Details

Hits: 3372
HONESTY IS HIS POLICY — Cali Boyz Customs owner James Allshouse will never steer you in the wrong direction. You can be sure of that. (Star Eagle photo by Rachel Rietsema)
By RACHEL RIETSEMA
Staff Writer
For all those stereo enthusiasts out there, Cali Boyz Customs in Clarks Grove just may be your sound system heaven.
A stereo junkie himself, James Allshouse, makes certain that all of his customers are hooked up with the best equipment for their price range and lifestyle.
"We hold the most inventory, period," Allshouse said. "People can actually pick out what they like, unlike most other shops that just hand you a catalog."
From the start, Allshouse has made it his mission to distinguish this "ma and pa shop" with plain old honesty.
"We give customers advice and answer any questions they might have," Allshouse said. "We try to educate our customers and explain to them what they are paying for."
Customers will also be pleasantly surprised with the affordability of the equipment, yet another quality that most online stores simply don't offer.
Details

Hits: 3039
The Steele County 4-H organization includes these clubs: Deerfield Get There, Ellendale Hustlers, Future Citizens, Happy Hustlers, Lemond Snappy Boosters, Medford Go Getters, Meriden Meadowlarks, Merry Lane, Merton Speeders, Owatonna Victory Boosters, Pratt Commandoes, Record Busters, Straight River Stars and Victory Boosters.
Below are names of the Ellendale Hustlers, Lemond Snappy Boosters, Record Busters, and Straight River Stars clubs who received Champion, Reserve Champion or Purple recognition for their projects at the 2012 Steele County Fair:
Beef:
• Champion Cow/Calf Knowledge - Cassandra Balvitsch, Ellendale Hustlers
• Reserve Champion Cow/Calf Exhibit - Cassandra Balvitsch, Ellendale Hustlers
• Reserve Junior Dairy Steer - Logan Nelson, Lemond Snappy Boosters
• Top Junior Beef Calf - Graham Kyllo, Straight River Stars
Details

Hits: 3215
4-H at the Minnesota State Fair is not just a fun annual event. Every summer, thousands of 4-H youth participate in the state fair to showcase the knowledge and skills they've gained throughout the year, and to continue their learning experiences. 4-H youth spend months working on projects designed to equip them with essential life skills such as problem solving, decision making, project management, communications and public speaking. 4-H members then share their accomplishments and educate the public about their subject at their local county fair. Those who demonstrate the highest achievements are then selected to participate in 4-H at the Minnesota State Fair.
Details

Hits: 896
Below are the names of the youth members from the Hartland and Bath-Geneva Clubs, as well as one family from the Hayward Club, who received Champion, Reserve Champion or Purple recognition for their project work at the 2012 Freeborn County Fair:
Beef
• Reserve Champion Breeding Heifer - Jed Knutson, Hartland Club
• Champion Beef Prospect Calf - Jacob Reed, Hartland Club
• Reserve Champion Beef Prospect Calf - Bennett Stadheim, Hartland Club
• Champion Sr. Beef Showmanship - Meghan Stadheim, Hartland Club
• Reserve Champion Sr. Beef Showmanship - Spencer Wangen, Bath-Geneva Club
Dairy
• Reserve Champion Overall Dairy - Hailey Johnson, Hartland Club