Feature Stories from the Star Eagle pages.
Details

Hits: 3001
By KATHY PAULSEN
Staff Writer
Nobody should have to undergo brain surgery. Especially not a young child.
Christian Reichl, son of Derek and Lisa Reichl of Albert Lea and grandson of Kathy Crabtree of Geneva, Duane and Janice Reichl of Faribault, and Elaine O'Brein of Austin, underwent brain surgery in 2010, when he was only 4 years old.
In 2012, after having a routine MRI, they found the tumor was back. He underwent his second brain surgery at Children's Hospital and, just one month later, doctors ordered Christian to undergo six weeks of specialized Proton Radiation treatments in Chicago, which is the closest proton radiation center to Minnesota.
Details

Hits: 3193
NRHEG High School Principal Paul Cyr has announced the names of students selected to the Honor Roll for 2nd Quarter 2012-13:
"A" Honor Roll
Grade 12 —Kiley Beenken, Hans Frank, Jarred Hanson, Emilia Hobbs, Erin Larson, Hannah Lewison, Kristen Olson, Brooke Olson, Crystal Olson, Larissa Peterson, Brittany Reese, Colton Ryg, Tara Simon, Nathaniel Wallin.
Grade 11 — Presley Johnson, Noah Krell, Hannah Lundberg, Jadyn Nelson-Spies, Ryan Patraw, Laura Ranniger, Douglas Rudau, Jade Schultz, Morgan Staloch, Carlie Wagner, Alexis Wyatt.
Grade 10 — Nicholas Bartness, Brady Beenken, Karina Gaona Quezada, Ryann Hagen, Jade Hill, Logan Knutson, Grant Kyllo, Jake Langlie, Melissa Malakowsky, Keith Maxon, Jordan Mueller, Sandra Quezada, Miranda Richards, Anna Stork, Aurora Strom, Spencer Tollefson, Trevor Tracy, Jet Wayne, Renae Wobschall.
Details

Hits: 2970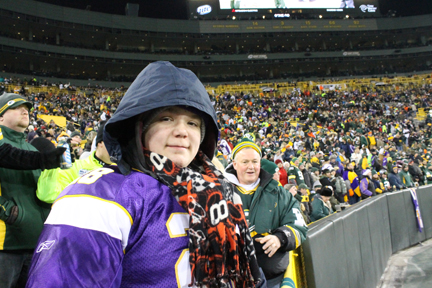 Eli Lutgens of New Richland, left, enjoys the view from the front row on his first visit to Lambeau Field in Green Bay, Wis., for last Saturday's Wild Card playoff game between the Vikings and the Packers. (Star Eagle photo by Jim Lutgens)
Details

Hits: 3038
Bernard reaches 'tin' anniversary for newspaper column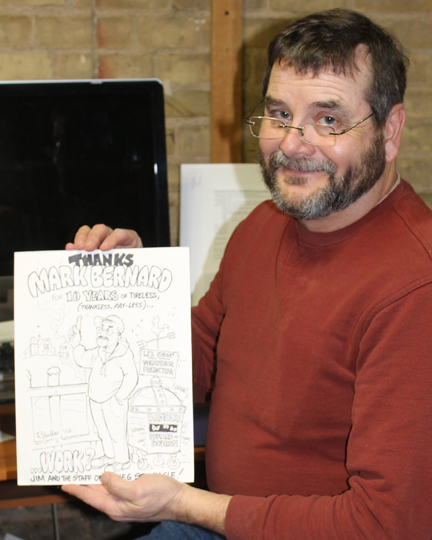 SPECIAL MEMENTO — Star Eagle columnist Mark Bernard was presented some special artwork created by Star Eagle staff member and professional artist Reed Waller in honor of Bernard's 10th anniversary as a newspaper columnist. (Star Eagle photo by Jim Lutgens)
By CARRIE GILBERTSON
Staff Writer
Ten years is quite a milestone: It's the average lifespan of a microwave oven, the "tin" wedding anniversary, and nearly 120 times longer than the reign of King Umberto II of Italy. It's also how long Mark Bernard has been dedicating his time and talent to the pages of the New Richland Star and NRHEG Star Eagle.
Bernard began with the paper when it was under the ownership of LaVonne Meyer. His first piece was an agricultural article he volunteered to write. The next week he was asked to submit another one, and Mark has continued to volunteer ever since. This is an unexpected accomplishment for someone who was self-taught when it comes to computers and keyboarding.
According to Bernard, "Small town newspapers are still an important part of the community and rural life."
Details

Hits: 2754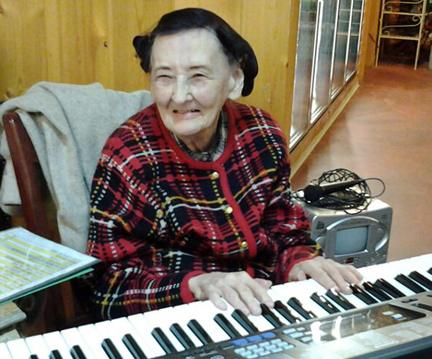 Dorothea Neumann was invited to entertain this holiday season at Emma Krumbie's in Belle Plaine for their wine and cheese tasting evening on December 13. This event also featured vendors selling their wares and hourly drawings. She has also been recently seen at Rochester Mayo on the grand piano where she has been applauded and invited back as she added some pep into the Christmas holidays with carols and "old fashioned melodies." Dorothea lives 3 miles from New Richland on the farm she and her late husband Raymond established. She was the former organist at St Peter's Church in New Richland for over 60 years. She is 86 years old. (Submitted photo)