Feature Stories from the Star Eagle pages.
Details

Hits: 2259
By KATHY PAULSEN
Staff Writer
In March, a story was included in the Star Eagle following a benefit for Christian Reichl of Albert Lea. At that time, we learned Christian had been diagnosed with a brain tumor in 2010, when he was 4. Christian underwent two brain surgeries and three minor surgeries in two and half years and then traveled to Chicago where he had to undergo six weeks of proton radiation treatments.
Christian and his family continue to deal with many medical issues and appointments. On June 11, the Reichl family spent a long day, 11 1/2 hours to be exact, at the Children's Hospital in Minneapolis. Christian underwent his 12th MRI and met with seven specialists.
Details

Hits: 771
NRHEG students 'graduate' from kindergarten
The NRHEG Smoke Free Class of 2025 "graduated" from kindergarten Tuesday, May 28 in the elementary gymasium in Ellendale. Above, students from kindergarten classes of Mrs. Buendorf, Mrs. Jensen, Mrs. Knudson and Mrs. Mangskau perform a song. Below, Principal Doug Anderson hands a "diploma" to Cole Hutchens. (Star Eagle photo by Chris Schlaak)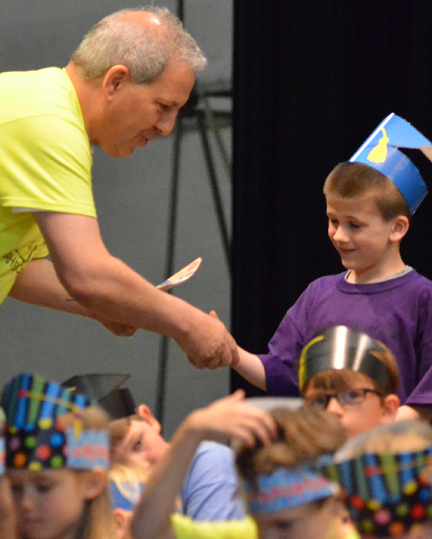 Details

Hits: 845
NRHEG class of 2013 graduates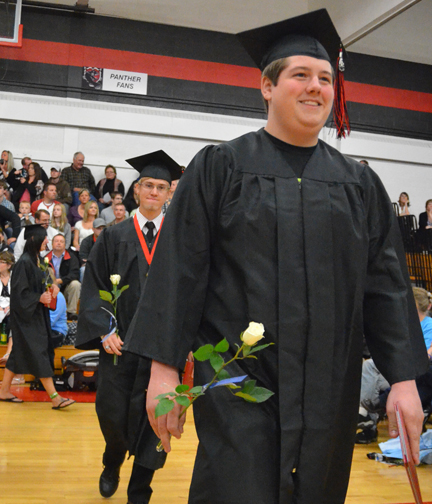 The NRHEG High School Class of 2013 held commencement exercises Sunday, May 26 in New Richland. Class speakers, as chosen by their classmates, were Casey Rosacker, Nic Mangskau and Erin Larson. Emilia Hobbs was Valedictorian, Hans Frank Salutatorian. (Star Eagle photos by Chris Schlaak)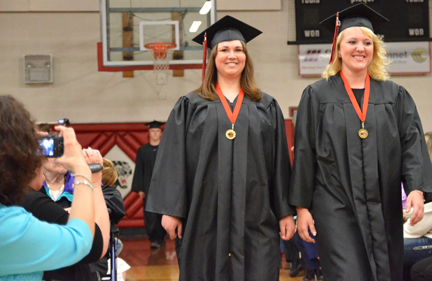 Details

Hits: 2198
Sign honors state champion Panthers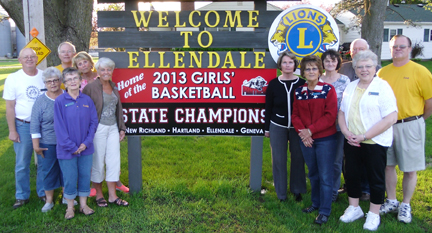 The Ellendale Lions Club, along with the Ellendale Commercial Club, made an addition to the Ellendale entrance signs in honor of the NRHEG girls' basketball team winning the Class 2A state championship in 2013. "We thought everyone needed to know how proud we, and everyone else, is of this accomplishment," said Lion Allie Larson. Pictured from left: Dale Waage, Jani Waage, Bob Wayne, Cheryl Peterson, Sandy Becker, Gail Skroch,Mary Lerberg, Cynthia Nelson, Nola Roberts, Andy Lerberg, Millie Paulson and Scott Groth. (Submitted photo)
Details

Hits: 2538
NRAFF GRANTS — On hand for grant presentations for the Odd Fellows/NR Library building were, from left, Gail Schmidt, Barb Wildgrube, Karen Buum, Pam Goehring and Kermit Schoenrock. (Star Eagle photo by Nicole Billing)
By JIM LUTGENS
Editor/Publisher
The New Richland Area Foundation Fund made the third of three grant presentations on Friday, May 17 at the newly preserved and remodeled Odd Fellows Building on Broadway Ave. in New Richland.The building will house the New Richland Library.
Those attending the grant presentation were Kermit Schoenrock, Pam Goehring, and Gail Schmidt from the NRAFF Grants Committee; Karen Buum, Executive Administrator of the Waseca Area Foundation; and Barb Wildgrube, a board member of the Historic Preservation Group.
There were two grants awarded: