Feature Stories from the Star Eagle pages.
Details

Hits: 2569
NRAFF GRANTS — On hand for grant presentations for the Odd Fellows/NR Library building were, from left, Gail Schmidt, Barb Wildgrube, Karen Buum, Pam Goehring and Kermit Schoenrock. (Star Eagle photo by Nicole Billing)
By JIM LUTGENS
Editor/Publisher
The New Richland Area Foundation Fund made the third of three grant presentations on Friday, May 17 at the newly preserved and remodeled Odd Fellows Building on Broadway Ave. in New Richland.The building will house the New Richland Library.
Those attending the grant presentation were Kermit Schoenrock, Pam Goehring, and Gail Schmidt from the NRAFF Grants Committee; Karen Buum, Executive Administrator of the Waseca Area Foundation; and Barb Wildgrube, a board member of the Historic Preservation Group.
There were two grants awarded:
Details

Hits: 2176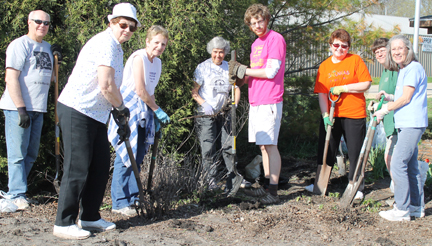 Members of the New Richland Town & Country Garden Club gathered to dig plants for their plant sale Friday, May 18. The unsold  plants from the sale will be sold Friday, May 24 from 4-6 p.m. on the street next to the City Park. From left: Larry Goehring, Avis Rugroden, Ellie Schutrop, Mary Sack, Josh Gegel, Dawn Hulgren, Janae Janike and Barb Finseth. (Star Eagle photo by Sarah Stencel)
Details

Hits: 1084
NRHEG prom 2013, 'Diamonds In The Sky'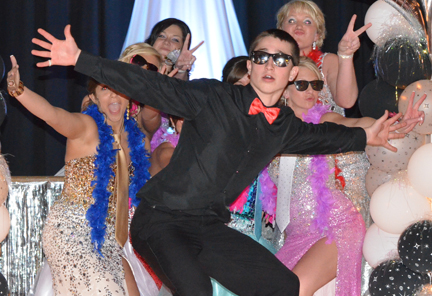 Saturday, May 4 was a big night for NRHEG High School prom-goers. Top, celebrating the night are, from left, Dana Jensen, Paige Bolduan, Jenika Jongbloedt, Kiley Beenken, Nic Mangskau, Brina Bergland and Brenna Hagen. Below from left are Chelsey Nelson, Robyn Lorence and Ashley Ayers. See Pages 8-10 of this week's Star Eagle for color photos of all 2013 NRHEG prom couples. (Star Eagle photos by Chris Schlaak)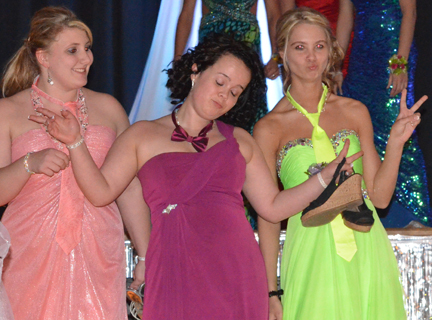 Details

Hits: 2487
LeSueur River Lutheran holds recital with historic organ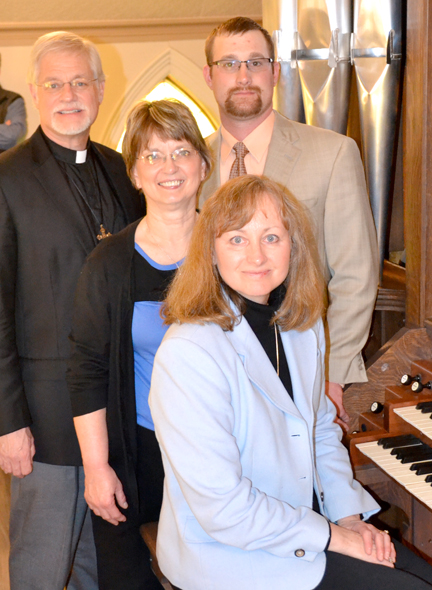 RECITAL — LeSueur River Lutheran Church held a recital Sunday, April 21 to celebrate its newly refurbished historic pipe organ. Above from left: Pastor Brian Gegel, Gratia Johnson, Marilyn Schempp and Matt Groskreutz. (Photo by Paul Meierding)
By KATHY PAULSEN
Staff Writer
A celebration of the newly refurbished pipe organ at the LeSueur River Lutheran Church, rural New Richland, was held on Sunday, April 21. A dinner of hot beef sandwiches with mashed potatoes and gravy was served following the morning worship service. Janice Pederson of Superior Foods catered the noon meal.
Starting at 1 p.m., an organ recital was presented by distinguished organist Marilyn Schempp of Sioux Falls, S.D.; along with Gratia Johnson, the current church organist. Eric and Christopher Knutson on trumpets and Daniel Knutson on euphonium, also from South Dakota, joined in a program of organ solos, organ duets, and organ/brass arrangements.
Details

Hits: 3341
AT IT AGAIN — Rhonda Hareid, owner/operator of Looks Unlimited in Ellendale, has helped produce a second calendar, this time to raise funds for cancer research. From left are Hareid, photographer Angela Dobberstein and calendar models Mike Meixner and Robert Powell. (Star Eagle photo by Kathy Paulsen)
By KATHY PAULSEN
Staff Writer
Hey there, calendar girl
whatcha doing out there
taking pictures because you care
nobody would know you don't just fix hair.
Hey there, calendar girl,
who dreamed of something she could do
to use her talent in a splendid way
to helped so many along the way.
Hey there, calendar girl,
there is another calendar deep inside
so bring out all the love you hide and,
oh, what a change there will be.