Feature Stories from the Star Eagle pages.
Details

Hits: 2401
LeSueur River Lutheran holds recital with historic organ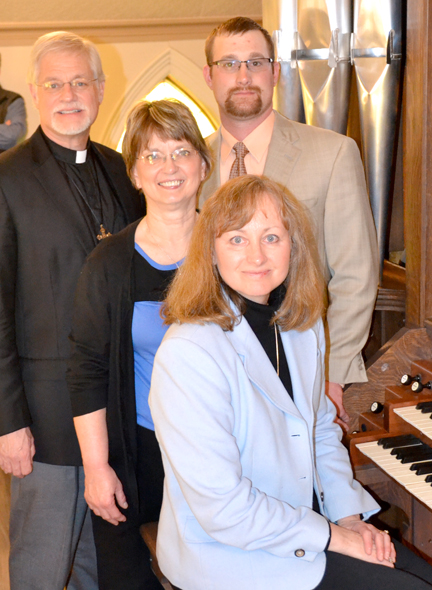 RECITAL — LeSueur River Lutheran Church held a recital Sunday, April 21 to celebrate its newly refurbished historic pipe organ. Above from left: Pastor Brian Gegel, Gratia Johnson, Marilyn Schempp and Matt Groskreutz. (Photo by Paul Meierding)
By KATHY PAULSEN
Staff Writer
A celebration of the newly refurbished pipe organ at the LeSueur River Lutheran Church, rural New Richland, was held on Sunday, April 21. A dinner of hot beef sandwiches with mashed potatoes and gravy was served following the morning worship service. Janice Pederson of Superior Foods catered the noon meal.
Starting at 1 p.m., an organ recital was presented by distinguished organist Marilyn Schempp of Sioux Falls, S.D.; along with Gratia Johnson, the current church organist. Eric and Christopher Knutson on trumpets and Daniel Knutson on euphonium, also from South Dakota, joined in a program of organ solos, organ duets, and organ/brass arrangements.
Details

Hits: 998
NRHEG prom 2013, 'Diamonds In The Sky'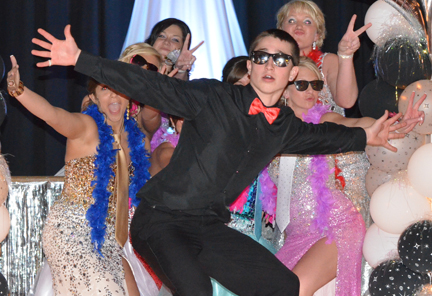 Saturday, May 4 was a big night for NRHEG High School prom-goers. Top, celebrating the night are, from left, Dana Jensen, Paige Bolduan, Jenika Jongbloedt, Kiley Beenken, Nic Mangskau, Brina Bergland and Brenna Hagen. Below from left are Chelsey Nelson, Robyn Lorence and Ashley Ayers. See Pages 8-10 of this week's Star Eagle for color photos of all 2013 NRHEG prom couples. (Star Eagle photos by Chris Schlaak)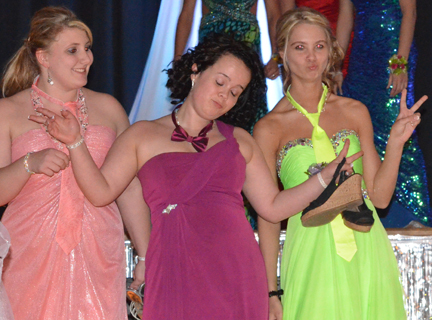 Details

Hits: 2914
By KATHY PAULSEN
Staff Writer
Nobody should have to undergo brain surgery. Especially not a young child.
Christian Reichl, son of Derek and Lisa Reichl of Albert Lea and grandson of Kathy Crabtree of Geneva, Duane and Janice Reichl of Faribault, and Elaine O'Brein of Austin, underwent brain surgery in 2010, when he was only 4 years old.
In 2012, after having a routine MRI, they found the tumor was back. He underwent his second brain surgery at Children's Hospital and, just one month later, doctors ordered Christian to undergo six weeks of specialized Proton Radiation treatments in Chicago, which is the closest proton radiation center to Minnesota.
Details

Hits: 3227
AT IT AGAIN — Rhonda Hareid, owner/operator of Looks Unlimited in Ellendale, has helped produce a second calendar, this time to raise funds for cancer research. From left are Hareid, photographer Angela Dobberstein and calendar models Mike Meixner and Robert Powell. (Star Eagle photo by Kathy Paulsen)
By KATHY PAULSEN
Staff Writer
Hey there, calendar girl
whatcha doing out there
taking pictures because you care
nobody would know you don't just fix hair.
Hey there, calendar girl,
who dreamed of something she could do
to use her talent in a splendid way
to helped so many along the way.
Hey there, calendar girl,
there is another calendar deep inside
so bring out all the love you hide and,
oh, what a change there will be.
Details

Hits: 3101
NRHEG High School Principal Paul Cyr has announced the names of students selected to the Honor Roll for 2nd Quarter 2012-13:
"A" Honor Roll
Grade 12 —Kiley Beenken, Hans Frank, Jarred Hanson, Emilia Hobbs, Erin Larson, Hannah Lewison, Kristen Olson, Brooke Olson, Crystal Olson, Larissa Peterson, Brittany Reese, Colton Ryg, Tara Simon, Nathaniel Wallin.
Grade 11 — Presley Johnson, Noah Krell, Hannah Lundberg, Jadyn Nelson-Spies, Ryan Patraw, Laura Ranniger, Douglas Rudau, Jade Schultz, Morgan Staloch, Carlie Wagner, Alexis Wyatt.
Grade 10 — Nicholas Bartness, Brady Beenken, Karina Gaona Quezada, Ryann Hagen, Jade Hill, Logan Knutson, Grant Kyllo, Jake Langlie, Melissa Malakowsky, Keith Maxon, Jordan Mueller, Sandra Quezada, Miranda Richards, Anna Stork, Aurora Strom, Spencer Tollefson, Trevor Tracy, Jet Wayne, Renae Wobschall.