Feature Stories from the Star Eagle pages.
Details

Hits: 3568
UPGRADE — Sorenson's Appliance & TV, Geneva, recently upgraded its communications systems with Frontier Communications. From left: Tim Sorenson; Darrell Hansen, General Manager, Frontier; Robin Schoenherr, Regional Marketing Specialist, Frontier; Dak Sorenson; and Mike Boebinger, Regional Marketing Director, Frontier. (Submitted photo)
Warren Sorenson opened Sorenson's Appliance & TV in 1951.
Two generations later, this family-owned discount appliance and electronics store is thriving, and recently upgraded its communications system with Frontier Communications (NASDAQ: FTR). 
Warrren Sorenson's son Tim Sorenson and grandson Dak Sorenson, current owners, selected Frontier to install a Mitel 3000 phone system, Frontier's Business High-Speed Internet services, and additional business phone lines. The upgraded services will allow the retailer to better meet the growing communications needs of customers in Geneva, Albert Lea, Austin, Rochester, Hayfield, Owatonna, Waseca, Mankato, Wells, Northwood, St. Ansgar and surrounding communities. 
"We pride ourselves on offering low prices with top-notch customer service," said Dak Sorenson. "We've been a long-time customer of Frontier and appreciate the local, personalized service. Like us, Frontier is focused on delivering a great customer experience, providing expert advice, leading-edge technology, and excellent day-to-day responsiveness to all of our requests. It was an easy choice to select Frontier to provide us with a solution to our increasing communications needs."
Details

Hits: 2611
It's Girl Scout Cookie sale time again! Area Girl Scouts hold the eight varieties of cookies available. Girls will have cookies in hand again this year. They are still $3.50 per box. Sale runs February 11 to March 25. Local contacts: Beth Schoenrock 507-461-0606; Melissa Karl 507-684-2249; Laina Rajala 507-463-8625; Connie Kaupa 507-383-1883. Pictured front from left: Dana Standke and Macala Sundve. Middle: Maci Surat, Maurya Johnson, Taytum Ihrke, Haley Van Winkle and Melissa Hermann. Back: Kassie Koziolek, Jennie Kaupa, Lauren Herrmann, Betsy Schoenrock and Makenzi Rhoades. This is the 100th year of Girl Scouting so there is a new lemon cookie called Savannah Smiles named for the birth place of Juliette Gorden Low, the founder of  GS. Other kinds: Thin MInts, Samoas, Tagalongs, DoSiDos, Trefoils, Thank You Merry Bunch and Dulce De Leche. (Submitted photo)
Details

Hits: 2453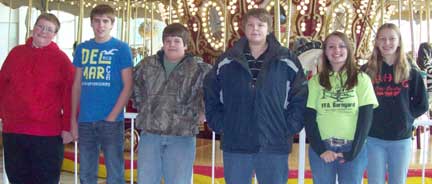 SUCCESSFUL SUB-REGION — Following a successful sub-region competition, the NRHEG Junior High Knowledge Bowl team stopped at the Mankato Mall for a late lunch. Pictured from left: Jordan Mueller, Colton Hagen, Koleton Koziolek, Eli Lutgens, Haylie Moser and Melissa Malakowsky. No, they didn't get to ride the carousel. (Submitted photo)
Junior High Knowledge Bowl was offered as an extracurricular activity for NRHEG students in grades 7-9 this fall.
The program, which included 49 teams from 22 schools, is put on by the South Central Service Cooperative of Mankato.
Ten NRHEG students, under the direction of Mary Sack, gave it a try. They practiced weekly, trying to work around driver's training, FFA and sports. The six-person competition team consists of 7th-grader Koleton Koziolek, 8th-grader Eli Lutgens and 9th-graders Colton Hagen, Melissa Malakowsky, Haylie Moser and Jordan Mueller.
The first meet involved leaving school at 6 a.m. to get to Fairfax by 8:15.
"Our showing was good considering it was their first experience," said Sack. "We finished in 21st place with 29 teams."
In subsequent meets the NRHEG team improved: 18th place in Nicollet, 7th place in North Mankato and 8th at the final regular season meet.
On December 16th the team competed in the sub-region event which was at MSU.
"We did well enough to advance to regions which, will be held in Mankato on Friday, January 6th," said Sack. "This group of young people has been great to work with. I hope their enthusiasm will continue as they will be wonderful members of the senior high teams in the future."
Details

Hits: 2396
The Steele County Historical Society (SCHS) will host a Cabin Fever Reliever fundraiser inside the new History Center on Friday, January 27, 2012. This will be the first time the public will be able to view the Center since completing its construction.
 "We're so excited to be able to welcome the public into the History Center after its much anticipated completion," said Laura Resler, SCHS Director. "This fundraiser will provide fun family activities, great food from Culvers, and wonderful music by the Fabulous Love Handles. It doesn't get any better than that on a January night in Minnesota!" 
  The fundraiser is part of the on-going "Burn the Mortgage" campaign to raise the funds needed for reimbursing the investors who generously funded the last portion of the building's construction costs. Funds are also needed to furnish and finish the building's interior.