NRHEG 2nd-grade teacher originally hails from Geneva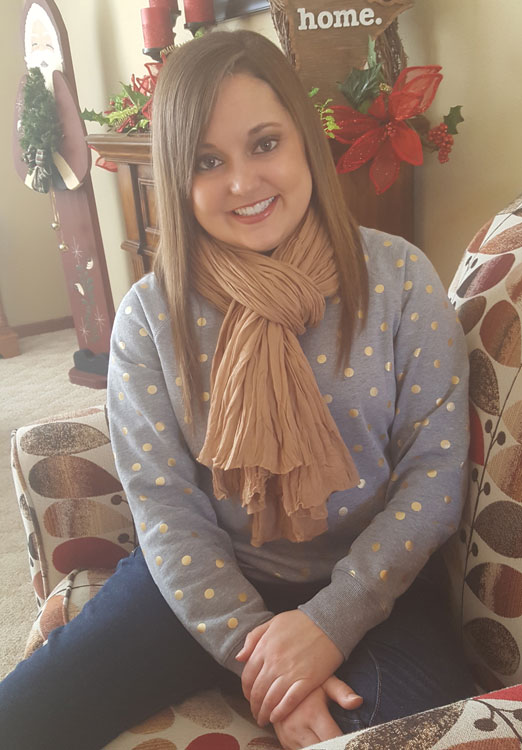 HOME AGAIN — New second-grade teacher Kiley Beenken is very happy to be living and working in the NRHEG school district.
By MELANIE PILTINGSRUD
Contributing Writer
Kiley Beenken, originally from Geneva, MN, is the new 2nd-grade elementary teacher at NRHEG this year. She graduated in May from Minnesota State University-Mankato with a bachelor's degree in Elementary Education (K-6) and a certificate in STEM education.
As someone who grew up in this area, Beenken is excited to have the opportunity to teach in her home district.
Beenken says she decided to go into teaching because she wanted to make a difference in students' lives. "I believe that helping to shape young lives is an absolute privilege," says Beenken. "Throughout my college career the most common question I was asked was "Why do you want to be a teacher?" For me, it was, and still is, a simple question to answer because teaching is my passion. My goal in life is to help all students become lifelong learners who will contribute positively to our society. Teaching is my tool which will allow me to help children soar in their academics and will also help me shape students into kind, caring, and respectable individuals."
Even though this is her first year of teaching, Beenken knows exactly what type of classroom she wants to have – a welcoming one that helps students grow academically and personally. "But I also want our classroom to have an environment that promotes equity, offers unconditional support, and makes children feel safe and appreciated," says Beenken. That's why the theme this year in her classroom is "Home." "The students know that it's not just 'My' classroom, it's 'Our' classroom. It's important for me that all students feel 'At Home' when they come into our classroom. I also want my students to feel that they always have a welcoming place to come learn in and express who they are as individuals. I want to help all of my students reach their full potential!"
Beenken says that the theme "Home" has a special significance for her, too: "Because I have been lucky enough to come back to my "Home District" to pursue my passion for teaching. It has always been my dream to work for the NRHEG School District. I grew up in this district and was lucky enough to receive an outstanding K-12 education here. I cannot say enough how wonderful my K-12 educators were; they radiated passion, dedication and love for all students. It is truly an honor to join that group of educators and be able to give back to the school and community that gave so much to me. I love that this district displays such a positive and respectful environment for all students, families, and community members to be a part of. "Panther Pride" is something I hold very close to my heart and I'm so excited to continue promoting "Panther Pride" and displaying it in the NRHEG School District as a second-grade teacher."
Beenken has all good things to say about this part of Ssouthern Minnesota: "I love living and working in this area because everyone is so close and always there for one another. If you ever need anything or are going through a difficult time there are so many kind people willing to help out and support you in any way. I feel very lucky to be a part of this community."
Beenken concedes that there are challenges to teaching in this day and age, from meeting state standards to fitting everything into a tight schedule. The answer? Careful planning: "It can be very overwhelming at times because there is so much curriculum we're expected to teach in such a small amount of time. As a new teacher I'm learning just how important it is to precisely plan my days so I'm able to cover all of the necessary content for my students."
The reason Beenken plans so carefully and tries to maintain a home-like classroom environment is because she cares. "After my students graduate I want them to always remember that they were loved and cared about in my classroom," she says. "I also want them to know that no matter how old they are or where they are in life they can always reach out and I will be there for them. Each one of those little lives means so much to me and it's an honor to be able to be such an influence on them as their teacher.
"I feel extremely lucky to have been given this opportunity to teach in my home district," Beenken adds. "The entire staff and administration at NRHEG have been so welcoming and helpful; they have truly made me feel so supported, welcomed, and loved! It really has been an amazing start to the school year and I cannot wait to see where this year takes myself and my wonderful second graders!"
We at the NRHEG Star Eagle wish Beenken and her 2nd-graders a happy and productive academic year.