Feature Stories from the Star Eagle pages.
Details

Hits: 3120
Dinneen, Schumacher depart NRHEG schools — for different reasons
By MARK DOMEIER
Contributing Writer
School districts undergo change on a yearly basis. However, it's rare that a school will have to replace an entire department. NRHEG faces that task this year as Georgia Dinneen and Sandy Schumacher have both left, though for different reasons, and administration now has to find new members for the business department.
After seven years at NRHEG, Schumacher has accepted a job in Waseca teaching the same types of classes: computer skills, personal finance, etc. This decision was "based strictly on geography," commented Schumacher, since she lives in Waseca, where her children attend school.
Dinneen, on the other hand, has entered the world of retirement. After working in the business world for a number of years, she subbed for a time before teaching at NRHEG for the past 19 years. She said it was a difficult decision because she still enjoys her job, and the students often make her day. "They are the reason educators go to work every day," said Dinneen. "We have such a good group of students at NRHEG, and that's because of the good community we live in."
Details

Hits: 2773
Lecturer makes appearance at NR Library
AUTHOR — Bill Jamerson, right, holds a copy of his book he signed for Margaret Ann Chicos at the New Richland Public Library Thursday, April 23. (Star Eagle photo by Nicole Billing)
By NICOLE BILLING
Editorial Assistant
New Richland Public Library hosted Bill Jamerson on Thursday, April 23.
Jamerson goes around the country giving presentations on the Civilian Conservation Corps (CCC). The CCC camps were all military run with long bunkhouses and mess halls. There were libraries and blacksmith shops. The camps were basically self-sufficient and were most 5 to 15 miles from the nearest town.
Jamerson started the presentation by telling a story he heard from one of the CC boys. One day in April 1937 a sergeant walked into one of the bunkhouses and held up a CCC pillowcase. He said to the boys that each one of them was going to spend 25 cents on a pillowcase to send to their mother for Mother's Day. The men then instantly began grumbling because 25 cents was a lot back then.
Details

Hits: 1295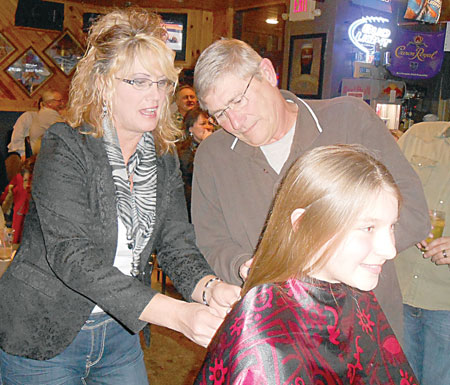 LOCKS AWAY – Rhonda Haried holds Cloie Arndt's hair while Cloie's Grandpa, Jerry Arndt, makes the first cut. Grandpa was the winning bidder with $5.  Star Eagle photo by Kathy Paulsen
By KATHY PAULSEN
Staff Writer
Young people decide to grow their hair for many purposes.
It was 3 or 4 years ago when 11-year-old Cloie Arndt started growing her hair for a purpose. That purpose was to honor her grandmother, Cindy, who was battling cancer.  
It was one way she felt she could "do something."  Friday night, Jan. 9, 2015, became a night to remember for Cloie and her family as she went to the Geneva Cancer Auction at the Geneva Bar and Grill with her hairdresser, Rhonda Haried.
Cloie, daughter of Kelly and Tiffany Arndt of Geneva, donated her "locks of love" for "Wigs for Kids" during the first night of the auction this year.  
Details

Hits: 5616
NRHEG High School Principal David Bunn has announced the names of students selected to the Honor Roll for second quarter 2014-15
"A" Honor Roll
Grade 12 — Brady Beenken, Lydia Culver, Karina Gaona, Ryann Hagen, Kaylee Hanson, Kelli Harrington, Jade Hill, Kyle Holz, Logan Knutson, Grant Kyllo, Jake Langlie, Melissa Malakowsky, Keith Maxon, Sandra Quezada, Shanna Stencel, Anna Stork, Aurora Strom, Spencer Tollefson, Trevor Tracy
Grade 11 — Anna Bailey, Abby Christopherson, Nicole Edon, Lizzy Hagen, Cole Ignaszewski, Katharine Lewer, Anna Lundberg, Whittney McCamish, Marissa Mortenson, Jessica Nafe, Clayton Nelson, Corrie Powell, Torrie Stencel, Taylar Tieskotter
Grade 10 — Chad Agrimson, Oakley Baker, Rachel Collins, Grace Johns, Maurya Johnson, Jennifer McKay, Lacey Nelson, Samuel Prigge, Cynthia Quezada, Nora Retallick, Kallie Spooner, Maci Surat, Cecelia Torp
Details

Hits: 1314
Area veteran Ed Jensen enjoys D.C. Honor Flight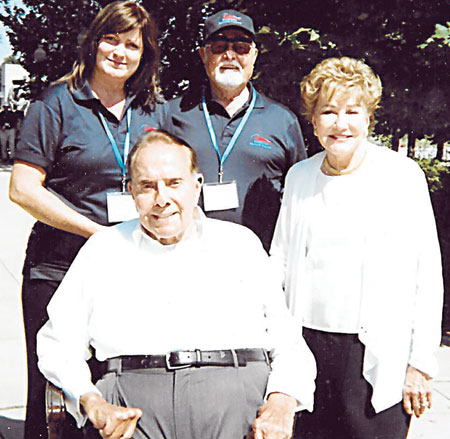 VISITING MEMORIALS – At the Freedom Honor Flight tour of the Washington, D.C. memorials last September were Jane Braaten and Ed Jensen, back, with former U.S. Senators Bob Dole (R-Kan.) and Elizabeth Dole(R-N.C.) Submitted photo
By KATHY PAULSEN
Staff Writer
Ed Jensen served in the U.S. Army from 1948-1952 and has continued to stay active in veterans' activities following his tour of duty.  
In 1948, Ed signed up for the U.S. Cavalry and after basic training at Fort Knox, KY he was sent to Augusta, GA where he received training in Radio Communication.  Ed was then sent to Tokyo, and later Korea.  He had originally enlisted for three years but ended up serving one additional year in Korea.
He has many memories of his military years and has attended a number of reunions of the 304th Signal Operations Battalion group with which he served.