Feature Stories from the Star Eagle pages.
Details

Hits: 14266
2nd annual 5K set for July 9

 THE SMILE — That's what will be remembered most about Preston Peterson by his parents, Tammy and Tom. Entry forms for the Press On For Preston 5K can be found on the Facebook page Preston Fund Memorial 5K Run/Walk. (Star Eagle photo by Jim Lutgens)
 By JIM LUTGENS
Editor/Publisher
Usually, Tammy Peterson is the parent who breaks down when thinking or talking about her late son, Preston.
Not this time.
It was the dad, the strong and stoic Tom Peterson, who got up from the table to compose himself as the Petersons talked about the second annual fun run/walk in Preston's honor, set for July 9 during New Richland's Farm and City Days. The Press On For Preston 5K begins at 8 a.m. at NR City Hall, where you can pick up entry forms.
Lyndsay Carlson, Abbey Holland and Cyndi Bartness, friends of the Peterson family, organized the first run last year to remember Preston and fund a memorial scholarship.
What does Tammy remember about Preston?
"His smile," she said. "Just his good-natured, kind attitude. He really was just so kind-hearted and loving."
Details

Hits: 3214
NRHEG prom 2016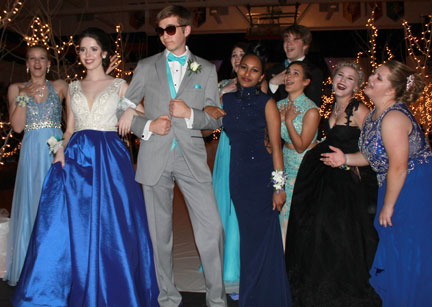 NRHEG students ham it up during the fun walk following the traditional grand march for prom Saturday, May 7. From left: Elizabeth Nelson, Jennifer McKay, Jorey Fischer, Jillian Jongbloedt, SaraJo Stewart, Will Rudau, Maurya Johnson, Nicole Wallin and Kallie Spooner. See the May 12 edition of the Star Eagle for color photos of all 68 couples to attend NRHEG's 2016 prom. (Star Eagle photo by Nikki Erickson)
Details

Hits: 4557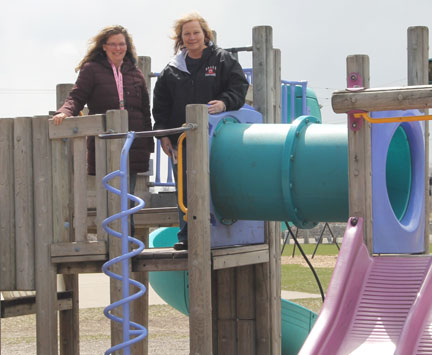 PLAYGROUND PLANS — Kim Routh and Beckie Johnson stand on some of the current playground equipment at NRHEG Elementary. (Star Eagle photo by Melanie Piltingsrud)
By MELANIE PILTINGSRUD
Contributing Writer
Early in the morning and during afternoon recess, 450 children gather in long lines at NRHEG Elementary School, waiting patiently for their turn on the playground equipment – much loved and dilapidated equipment that, 25 years ago, served only 250 children before the Ellendale-Geneva school merged with New Richland-Hartland.
Some of the sturdier equipment has been on the playground for at least 50 years and is still serving the children well, but now, the wooden playset in the middle of the playground stands crooked and is missing pieces that can no longer be acquired. Members of the Playground Committee call the wooden playground set "dangerous."
Details

Hits: 3217
NRHEG High School Principal David Bunn has announced the names of students selected to the honor roll for third quarter 2015-16.
A Honor Roll
Grade 12 — Anna Bailey, Abby Christopherson, Emily Eder, Nicole Edon, Sophia Fischer, Lizzy Hagen, Cole Ignaszewski, Nathan Krause, Katharine Lewer, Anna Lundberg, Whittney McCamish, Jessica Nafe, Clayton Nelson, Luke Overgaard, Corrie Powell, Hailey Schuller, Torrie Stencel, Maci Surat, Taylar Tieskotter
Grade 11 — Natalie Aaseth, Chad Agrimson, Oakley Baker, Rachel Collins, Luis Gaona, Grace Johns, Maurya Johnson, Jennifer McKay, Lacey Nelson, Samuel Prigge, Gretchen Ramaker, Nora Retallick, Jack Schultz, Kallie Spooner, Linnea Strom-Olsen, Madison Wagner, Marnie Wagner
Details

Hits: 7401
Carlie's still blossoming basketball career chronicled at U of M
WAGNERVILLE — Gopher mailboxes have become a popular item in the area thanks to Carlie Wagner, recently featured in this article in the University of Minnesota's Ski-U-Mah magazine. (Submitted photo)
By JUSTINE BUERKLE
University of Minnesota
"Last person out turns the lights off. There's nobody left in town when the tournament comes around."
That line, reminiscent of the Hickory Huskers' following in "Hoosiers," is how Carlie Wagner's father described the mass exodus from the New Richland-Hartland-Ellendale-Geneva area as people traveled to support his daughter's Panthers team in the Minnesota state basketball tournament, including back-to-back championship wins.