Feature Stories from the Star Eagle pages.
Details

Hits: 3014
NRHEG High School Principal David Bunn has announced the names of students selected to the honor roll for third quarter 2015-16.
A Honor Roll
Grade 12 — Anna Bailey, Abby Christopherson, Emily Eder, Nicole Edon, Sophia Fischer, Lizzy Hagen, Cole Ignaszewski, Nathan Krause, Katharine Lewer, Anna Lundberg, Whittney McCamish, Jessica Nafe, Clayton Nelson, Luke Overgaard, Corrie Powell, Hailey Schuller, Torrie Stencel, Maci Surat, Taylar Tieskotter
Grade 11 — Natalie Aaseth, Chad Agrimson, Oakley Baker, Rachel Collins, Luis Gaona, Grace Johns, Maurya Johnson, Jennifer McKay, Lacey Nelson, Samuel Prigge, Gretchen Ramaker, Nora Retallick, Jack Schultz, Kallie Spooner, Linnea Strom-Olsen, Madison Wagner, Marnie Wagner
Details

Hits: 4380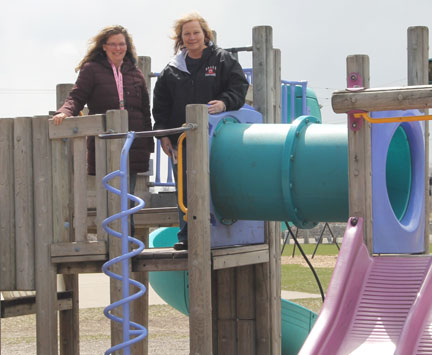 PLAYGROUND PLANS — Kim Routh and Beckie Johnson stand on some of the current playground equipment at NRHEG Elementary. (Star Eagle photo by Melanie Piltingsrud)
By MELANIE PILTINGSRUD
Contributing Writer
Early in the morning and during afternoon recess, 450 children gather in long lines at NRHEG Elementary School, waiting patiently for their turn on the playground equipment – much loved and dilapidated equipment that, 25 years ago, served only 250 children before the Ellendale-Geneva school merged with New Richland-Hartland.
Some of the sturdier equipment has been on the playground for at least 50 years and is still serving the children well, but now, the wooden playset in the middle of the playground stands crooked and is missing pieces that can no longer be acquired. Members of the Playground Committee call the wooden playground set "dangerous."
Details

Hits: 1920
(Editor's note: Looking Back is a weekly feature on the pages of the Star Eagle)
100 Years Back – 1915
• One of the happiest little girls whereabouts on Christmas was Leone, daughter of Mr. and Mrs. H. Heckes of Byron. She was awarded the huge doll given away by popular vote by Peterson Bros' Variety Store. The little lady was offered eight dollars for her prize by the store proprietors, but wouldn't listen to the offer.
• Hog cholera is reported at the farm of Wm. Patschke a few miles southwest of this place, Mr. Patschke having lost 13 head of swine. He informed The Star over the telephone that the disease came from the herds of his Russian neighbors, who perhaps were ignorant of the disease and took no precautions. When their hogs died they were left on the field unburied. Mr. Patschke is doing what he can to confine the disease.
Details

Hits: 7159
Carlie's still blossoming basketball career chronicled at U of M
WAGNERVILLE — Gopher mailboxes have become a popular item in the area thanks to Carlie Wagner, recently featured in this article in the University of Minnesota's Ski-U-Mah magazine. (Submitted photo)
By JUSTINE BUERKLE
University of Minnesota
"Last person out turns the lights off. There's nobody left in town when the tournament comes around."
That line, reminiscent of the Hickory Huskers' following in "Hoosiers," is how Carlie Wagner's father described the mass exodus from the New Richland-Hartland-Ellendale-Geneva area as people traveled to support his daughter's Panthers team in the Minnesota state basketball tournament, including back-to-back championship wins.
Details

Hits: 4467
MOTHERLY LOVE — Arianna Hansen, right, and her mother, Amy. (Star Eagle photo by Jessica Lutgens)
By JESSICA LUTGENS
Staff Writer
Courage can often be found in those one might least expect. 
Such is the case with Arianna Hansen, an 11-year-old fifth-grade student at NRHEG. In 2009, when Arianna was in kindergarten, a MRI revealed a brain tumor on her optic nerve.
"Her left eye had started to spasm," Arianna's mother, Amy, explained. "We took her in for an eye exam, and then we went to Rochester for the MRI."
This type of brain tumor is called optic nerve glioma, and while rare, they almost always occur in children before age 20. In Arianna's situation, if the tumor were not removed eventually, it would cause her to lose her vision.
At the time, because it is statistically slow-growing, it was thought the tumor likely wouldn't grow – and if it did, only minimally.