Feature Stories from the Star Eagle pages.
Details

Hits: 2146
NRCC introduces variety of therapies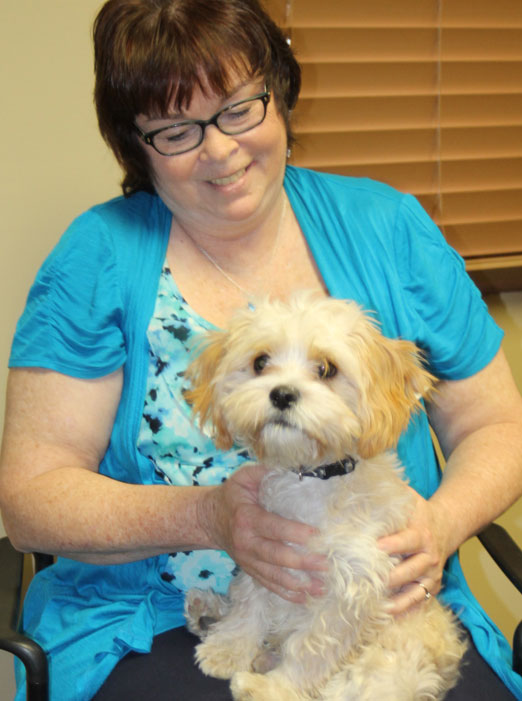 RISING STAR — Sandy Hart of NRCC holds Billy, a puppy that's become quite popular with residents. (Star Eagle photo by Jessica Lutgens)
By JESSICA LUTGENS
Staff Writer
The New Richland Care Center's mission to provide the best care possible for its residents continues. The latest step toward that goal is the result of a grant received by the center earlier this year providing funds to aid in non-pharmaceutical interventions for dementia patients.
In January, the center hired Sandy Hart to head a new program—PIPP, or Performance-Based Incentive Program—that would lay out a set of initiatives to help reduce the use of antipsychotic/antianxiety medications in residents with dementia. With the help of care center administrator Don Alexander and other staff, it was decided to introduce several new types of therapy, including aroma and massage therapy, pet therapy, and music and memory therapy. A computer system called It'sNever2Late (iN2L) was also installed that provides numerous opportunities for residents.
First implemented was pet therapy, as one of the nurse managers offered to bring her six-month-old puppy, Billy, during her shifts. The residents have taken quite a liking to Billy, and according to Hart, Billy is enjoying his new role as well.
"Billy's become a star," Hart said after introducing the little yellow pup.
Details

Hits: 2197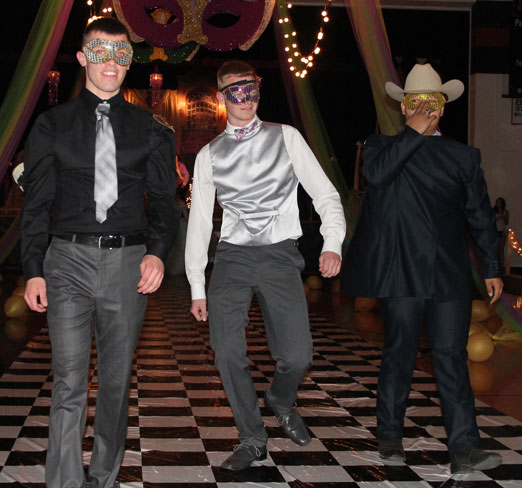 From left, Josh Fleming, Isaac Morgan and Luis Gaona strut their stuff after the traditional grand march for NRHEG Prom 2017 on May 6. See this week's Star Eagle for photos of all 2017 NRHEG prom couples. (Star Eagle photo by Nikki Erickson)
Details

Hits: 613
Ellendale lady celebrates 95th birthday
STILL GOING — Gen Wayne of Ellendale is still going strong at age 95, evidenced by the bounty of birthday presents received Sunday, April 2. (Star Eagle photo by Kathy Paulsen)
By KATHY PAULSEN
Staff Writer
Genevieve "Gen" Wayne turned 95 on Sunday, April 2, and a large number of her family and friends turned out to wish her another year filled with God's blessings.
Genevieve Paulson, daughter of Manford and Alice Paulson, was born on the family farm, which was located north of Ellendale, in 1922. Dr. Ertel, the local doctor at the time who is well remembered by many people in the Ellendale area, delivered Genevieve.
Gen loved their farm and she and her dad spent a great deal of time together doing this, that and whatever. She especially remembers helping her dad with the milking of their Holstein cows, herding the cattle on horseback, helping to cultivate the corn, as well as baling hay.
Gen was selected as Homecoming Queen in the fall of 1939, and went on to graduate from Ellendale High School in 1940. She later married Howard Koppen in 1945, and they moved on to a farm adjoining her parents' land following their wedding.
Details

Hits: 2342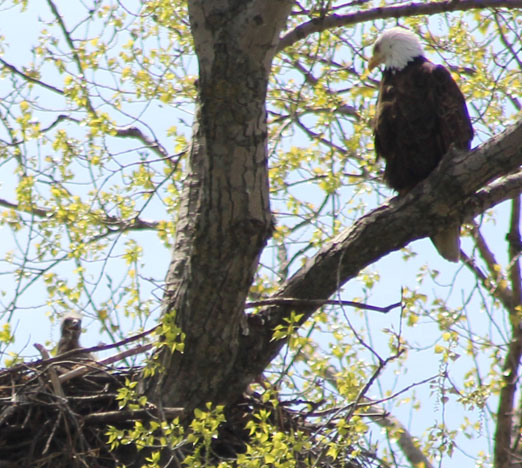 This eagle was spotted watching over a hatchling near an area lake. (Star Eagle photo by Deb Bently)
Details

Hits: 1180
Editor's note: Looking Back is a regular feature on the pages of the Star Eagle.
100 Years Back – 1916
• "Music is the fourth great essential of human nature—first food, then raiment, then shelter, then music."—Bovee
• Miss Olivia Midgarden arrived here Monday morning from Washington, D. C., having been notified Saturday of her father's critical condition. It seems hardly believable that the distance between here and the capital city could be covered in a day and a half, but Miss Midgarden's arrival was complete proof that it can be done.
• Charles and Walter Stearns returned last Sunday from a few days' trip to the northern part of the state. While there they visited with their brother, Ed., and spent a few days at Duluth and Superior. The Ellendalites were quite favorably impressed with the industries of these two cities. Five days were spent in the vicinity of Cass Lake. Big game, which they were in the quest of seemed to be a rarity at this time or else the "big ones" sniffed the something-doing atmosphere and kept out of range.