Feature Stories from the Star Eagle pages.
Details

Hits: 366
Editor's note: Looking Back is a weekly feature on the pages of the Star Eagle.
100 Years Back – 1917
• There are to be no Christmas programs at the school this year. This is due to the fact that the children are over-taxed at this time of the year and it is thought better to prepare an elaborate program for Washington's birthday.
• Albert Verplank lost a fine new milch cow one day last week. With butter bringing 49 cents a pound retail, the loss of a new milch cow is especially noticeable to the owner right now.
• Virnig's Pre-Inventory Sale: Monarch steel range, $78; Royal Seal range, $45; 18-in. Moore Hot Blast, $24.50; Royal Elmhurst hard coal heater, $68; Voss Swing Wringer wash machine $28; Swing Wringer power washer, $26; Short globe lanterns, 98c; Barn door latches, while they last, 35c; 5-gal. EZflow oil and gas cans, $1.35; No. 2 Lisk Roaster, $2.65; No. 3 Lisk Roaster, $2.85; Blue enamel tea kettles, $1.23; Galvanized baskets, 1 ½ bushels, 98c; Manila rope, 33c; Sisel rope, 24c; Harrisons House Paint, $2; 10% discount on all aluminum ware, silverware and cutlery—C. I. Virnig Hardware Co.
• A quiet wedding was solemnized at the German Lutheran parsonage when Miss Olga Possin of Gibbons and Lewis Reick of Otisco were united in marriage, the Rev. E. Schultz officiating. The groom is a prosperous young farmer with many friends in this vicinity and Otisco.
• Conditions in Russia are becoming intolerable and American Ambassador Francis is advising Americans to leave. Food supplies throughout Russia are becoming so scarce as to suggest an approaching famine.
Details

Hits: 3772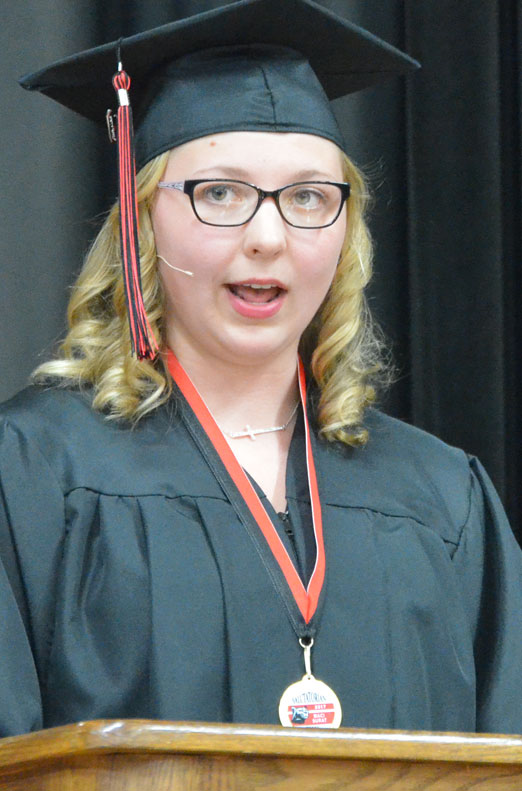 WORDS OF WISDOM — Salutatorian Maci Surat was one of three speakers selected by their peers to address the NRHEG High School class of 2017. (Star Eagle photo by Chris Schlaak)
By MELANIE PILTINGSRUD
Contributing Writer
Maci Surat, age 18, is this year's Salutatorian at NRHEG. Born in Sioux Falls, SD, Surat's parents, Robert and Lisa, moved with their family to New Richland when she was in second grade. Surat has four brothers: Jacob, Josh, Jadyn, and Jaren, and a dog, Miko.
As a high school student, Surat was active in student council/class officer, knowledge bowl, high school ambassadors, FFA/PALS, Panther Press, golf, volleyball, NHS, and reader's theater. Surat's community activities included Girl Scouts, volunteering at NRAFS, and volunteering at Mayo Clinic in Waseca. She also worked as a cashier at Wagner Foods and was employed at Ole and Lena's food truck during the summer.
What will Surat miss most about NRHEG? "I am going to miss walking down the hallway and knowing every person I see!" she says. "It will also be an adjustment to have professors who don't even know my name when I am so used to having close relationships with all my teachers."
Surat has a lot of great memories from her time at NRHEG. "I really enjoyed cheering on all the sports teams with my friends!" she says. "There were many times where we were just having fun, but actually making lasting memories. Our class this year had somewhat of a tripping competition going on; if anyone was walking anywhere, there was a good chance someone was trying to trip them. Yes, people fell!"
Details

Hits: 2439
NRHEG class of 2017 graduates
The NRHEG High School class of 2017 graduated Sunday, June 4 during commencement exercises in the high school gymnasium in New Richland. Above, Nancy Rudau with son Will during the Parent Appreciation portion of the program. See Page 12 of the Thursday, June 8 edition of the Star Eagle for more color graduation photos. See Page 2 for photos of kindergarten graduation for NRHEG's class of 2029. (Star Eagle photo by Chris Schlaak)
Details

Hits: 3215
Valedictorian McKay achieves 4.0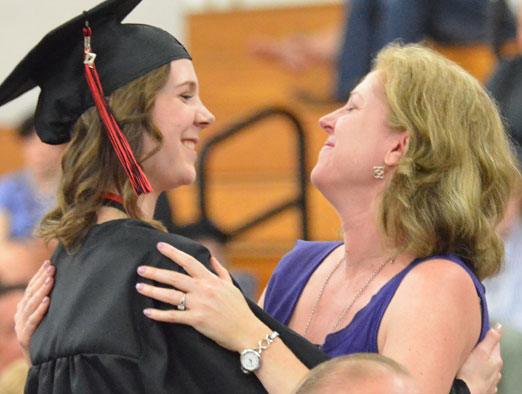 PROUD MOM — Jennifer McKay, left, gets a hug from her mom, Michelle Muff, during NRHEG's 2017 graduation commencement. (Star Eagle photo by Chris Schlaak)
By MELANIE PILTINGSRUD
Contributing Writer
Eighteen-year-old Jennifer McKay, who won Valedictorian at NRHEG this year, was born in Boston, Massachusetts, grew up in New Richland, and now lives in Waseca with her mom, Michelle Muff. She also has a little sister, Lily, who is five, and an older sister, Kristen, who is 20.
McKay's school activities included student council, FFA/PALS, Knowledge Bowl, soccer (club and high school), golf (10th grade) and track (11th grade), National Honor Society, choir (9th, 10th, and 11th grades), and she started the Fellowship of Christian Athletes Huddle. In her community, she has been a Fellowship of Christian Athletes volunteer, she packed shoeboxes for Operation Christmas Child, she volunteered at Mayo Clinic in Waseca last year, as well as at Ecumen during 10th and 11th grades. She also found time for waitressing at Applebee's in Owatonna and Red Leaf Café in New Richland.
McKay says she feels proud of herself for achieving a 4.0. Her family is proud, too. McKay says, "I asked Mom what she thought about my accomplishment and she yelled, "Whoo- hoo!" She claims she doesn't know where I got my brains from, but she couldn't be prouder of what I've worked hard to achieve. The rest of my family is really proud of me and has shown it in many ways."
Details

Hits: 6252
Al Batt says he's lucky to live near Hartland;
we say we're lucky to have him in the NRHEG area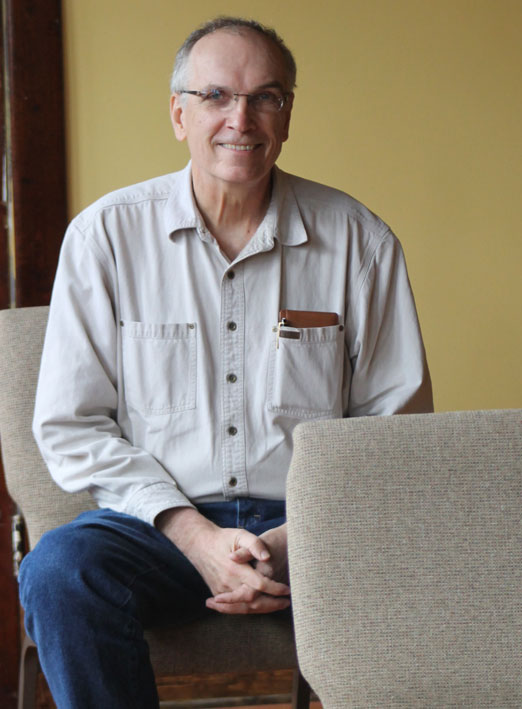 MAN OF MANY STORIES — Al Batt, storyteller extraordinaire. (Star Eagle photo by Melanie Piltingsrud)
By MELANIE PILTINGSRUD
Contributing Writer
We all know Al Batt as the man who writes humorous columns and gives talks on ornithology, but how did this "storyteller" get where he is, and what is he up to today?
Batt grew up on a farm outside of Hartland, MN – a dairy farm, which also had beef cattle, ducks, geese, chickens, goats, turkeys, and pigs. Now, having come, as he puts it, a whole mile in life, he still lives by Hartland, and he can't imagine why anyone would want to live anywhere else.
What he likes most about Hartland is the people. "And it's my home," says Batt. "And by saying that, that's everything I like about it. I like the rural. I spend a good share of my life on the road in planes and hotels and things. It's just really nice. Sort of a pastoral place to be."