Star Eagle office
Details

Hits: 2378
LSR dedicates
cemetery directory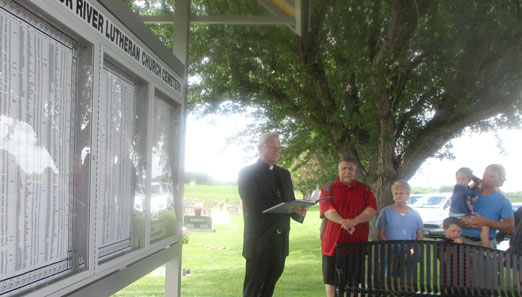 DEDICATION — Pastor Brian Gegel, left, standing next to Steve Schroeder, tells about the newly constructed cemetery directory at LeSueur River Lutheran Church. (Star Eagle photo by Kathy Paulsen)
By KATHY PAULSEN
Staff Writer
LeSueur River Lutheran Church celebrated its Sesquicentennial - 150th year – on June 19, 2011 and on June 18, 2017 they dedicated their newly constructed cemetery directory. Over the years they have also completed several other projects, including a beautiful new kitchen, steeple shingles and new siding.
The congregations of LeSueur River and Vista Lutheran Churches held a joint worship service on Sunday, June 18. Following the service, the cemetery directory dedication service and celebration meal were held at LeSueur River church, is located 4 1/2 miles northeast of New Richland. 
As people arrived at the church they were presented with copies of the origin of LeSueur River Lutheran. A roster of the congregation's first settlers included 36 people in 1856 and many of them went on to be buried in the church cemetery.
Dennis Knutson shared several songs on his flute during the prelude to the morning service. Gratia Johnson, church organist, served as his accompanist.
Following the service everyone was invited outside for the dedication of the cemetery directory and celebration. It was explained that the seeds for this project had been sown a few years ago and now the crop was being harvested.
Details

Hits: 3061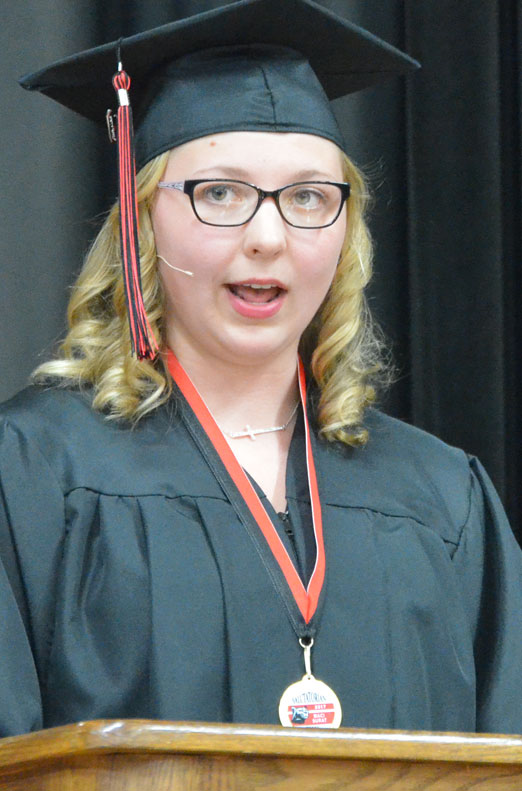 WORDS OF WISDOM — Salutatorian Maci Surat was one of three speakers selected by their peers to address the NRHEG High School class of 2017. (Star Eagle photo by Chris Schlaak)
By MELANIE PILTINGSRUD
Contributing Writer
Maci Surat, age 18, is this year's Salutatorian at NRHEG. Born in Sioux Falls, SD, Surat's parents, Robert and Lisa, moved with their family to New Richland when she was in second grade. Surat has four brothers: Jacob, Josh, Jadyn, and Jaren, and a dog, Miko.
As a high school student, Surat was active in student council/class officer, knowledge bowl, high school ambassadors, FFA/PALS, Panther Press, golf, volleyball, NHS, and reader's theater. Surat's community activities included Girl Scouts, volunteering at NRAFS, and volunteering at Mayo Clinic in Waseca. She also worked as a cashier at Wagner Foods and was employed at Ole and Lena's food truck during the summer.
What will Surat miss most about NRHEG? "I am going to miss walking down the hallway and knowing every person I see!" she says. "It will also be an adjustment to have professors who don't even know my name when I am so used to having close relationships with all my teachers."
Surat has a lot of great memories from her time at NRHEG. "I really enjoyed cheering on all the sports teams with my friends!" she says. "There were many times where we were just having fun, but actually making lasting memories. Our class this year had somewhat of a tripping competition going on; if anyone was walking anywhere, there was a good chance someone was trying to trip them. Yes, people fell!"
Details

Hits: 2319
Valedictorian McKay achieves 4.0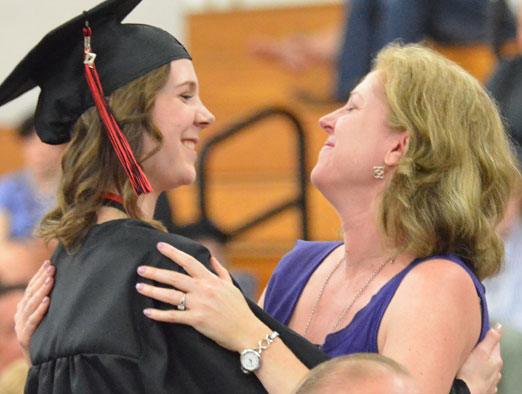 PROUD MOM — Jennifer McKay, left, gets a hug from her mom, Michelle Muff, during NRHEG's 2017 graduation commencement. (Star Eagle photo by Chris Schlaak)
By MELANIE PILTINGSRUD
Contributing Writer
Eighteen-year-old Jennifer McKay, who won Valedictorian at NRHEG this year, was born in Boston, Massachusetts, grew up in New Richland, and now lives in Waseca with her mom, Michelle Muff. She also has a little sister, Lily, who is five, and an older sister, Kristen, who is 20.
McKay's school activities included student council, FFA/PALS, Knowledge Bowl, soccer (club and high school), golf (10th grade) and track (11th grade), National Honor Society, choir (9th, 10th, and 11th grades), and she started the Fellowship of Christian Athletes Huddle. In her community, she has been a Fellowship of Christian Athletes volunteer, she packed shoeboxes for Operation Christmas Child, she volunteered at Mayo Clinic in Waseca last year, as well as at Ecumen during 10th and 11th grades. She also found time for waitressing at Applebee's in Owatonna and Red Leaf Café in New Richland.
McKay says she feels proud of herself for achieving a 4.0. Her family is proud, too. McKay says, "I asked Mom what she thought about my accomplishment and she yelled, "Whoo- hoo!" She claims she doesn't know where I got my brains from, but she couldn't be prouder of what I've worked hard to achieve. The rest of my family is really proud of me and has shown it in many ways."
Details

Hits: 1932
NRHEG class of 2017 graduates
The NRHEG High School class of 2017 graduated Sunday, June 4 during commencement exercises in the high school gymnasium in New Richland. Above, Nancy Rudau with son Will during the Parent Appreciation portion of the program. See Page 12 of the Thursday, June 8 edition of the Star Eagle for more color graduation photos. See Page 2 for photos of kindergarten graduation for NRHEG's class of 2029. (Star Eagle photo by Chris Schlaak)
Details

Hits: 2362
New pastor takes over at Cross of Glory,
West Freeborn Lutheran churches

READY TO SERVE — Pastor Steven Schwartz has accepted the calling to Cross of Glory Lutheran Church of Hartland and West Freeborn Lutheran near Hartland. (Star Eagle photo by Melanie Piltingsrud)
By MELANIE PILTINGSRUD
Contributing Writer
There is a new face at Cross of Glory Lutheran Church and West Freeborn Lutheran Church. After a long stint without a regular pastor, Pastor Steven Schwartz has now been called to serve the congregations on a more permanent basis.
For 2 ½ years, Pastor Mark Hillmer served as interim pastor. Pastor Charles Espe also ministered there for a few months this spring. Pastor Steven Schwartz accepted the call at Cross of Glory and West Freeborn and began ministering there at the beginning of May.
"(Hartland) is very nice," says Schwartz. "The people that I've met are all wonderful. I like small communities. It's nice to have things be quiet. I like taking walks around town."
Schwartz grew up in Minneapolis, Minn., and later attended Concordia College in Moorhead. From there he ended up at Princeton Seminary in New Jersey, where he met his wife, Nancy. For the first 4 ½ years out of seminary, he and Nancy worked as pastors in Pennsylvania – to a collective nine churches between the two of them. After the first of their two sons was born, they decided to move their family to Minnesota. Schwartz is now at his fifth call – as the pastor of Cross of Glory.