Star Eagle office
Details

Hits: 3534
Longtime teacher retires from NRHEG

FAREWELL TO NRHEG — LaDona Flowers, left, listens as superintendent Dale Carlson reads a plaque given in her honor after 42 years of teaching at NRHEG during staff recognition day. (Star Eagle photo by Aloni Duncan)
By MELANIE PILTINGSRUD
Contributing Writer
After teaching for one year in Austin, TX, and at NRHEG for 42 years, LaDona Flowers is retiring. 
Flowers has taught a broad range of classes over the course of her career. She has taught 7th and 8th-grade Family and Consumer Science classes, Succeed on Your Own, Internet Investing, Culinary Arts, International Cuisine, Sport and Foods, Food Science, Child Development, Future Parenting, Housing/Interior Design, Pinterest Projects, and Relationships/Self Defense.
Flowers says that one of the most humbling experiences of her career was when Bethany Otto Mikesell requested that her mother Emily Otto nominate her as the 1999 NRHEG Teacher of the Year. Flowers says, "After submitting a portfolio to Education Minnesota, I was recognized as one of the 20 Minn. Teachers of Excellence. It was indeed an honor to represent the NRHEG teachers at the recognition banquet where all of the teachers in the state are honored."
Another highlight of Flowers' career occurred during her internship: "While working on my Specialist of Education Degree in Curriculum and Instruction, I conducted seminars for an import/export company in Shanghai, China.
Flowers also considered it a privilege to be able to work with three student teachers throughout her career.
Flowers knows how to get involved in the community for a good cause, too. "To celebrate the Bicentennial, an FHA Rock-A-Thon was organized," she explains. "The FHA members and I rocked in rocking chairs for 24 hrs. to raise funds for the future baseball field. Tracy Loken, organized another major FHA/FLA fundraiser for the March of Dimes."
Details

Hits: 3543
Dobberstein thoroughly enjoyed
four decades of teaching at NRHEG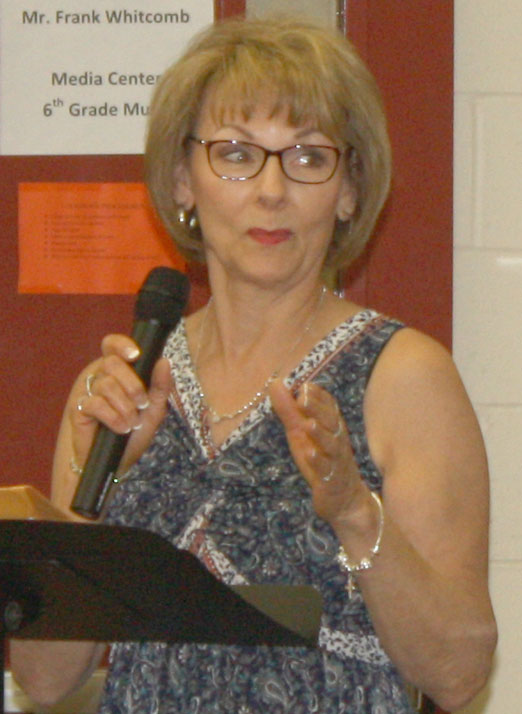 SWEET GOODBYE — Marilyn Dobberstein addresses those gathered at NRHEG's Staff Appreciation day. (Star Eagle photo by Aloni Duncan)
By MELANIE PILTINGSRUD
Contributing Writer
Marilyn Dobberstein, who grew up in Ellendale, Minn., is retiring having taught for 40 years in the local school district.
Dobberstein taught Home Economics, which is now called Family and Consumer Science, to 7th–12th grade students. "I went into teaching because I loved all of the aspects of Home Ec.," says Dobberstein. "I loved to sew, cook, etc., and I wanted to make a difference in children's lives. I had an awesome Home Ec. teacher in high school and she really encouraged me to pursue my degree in education.
"My first job was in Lanesboro, Minn.," Dobberstein continues. "I taught there for one year. The last eight years I have been in NRHEG and USC serving as Community Ed. Director."
After many years of teaching 7th–12th grade students, Dobberstein's job transitioned into teaching 7th- 8th grade students when her school combined with the New Richland-Hartland School district. "I gained the Community Education Director position when the elementary principal left our district," says Dobberstein. "ECFE was then being developed in the state of Minnesota, so I implemented that into our district. I also taught Parent Education in the evenings along with my full time job. I have enjoyed teaching a variety of Community Education classes throughout the years.
Details

Hits: 3853
Farm & City Days 2017

LEADING THE PARADE — 2017 New Richland Farm and City Days parade grand marshals Mary Ebnet and Rick Schultz. (Star Eagle photo by Melanie Piltingsrud)
By MELANIE PILTINGSRUD
Contributing Writer
Jim Kozan, in his usual inimitable style, announced the two grand marshals of Farm and City Days at the Fire Hall Pancake Breakfast on July 8. Rick Schultz and Mary Ebnet were both completely surprised to be chosen as this year's grand marshals.
"I was so happy for you, I didn't even hear my name!" said Ebnet to Schultz after the two shook hands with numerous people following the announcement.
Both Ebnet and Schultz are native New Richland residents. Schultz grew up on a farm west of New Richland, and now continues to live there with his wife, Jackie. The two have one daughter, Hallie. Ebnet grew up on a farm, too, but she and her husband, Lavoy, have lived in town now for 14 years. Her husband helps Schultz with his farming. Lavoy and Mary have four children, Carmen, Vyanna, Rob, and Michael.
Besides farming, Schultz is involved in the Dekalb Asgrow dealership, and is president of the NRHEG School Board. He also organizes bus trips to the University of Minnesota, so that anyone who wants to can see Carlie Wagner play basketball. He said, "I'd just like to thank the community. We've got such a great support group here as far as if you ever need anything. We're very fortunate to have support for the school district, and all the other areas of interest here. It's a great community. I wouldn't want to live anywhere else."
Details

Hits: 2714
LSR dedicates
cemetery directory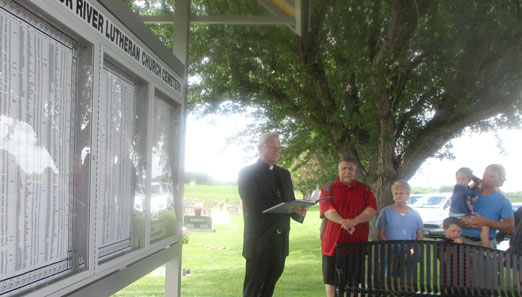 DEDICATION — Pastor Brian Gegel, left, standing next to Steve Schroeder, tells about the newly constructed cemetery directory at LeSueur River Lutheran Church. (Star Eagle photo by Kathy Paulsen)
By KATHY PAULSEN
Staff Writer
LeSueur River Lutheran Church celebrated its Sesquicentennial - 150th year – on June 19, 2011 and on June 18, 2017 they dedicated their newly constructed cemetery directory. Over the years they have also completed several other projects, including a beautiful new kitchen, steeple shingles and new siding.
The congregations of LeSueur River and Vista Lutheran Churches held a joint worship service on Sunday, June 18. Following the service, the cemetery directory dedication service and celebration meal were held at LeSueur River church, is located 4 1/2 miles northeast of New Richland. 
As people arrived at the church they were presented with copies of the origin of LeSueur River Lutheran. A roster of the congregation's first settlers included 36 people in 1856 and many of them went on to be buried in the church cemetery.
Dennis Knutson shared several songs on his flute during the prelude to the morning service. Gratia Johnson, church organist, served as his accompanist.
Following the service everyone was invited outside for the dedication of the cemetery directory and celebration. It was explained that the seeds for this project had been sown a few years ago and now the crop was being harvested.
Details

Hits: 3591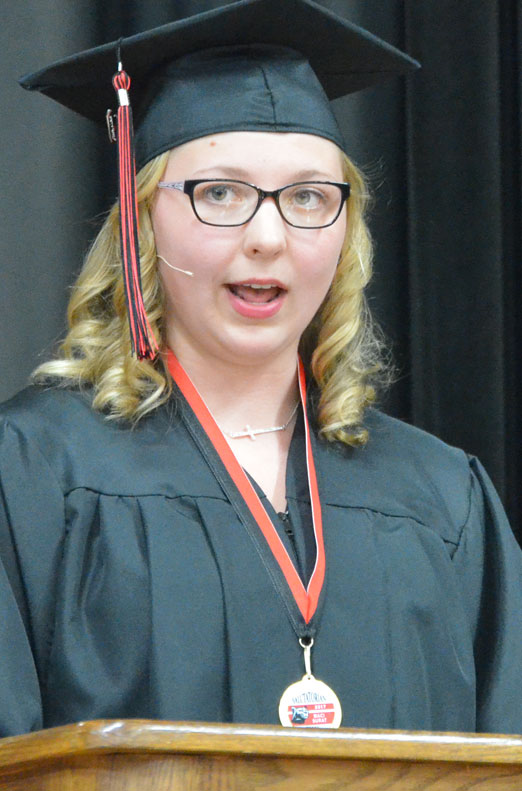 WORDS OF WISDOM — Salutatorian Maci Surat was one of three speakers selected by their peers to address the NRHEG High School class of 2017. (Star Eagle photo by Chris Schlaak)
By MELANIE PILTINGSRUD
Contributing Writer
Maci Surat, age 18, is this year's Salutatorian at NRHEG. Born in Sioux Falls, SD, Surat's parents, Robert and Lisa, moved with their family to New Richland when she was in second grade. Surat has four brothers: Jacob, Josh, Jadyn, and Jaren, and a dog, Miko.
As a high school student, Surat was active in student council/class officer, knowledge bowl, high school ambassadors, FFA/PALS, Panther Press, golf, volleyball, NHS, and reader's theater. Surat's community activities included Girl Scouts, volunteering at NRAFS, and volunteering at Mayo Clinic in Waseca. She also worked as a cashier at Wagner Foods and was employed at Ole and Lena's food truck during the summer.
What will Surat miss most about NRHEG? "I am going to miss walking down the hallway and knowing every person I see!" she says. "It will also be an adjustment to have professors who don't even know my name when I am so used to having close relationships with all my teachers."
Surat has a lot of great memories from her time at NRHEG. "I really enjoyed cheering on all the sports teams with my friends!" she says. "There were many times where we were just having fun, but actually making lasting memories. Our class this year had somewhat of a tripping competition going on; if anyone was walking anywhere, there was a good chance someone was trying to trip them. Yes, people fell!"