Star Eagle office
Details

Hits: 5454
Al Batt says he's lucky to live near Hartland;
we say we're lucky to have him in the NRHEG area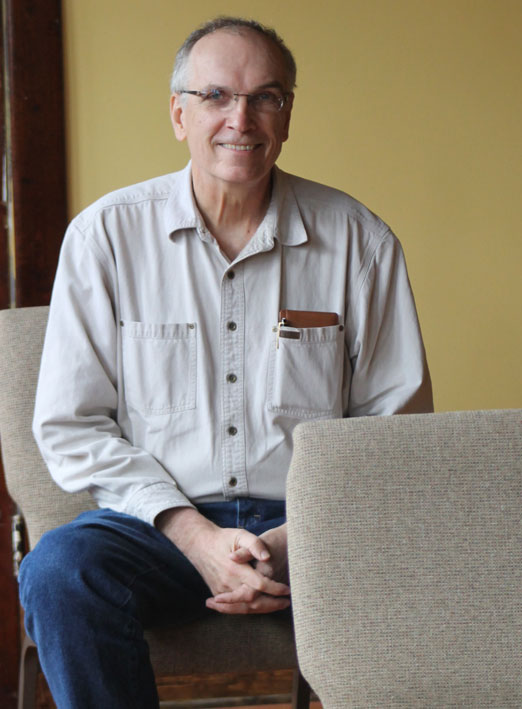 MAN OF MANY STORIES — Al Batt, storyteller extraordinaire. (Star Eagle photo by Melanie Piltingsrud)
By MELANIE PILTINGSRUD
Contributing Writer
We all know Al Batt as the man who writes humorous columns and gives talks on ornithology, but how did this "storyteller" get where he is, and what is he up to today?
Batt grew up on a farm outside of Hartland, MN – a dairy farm, which also had beef cattle, ducks, geese, chickens, goats, turkeys, and pigs. Now, having come, as he puts it, a whole mile in life, he still lives by Hartland, and he can't imagine why anyone would want to live anywhere else.
What he likes most about Hartland is the people. "And it's my home," says Batt. "And by saying that, that's everything I like about it. I like the rural. I spend a good share of my life on the road in planes and hotels and things. It's just really nice. Sort of a pastoral place to be."
Details

Hits: 2131
NRCC introduces variety of therapies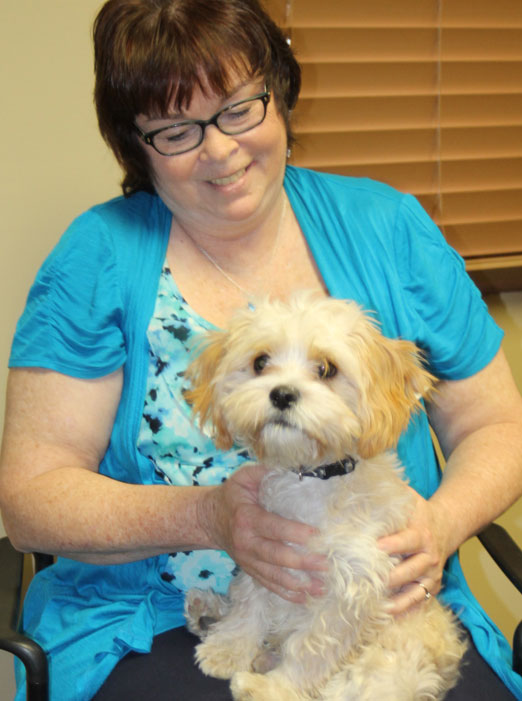 RISING STAR — Sandy Hart of NRCC holds Billy, a puppy that's become quite popular with residents. (Star Eagle photo by Jessica Lutgens)
By JESSICA LUTGENS
Staff Writer
The New Richland Care Center's mission to provide the best care possible for its residents continues. The latest step toward that goal is the result of a grant received by the center earlier this year providing funds to aid in non-pharmaceutical interventions for dementia patients.
In January, the center hired Sandy Hart to head a new program—PIPP, or Performance-Based Incentive Program—that would lay out a set of initiatives to help reduce the use of antipsychotic/antianxiety medications in residents with dementia. With the help of care center administrator Don Alexander and other staff, it was decided to introduce several new types of therapy, including aroma and massage therapy, pet therapy, and music and memory therapy. A computer system called It'sNever2Late (iN2L) was also installed that provides numerous opportunities for residents.
First implemented was pet therapy, as one of the nurse managers offered to bring her six-month-old puppy, Billy, during her shifts. The residents have taken quite a liking to Billy, and according to Hart, Billy is enjoying his new role as well.
"Billy's become a star," Hart said after introducing the little yellow pup.
Details

Hits: 2180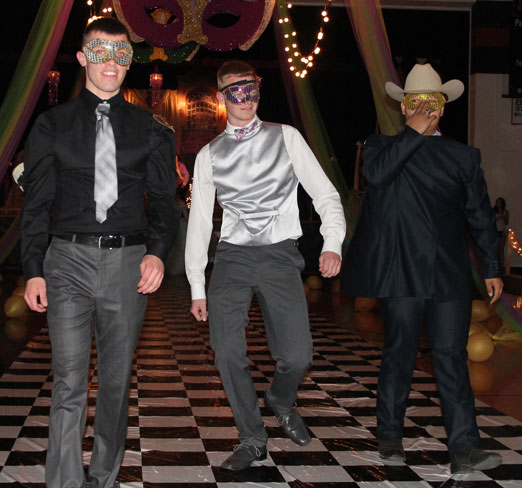 From left, Josh Fleming, Isaac Morgan and Luis Gaona strut their stuff after the traditional grand march for NRHEG Prom 2017 on May 6. See this week's Star Eagle for photos of all 2017 NRHEG prom couples. (Star Eagle photo by Nikki Erickson)
Details

Hits: 2319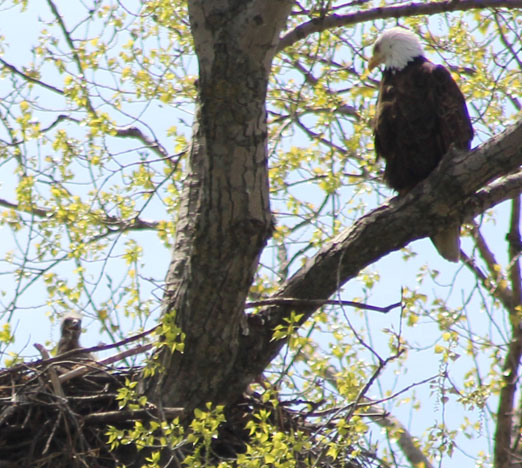 This eagle was spotted watching over a hatchling near an area lake. (Star Eagle photo by Deb Bently)
Details

Hits: 3093
NRHEG musical 'dynamic, energetic, and a bit zany'

   THE PLAYERS — Among the cast members for the upcoming NRHEG production of "Annie Get Your Gun" are, on floor, Justin Mortenson and Will Rudau. Row two: Emma Tollefson, Aubrey Johnson and Leah Morstad. Back: Emily Crabtree, Ben Lewer, Maurya Johnson, Solveig Stafford and Lexi Combs. (Star Eagle photo by Deb Bently)
By DEB BENTLY
Contributing Writer
It's just before 6 p.m. on a Monday evening. Although play practice technically doesn't begin for another 10 minutes or so, it's hard to tell by looking around the room. At one side of the space, music director Jen Fredrickson and accompanist Jacob Bender are running through parts of the score. In another spot, a few cast members are running a spontaneous practice of some choreography. Costumes are being tried on, analyzed for their fit and appearance.
In short, the room is dynamic, energetic, and just a bit zany.
"Just like the play itself," jokes one cast member.
The play is Annie Get Your Gun, the well-known musical by Rogers and Hammerstein which shares the story of Annie Oakley, a real-life sharpshooter who performed with Buffalo Bill's Traveling Show in the 1880s. NRHEG's production of the play will show at 7 p.m. Friday, April 28, and at 2 and 7 p.m. on Saturday, April 29. Tickets will be for sale at the door: $4 for students, $6 for adults.