Details

Hits: 6439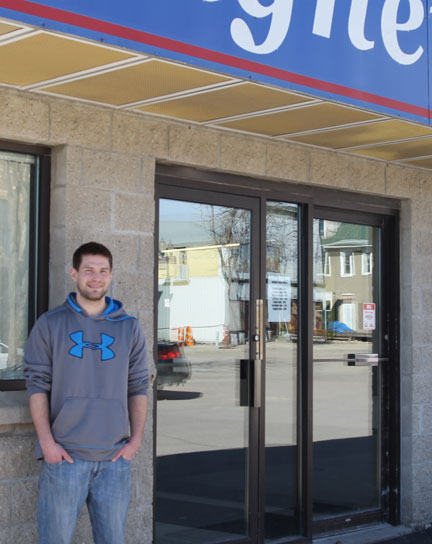 HE LIVES HERE – Wagner Foods' new owner Mitch Heimer is no stranger to locals, since he's been managing the store for over two years, while living in New Richland and attending MSU in Mankato. (Star Eagle photo by Jessica Lutgens)
By JESSICA LUTGENS
Staff Writer
Wagner Foods has changed hands, and its new owner, Mitch Heimer, is no stranger to the business. 
In his hometown of Adams, MN, Heimer's dad owned a grocery store that he purchased from Dan Wagner—father of the now former owner of Wagner Foods, Pete Wagner. 
For the past two and a half years, Heimer has been managing New Richland's grocery store while attending college at Minnesota State University, Mankato. During his senior year of college, he was asked if he'd be interested in owning the store, as Wagner had purchased another store and was having difficulties managing two grocery stores. 
"I worked in the front and back of a grocery store before college, so I kind of knew the ropes before I arrived here," Heimer said. "But I've picked up a lot, and there's more to learn."
Details

Hits: 5500
Lucky landing brings plane down by Beaver Lake
By KATHY PAULSEN
Staff Writer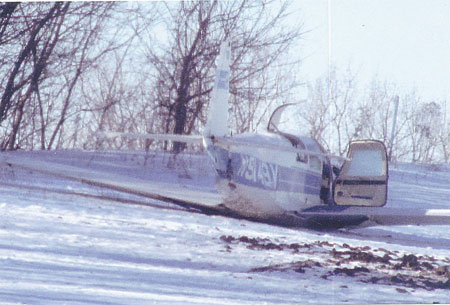 If you don't believe in God, guardian angels, miracles and fate you may think twice about the airplane crash that took place north of Beaver Lake on Thursday night, February 2.
Daniel Johnathan Bass, 39, who works in the area of metal fabrication, filed a flight plan and left the Duluth airport at 6:10 on Thursday night.  It is thought that he headed his single engine Mooney M20M airplane on a direct flight, south bound for home, to Winona.
Bass has experienced many hours of flying time, and once in the air it is thought that he had put his plane on automatic pilot.
Details

Hits: 4438
Hundreds of items up for bid on opening weekend

OPENING WEEKEND — Makenna Jacobs gets her hair cut for a "Locks of Love" donation during the Geneva Cancer Auction last weekend. The auction concludes this weekend. Drop off items to donate at Geneva Bar & Grill. (Star Eagle photo by Kathy Paulsen)
By KATHY PAULSEN
Staff Writer
It has been more than 30 years since Whitey Hagen first helped raise money for cancer research. He caught a chicken one night after work at Wilson Foods in Albert Lea. He then sought donations for that chicken while at the bar and proceeded to donate the money to the Eagles Cancer Telethon.
The rest is history.
Several years later he and his wife, LaJune, along with Hank and Judy Thompson, organized the first Geneva Cancer Auction, and the auctions continue to provide a great mix of items that people will never find in department stores.
About 150 people registered for bidding numbers for the 33rd annual auction, which kicked off two weekends of action Friday, Jan. 13 at Geneva Bar and Grill. A total of 108 items were put up for bid on Friday night and 262 items on Saturday.
The action resumes Friday, Jan. 20 at 7 p.m. and again Saturday, Jan. 21 at 2 p.m.
Details

Hits: 4883
Geneva Cancer Auction

JUST AHEAD —Keith Hagen holds a sign made and donated by Kelly Simon for the 33rd Annual Geneva Cancer Auction, which wrapped up Saturday night at Geneva Bar & Grill. (Star Eagle photos by Kathy Paulsen)
By KATHY PAULSEN
Staff Writer
Many of us have read or heard the "Green Eggs and Ham" story.
This year, the Eagles Cancer organization took that same idea and put it on T-shirts: "I do not like cancer here or there, I do not like cancer anywhere."
This past weekend, several people helping with the 33rd Annual Geneva Cancer Auction proudly wore them.
Whitey Hagen welcomed everyone to Geneva Bar & Grill for the big event, which wrapped up two weekends of action Friday night and Saturday.
Whitey reiterated that the cancer auction was a super event to be involved with, and said the auctions were a lot of work and many local people put a lot of effort into donating items, especially all the home-baked goodies. Whitey said he and his wife, LaJune, really appreciate all the things everyone does to help and support the event each year. He especially appreciates all the people who turn out to take part or help with the many events.
"I know of nobody better to fight cancer than the people from our area," said Whitey.
Details

Hits: 3712
16-year New Richland fireman succeeds Mike Shurson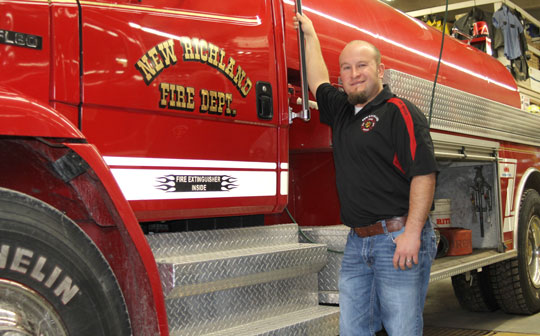 NEW LEADER — Josh Moen was voted New Richland Fire Chief at the department's organizational meeting Thursday, Jan. 5. (Star Eagle photo by Jim Lutgens)
By JIM LUTGENS
Editor/Publisher
Josh Moen was elected New Richland Fire Chief at the department's annual organizational meeting Thursday, Jan. 5. Moen, 31, succeeds Mike Shurson.
Also elected: Tyler Hansen, Assistant Chief; Shannon Young, Deputy Chief; Chad Neitzel, Captain; Adam Wacholz, 1st Lientenant; Brian Ziemke, 2nd Lieutenant; Tom Gislason, Secretary; Shurson, Gambling Manager. All terms are for one year.
The New Richland Fire Dept. has 25 members, all volunteer. Several, including Moen, serve as First Responders.
Moen, a 2004 graduate of NRHEG High School, has been a member of the New Richland Fire Dept. since December of 2005, having previously served as first lieutenant and assistant chief. He's looking forward to serving as chief.