Details

Hits: 2633
NRHEG class of 2017 graduates
The NRHEG High School class of 2017 graduated Sunday, June 4 during commencement exercises in the high school gymnasium in New Richland. Above, Nancy Rudau with son Will during the Parent Appreciation portion of the program. See Page 12 of the Thursday, June 8 edition of the Star Eagle for more color graduation photos. See Page 2 for photos of kindergarten graduation for NRHEG's class of 2029. (Star Eagle photo by Chris Schlaak)
Details

Hits: 3189
New pastor takes over at Cross of Glory,
West Freeborn Lutheran churches

READY TO SERVE — Pastor Steven Schwartz has accepted the calling to Cross of Glory Lutheran Church of Hartland and West Freeborn Lutheran near Hartland. (Star Eagle photo by Melanie Piltingsrud)
By MELANIE PILTINGSRUD
Contributing Writer
There is a new face at Cross of Glory Lutheran Church and West Freeborn Lutheran Church. After a long stint without a regular pastor, Pastor Steven Schwartz has now been called to serve the congregations on a more permanent basis.
For 2 ½ years, Pastor Mark Hillmer served as interim pastor. Pastor Charles Espe also ministered there for a few months this spring. Pastor Steven Schwartz accepted the call at Cross of Glory and West Freeborn and began ministering there at the beginning of May.
"(Hartland) is very nice," says Schwartz. "The people that I've met are all wonderful. I like small communities. It's nice to have things be quiet. I like taking walks around town."
Schwartz grew up in Minneapolis, Minn., and later attended Concordia College in Moorhead. From there he ended up at Princeton Seminary in New Jersey, where he met his wife, Nancy. For the first 4 ½ years out of seminary, he and Nancy worked as pastors in Pennsylvania – to a collective nine churches between the two of them. After the first of their two sons was born, they decided to move their family to Minnesota. Schwartz is now at his fifth call – as the pastor of Cross of Glory.
Details

Hits: 2838
NRCC introduces variety of therapies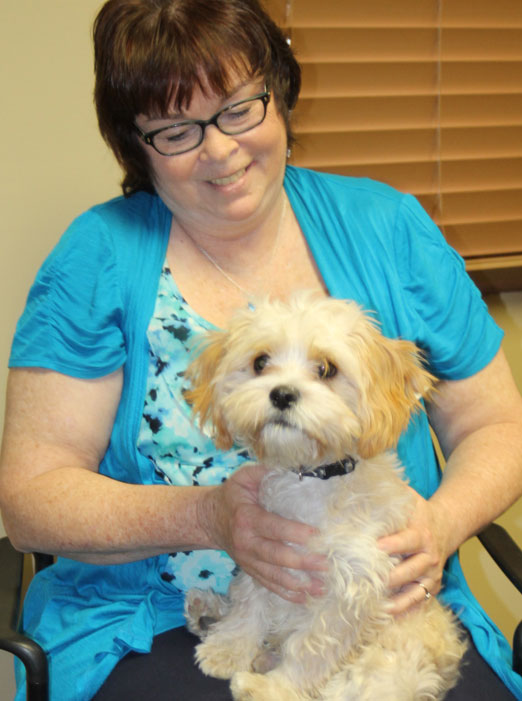 RISING STAR — Sandy Hart of NRCC holds Billy, a puppy that's become quite popular with residents. (Star Eagle photo by Jessica Lutgens)
By JESSICA LUTGENS
Staff Writer
The New Richland Care Center's mission to provide the best care possible for its residents continues. The latest step toward that goal is the result of a grant received by the center earlier this year providing funds to aid in non-pharmaceutical interventions for dementia patients.
In January, the center hired Sandy Hart to head a new program—PIPP, or Performance-Based Incentive Program—that would lay out a set of initiatives to help reduce the use of antipsychotic/antianxiety medications in residents with dementia. With the help of care center administrator Don Alexander and other staff, it was decided to introduce several new types of therapy, including aroma and massage therapy, pet therapy, and music and memory therapy. A computer system called It'sNever2Late (iN2L) was also installed that provides numerous opportunities for residents.
First implemented was pet therapy, as one of the nurse managers offered to bring her six-month-old puppy, Billy, during her shifts. The residents have taken quite a liking to Billy, and according to Hart, Billy is enjoying his new role as well.
"Billy's become a star," Hart said after introducing the little yellow pup.
Details

Hits: 6482
Al Batt says he's lucky to live near Hartland;
we say we're lucky to have him in the NRHEG area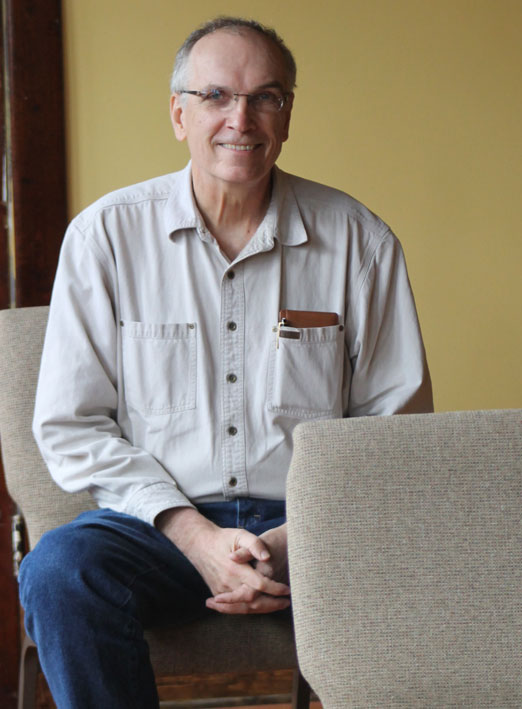 MAN OF MANY STORIES — Al Batt, storyteller extraordinaire. (Star Eagle photo by Melanie Piltingsrud)
By MELANIE PILTINGSRUD
Contributing Writer
We all know Al Batt as the man who writes humorous columns and gives talks on ornithology, but how did this "storyteller" get where he is, and what is he up to today?
Batt grew up on a farm outside of Hartland, MN – a dairy farm, which also had beef cattle, ducks, geese, chickens, goats, turkeys, and pigs. Now, having come, as he puts it, a whole mile in life, he still lives by Hartland, and he can't imagine why anyone would want to live anywhere else.
What he likes most about Hartland is the people. "And it's my home," says Batt. "And by saying that, that's everything I like about it. I like the rural. I spend a good share of my life on the road in planes and hotels and things. It's just really nice. Sort of a pastoral place to be."
Details

Hits: 2859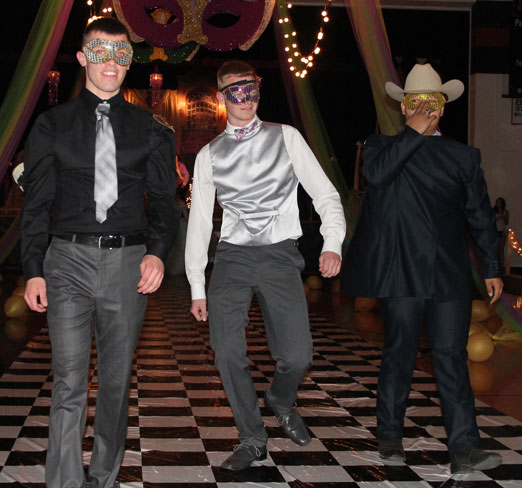 From left, Josh Fleming, Isaac Morgan and Luis Gaona strut their stuff after the traditional grand march for NRHEG Prom 2017 on May 6. See this week's Star Eagle for photos of all 2017 NRHEG prom couples. (Star Eagle photo by Nikki Erickson)