Details

Hits: 2806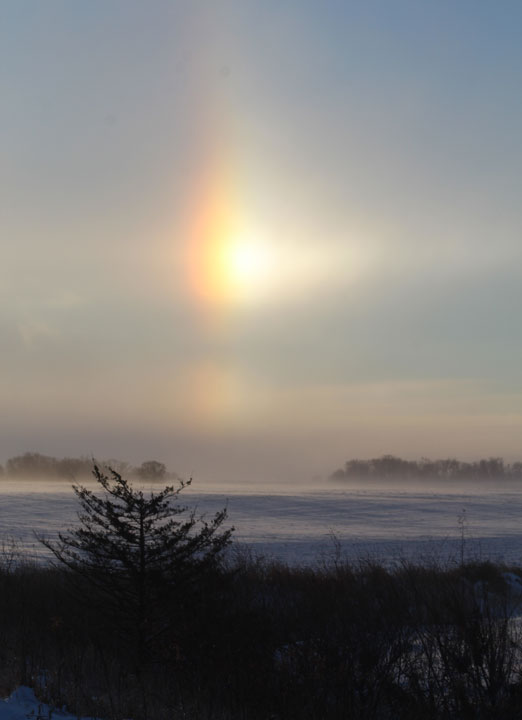 As ugly as we might find cold temperatures and strong winds, they certainly can create some beautiful visual effects, as illustrated by this sun dog as photographed through airborne snow. (Star Eagle photo by Deb Bently)
Details

Hits: 2929
Dancers present winter recital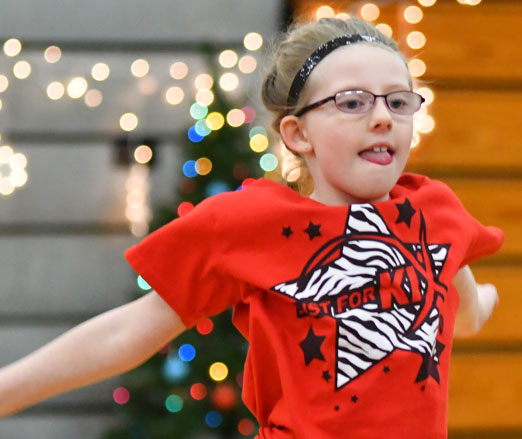 A dancer performs during the 2017 Just For Kix Winter Dance Recital, "All That Sparkles," Sunday, Dec. 17 in the NRHEG High School gymnasium in New Richland. (Star Eagle photo by Chris Schlaak)
Details

Hits: 2322
Awards announced at concert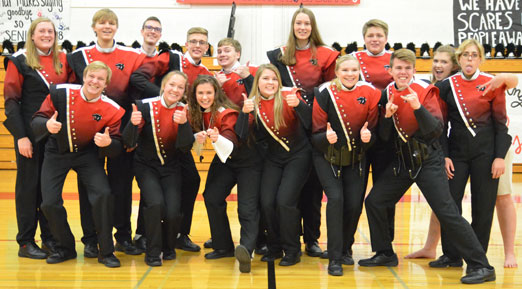 SENIORS — Seniors were recognized during the 2017 NRHEG Indoor Marching Band Concert. Front from left: Cole Thompson, Emily Pirgge, Kyra Possin, Taytum Ihrke, Lillian Bell, Ben Lewer, Emma Tollefson, Solveig Stafford. Back: Lauren Hermann, Christopher Stenzel, Landon Johnson, Caleb Harpel, Betsy Schoenrock, Justin Mortenson. (Star Eagle photo by Chris Schlaak)
By MELANIE PILTINGSRUD
Contributing Writer
On Tuesday, Nov. 21, the 2017 Indoor Marching Band Concert and Awards Ceremony took place at the NRHEG High School. The band was led by director Miles Otstot, and Amber Roeker was the color guard instructor.
The Jazz Ensemble got the concert started with Sonny Rollins' "St. Thomas," arranged by Mark Taylor, with Jadyn Sarat on trumpet. This number was followed by a jazzy "Hit the Bricks" by Gordon Goodwin, with solos by Chris Stenzel on alto saxophone, and Lawren Deml on baritone saxophone, both of which brought heartfelt applause from the audience.
Otstot took the microphone to deliver thanks to a number of individuals, especially to the custodians. "They make our lives easier; no matter how much of a mess we make, they never complain," said Otstot.
The Color Guard used mirrors and flags in a moving interpretation of the song "Reflections" from the movie Mulan, and then danced to Glee's version of "I Dreamed a Dream."
The Drum Line beat their hearts out in "Tear in my Heart" by Tyler Joseph, arranged by none other than Miles Otstot.
The seniors gathered on the gym floor to watch a slide show, and then played "Take On Me" by A-HA, arranged by Waters.
Details

Hits: 2844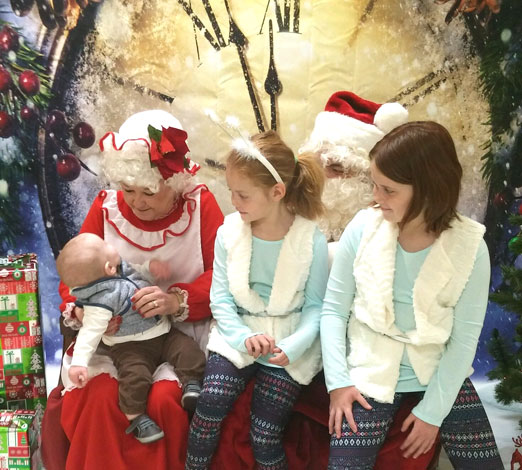 The Botten sisters, Violette and Hazel, right, look at their baby brother Conway during their visit with Santa and Mrs. Claus at New Richland City Hall. The event was sponsored by the New Richland Commercial Club, which is also responsible for the Christmas lights on the trees on Broadway Ave. in New Richland. (Star Eagle photo by Sara Jo Vulcan)
Details

Hits: 2645
Benefit Sunday at New Richland City Hall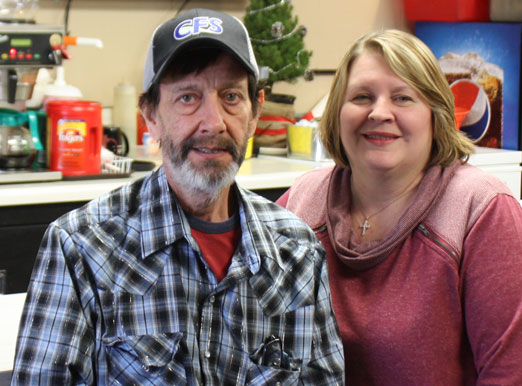 GRATEFUL — David and Kristine Johnson are grateful the New Richland Lions Club is hosting a pancake breakfast Sunday, Dec. 3 to help the family deal with expenses during David's battle with cancer.
By MELANIE PILTINGSRUD
Contributing Writer
The New Richland Area Lions Club will be hosting a pancake breakfast and silent auction as a benefit for David Johnson of the Hartland area this Sunday, Dec. 3 from 7 a.m.–12:30 p.m. at New Richland City Hall.
David says he had been feeling tired and worn out for a long time - from Dec. 2015 to Feb. 2016 – before he went to see a doctor. "I really noticed it a month and a half before," he says. He took a week off of his job at WFS (Now CFS.). "I thought I just needed to get some rest, because I was working long hours." But even with a vacation from work, David didn't feel any better. In Feb. of that year, his body filled up with fluid, and he finally decided it was time to see a doctor. David was diagnosed with Stage 4 rectal cancer with extensive liver metastases.
David has undergone a number of medical treatments since his diagnosis. At their first meeting, the Johnsons say the oncologist was "extremely concerned," and canceled another appointment in order to expedite David's first treatment. He was down to 130 pounds, but, because David's liver was compromised, 14.7 pounds of that was excess fluid, which doctors pumped out. A month later, the fluid had accumulated again, and David had another 17.9 pounds of fluid removed from his body. On a third occasion, 6 pounds of fluid were removed, so that David could go on a fishing trip with his brothers.
David had to have a port surgically installed in his chest in preparation for chemotherapy. He says the worst part of having a port in his chest is wearing a seatbelt. "I usually put my arm over the seatbelt," he says. "Last year it bothered me a lot, but then I had lost a lot of weight."