Details

Hits: 4144
Wagner leads Gophers past Lehigh in opener
Carlie Wagner (33), a graduate of NRHEG and a member of the University of Minnesota women's basketball team, gets position for a rebound during the Gophers' season opener against Lehigh at Williams Arena in Minneapolis Saturday, Nov. 11. Wagner, a senior, had 22 points, one steal and one assist in 24 minutes as the Gophers breezed to a 107-73 victory. (Star Eagle photo by Jim Lutgens)
Details

Hits: 3361
Band places second at Waseca Classic
Members of the NRHEG Marching Band perform in the Waseca Marching Classic Saturday, Sept. 23. The Panthers, as usual, earned a trophy at Waseca, taking second place in Class A. (Star Eagle photo by Jessica Lutgens)
Details

Hits: 4023
Coronation set for 7 p.m. at NRHEG High School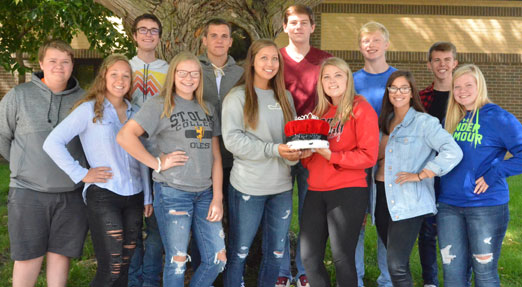 WHO WILL REIGN? — Homecoming queen and king candidates for 2017 at NRHEG High School. Front from left: Emily Prigge, Lillian Bell, Tali Wayne, Taytum Ihrke, Natalia Galindo and Makenzi Rhoades. Back from left: Cole Broitzman, Landon Johnson, Benji Lundberg, Jerret Utpadel, Perry Peterson and Ben Lewer. (Star Eagle photo by Chris Schlaak)
By JIM LUTGENS
Editor/Publisher
Homecoming week 2017 at NRHEG High School kicks off Sunday, Sept. 17 when the queen and king are crowned. Coronation is set for 7 p.m. in the high school gymnasium in New Richland.
The royalty will be crowned — based on a vote of the grade 9-12 student body — and will reign over Homecoming week.
This year's candidates, based on vote by their classmates, are:
Queen
• Lillian Bell, daughter of Angela and Alex Bell
• Natalia Galindo, daughter of Ann Arvarez
• Taytum Ihrke, daughter of Amy and Mike Ihrke
• Emily Prigge, daughter of Terry and Carey Prigge
• Makenzi Rhoades, daughter of Shannon Rhoades and Daniel Rhoades
• Tali Wayne, daughter of Kari and Tom Wayne
Details

Hits: 3943
Benji, Makenzi are 2017 Homecoming royalty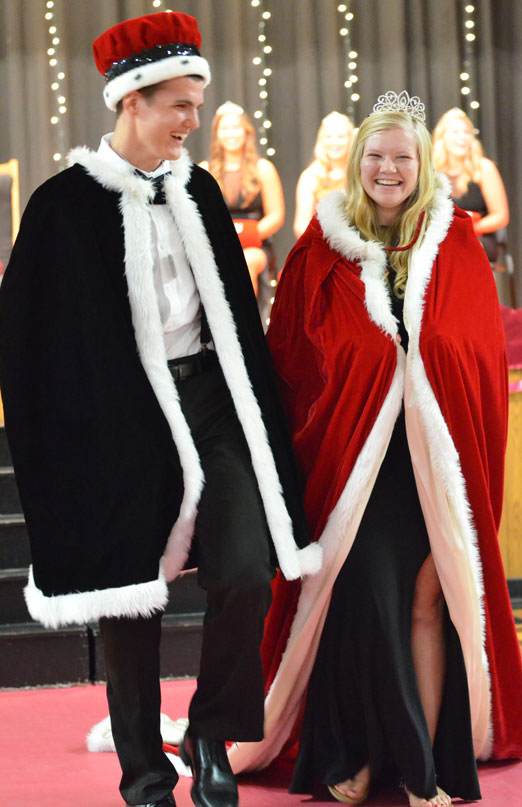 Benji Lundberg, left, and Makenzi Rhoades were crowned 2017 NRHEG Homecoming King and Queen, respectively, during coronation Sunday night in the high school gymnasium in New Richland. The Panthers face GFW in the Homecoming football game Friday at 7 p.m. For more on Homecoming past and present, see Pages 6-7 of the Sept. 21 edition of the Star Eagle. (Star Eagle photo by Chris Schlaak)
Details

Hits: 3897
Longtime teacher retires from NRHEG

FAREWELL TO NRHEG — LaDona Flowers, left, listens as superintendent Dale Carlson reads a plaque given in her honor after 42 years of teaching at NRHEG during staff recognition day. (Star Eagle photo by Aloni Duncan)
By MELANIE PILTINGSRUD
Contributing Writer
After teaching for one year in Austin, TX, and at NRHEG for 42 years, LaDona Flowers is retiring. 
Flowers has taught a broad range of classes over the course of her career. She has taught 7th and 8th-grade Family and Consumer Science classes, Succeed on Your Own, Internet Investing, Culinary Arts, International Cuisine, Sport and Foods, Food Science, Child Development, Future Parenting, Housing/Interior Design, Pinterest Projects, and Relationships/Self Defense.
Flowers says that one of the most humbling experiences of her career was when Bethany Otto Mikesell requested that her mother Emily Otto nominate her as the 1999 NRHEG Teacher of the Year. Flowers says, "After submitting a portfolio to Education Minnesota, I was recognized as one of the 20 Minn. Teachers of Excellence. It was indeed an honor to represent the NRHEG teachers at the recognition banquet where all of the teachers in the state are honored."
Another highlight of Flowers' career occurred during her internship: "While working on my Specialist of Education Degree in Curriculum and Instruction, I conducted seminars for an import/export company in Shanghai, China.
Flowers also considered it a privilege to be able to work with three student teachers throughout her career.
Flowers knows how to get involved in the community for a good cause, too. "To celebrate the Bicentennial, an FHA Rock-A-Thon was organized," she explains. "The FHA members and I rocked in rocking chairs for 24 hrs. to raise funds for the future baseball field. Tracy Loken, organized another major FHA/FLA fundraiser for the March of Dimes."