Details

Hits: 967
Ellendale City Council
By SCOTT GROTH
Contributing Writer
The Ellendale City Council met Thursday March 22 with Mayor Engel, Councilmen Helland, Reiter, Goebel and Groth all in attendance. Also at the meeting were Jeff Johnson, Jeremy Reese, Clerk Louks and Gwen Reiss.
After approving the agenda for the evening, Mayor Engel called on Johnson to give the monthly fire department report. The total pay request for department bills was $1637.93. Chief Reese brought to the council's attention that the department will be looking to buy different radios in the near future. Reese explained that with Steele County dispatch and law enforcement updating to the new 800 mhz, the department is looking at getting new pagers and mobile radios. 
Reese went on to explain that to set the department up in a relatively good fashion, the department will probably spend somewhere in the neighborhood of $22,000. The department will likely look into buying ten pagers, four portables and four units for the trucks. Reese was asked by the council what monetary compensation the city could provide. 
Details

Hits: 898
Join Autism Speaks in celebrating World Autism Awareness Day on April 2 and "Light It Up Blue" to help shine a light on autism. Whether it's your front porch or your local city hall, an office party or a banquet, the whole world is going blue to increase awareness about autism. 
"Light It Up Blue," in its third year, is a unique global initiative to help raise awareness about the growing public health concern that is autism. Iconic landmarks around the world will "Light It Up Blue" to show their support. 
Join us now and help shine a light on autism.
The Autism Society of America and Autism Speaks are two education and advocacy groups working to raise autism awareness during the month of April. 
What is Autism? Autism is a complex developmental disability that typically appears during the first two years of life and is the result of a neurological disorder that affects the functioning of the brain, impacting development in the areas of social interaction and communication skills. Both children and adults on the autism spectrum typically show difficulties in verbal and non-verbal communication, social interactions and leisure or play activities. 
Details

Hits: 1316
Panthers third in state tourney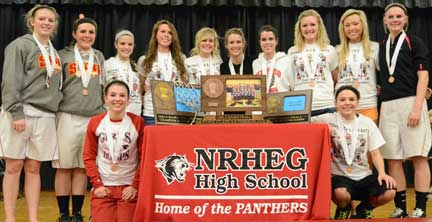 WELCOME HOME, HEROES — The NRHEG girls' basketball team poses for a photo during the welcome home ceremony at NRHEG High School Saturday evening. The Panthers finished third in the state tournament and finished with a record of 32-1. Front from left: Maddie Wagner, Marnie Wagner. Back: Jade Schultz, Hannah Lundberg, Abby Crabtree, Raelin Schue, Tori Raimann, Anna Schlaak, Danielle Krueger, Katie Cole, Paige Overgaard and Carlie Wagner. (Star Eagle photo by Chris Schlaak)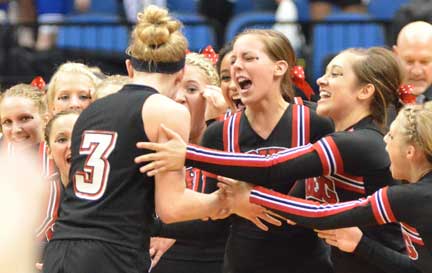 A NIGHT TO REMEMBER — NRHEG cheerleaders enthusiastically congratulate Carlie Wagner after the Panthers' 75-45 victory over defending Class AA state champion Braham in the quarterfinals of the state girls' basketball tournament at Target Center in Minneapolis. (Star Eagle photo by Chris Schlaak)
By JIM LUTGENS
Editor/Publisher
The 2011-12 New Richland-Hartland-Ellendale-Geneva girls' basketball team accomplished a feat few teams experience.
They won their final game.
It happened to be the third-place game of the state touurment, where they handled Pequot Lakes 73-59 Saturday afternoon at Concordia College in St. Paul.
Behind a record-setting performance by sophomore Carlie Wagner, the Panthers played as they have most of the season, trailing only once at 2-0 and leading the rest of the way.
Wagner, who along with NRHEG senior Anna Schlaak was named to the all-tournament team — said it was wonderful for the Panthers to finish on a positive note.
"We really wanted to come back strong after last night," said Wagner. "We knew we could mope about the loss or come back. We really wanted to end the season with a win."
NRHEG fans — arguably the largest group backing their team at state — were a big factor, according to Wagner.
"It's incredible," she said. "The fans were amazing."
To make it even more special for the Panthers, their former coach and athletic director, Mindy Sparby, presented their medals and trophy.
The Panthers were greeted like conquering heroes upon their return to New Richland Saturday evening, with a police escort leading area fire trucks with players riding atop. The caravan cruised main street before arriving at NRHEG High School, where they were greeted by jubilant fans.
Details

Hits: 956
The Waseca County Dairy Banquet will be on March 3l at the Purple Goose Restaurant in Janesville. Social half hour will begin at 7 p.m. and dinner and banquet will begin at 7:30.
The Waseca County Dairy Association will be crowning two Dairy Princesses for this coming year. Sarah Manthey and Megan Harguth will be crowned during the banquet.
Sarah is the daughter of Chuck and Chris Manthey of Janesville.
Harguth is the daughter of Greg and Sue Harguth. Their family was awarded the Farm Family of the Year in 2009.
The Dairy Princess program is made possible by the local dairy farmer's dairy promotion checkoff dollars.
During the banquet, the Butter Knife award will also be presented. The Butter Knife award is awarded to any food establishment that serves real butter and other real dairy products.
Tickets for the banquet are $10 and available from Curt Keyes, Waseca County Dairy Board Chair. He can be reached at (507) 271-5757.
Details

Hits: 2077
Hundreds of faithful follow girls' basketball team to state
GOOD TIMES — Amy Thompson and Brandon LeBlanc dance during game one of the state tournament at Target Center in Minneapolis last week. (Star Eagle photo by Chris Schlaak)
By JODY WYNNEMER
Staff writer
You could have rolled a bowling ball down Broadway Avenue in New Richland either last Wednesday or Friday evening and probably not struck a soul.
At the same time, if you had ventured to Target Center in downtown Minneapolis, you would have found the reason for the deserted streets of the burg. It was girls' state basketball time, and the NRHEG Lady Panthers were in the thick of it. A quick glance would show the Panther faithful clearly outnumbered the opposing spectators, as many of them were disguised as empty seats.
On Wednesday evening alone, there were 11 buses of students and adults rolling down the interstate, their voices ready to cheer on the home team. It didn't matter if you were from Ellendale, Geneva, Hartland or New Richland, this was a chance to see the kids possibly make history, and not many wanted to miss it.
On the bus ride up, everyone was in agreement that it was the way to go. It was even better than flying because a light lunch of ham sandwiches and cookies was served by "flight attendants" Rick Schultz, Doug Christopherson, Terry Hansen and Randy "Moosie" Anderson. Besides, all that fun and they didn't charge you for an extra bag.