Details

Hits: 1382
Hartland native has a definite knack for writing
By RACHEL RIETSEMA
Staff Writer
Whooshing into a room full of shelves, the literary world suddenly lays at her fingertips. Still out of breath, this introspective youngster's nose darts every which way in the hopes of finding the perfect book.
"As an only child with parents who were both avid readers, my love of books began at a very young age," said former Hartland resident Jeanie Larson. "I could travel anywhere, be anyone I wanted in a book. I read anything from romance to science fiction, to biographies. I loved them all."
Years later, this Iowa resident has a library she calls her very own. Thus far, Larson has e-published the following titles: "Another Time, Another Place," "47," "Be Careful What You Wish For," "I'll Never Forget You" and "Will You Marry Me."
"I am almost finished with 'Do You Remember Me Now,'" Larson said. "'I'll Never Forget You' is actually the first one I ever wrote. It is about a girl who takes a vacation to California, and meets her favorite TV star."
These aren't the only ones in her home collection though. Just ask her husband of 30 years.
Details

Hits: 969
A total of 26 NRHEG sixth-graders have been selected by judges to move on to the Regional History Day at Minnesota State Mankato on March 20.
In the category of Junior Group Performance, qualifying were Lillian Bell, Emily Crabtree, Michelle Katzung, and Tali Wayne.
In the category of Junior Group Exhibit, there are seven qualifying groups:
• Emily Prigge and Betsy Schoenrock
• Ben Lundberg and Perry Peterson
• Cole Staloch and Brett Kubiatowicz
• Randy Anhalt and Brendon Strand
• Makenzi Rhodes and Nikita Peterson
• Chris Stenzel and Justin Mortensen
• Gabby Muri and Kelly Harden
In the category of Junior Individual Exhibit, there are eight qualifiers:
• Ben Lewer
• Katlyn Olsen
• Katie Crabtree
• Sadie Mortenson
• Jerret Utpadel
• Taytum Ihrke
• Noah Nielsen
• Otto Oquist
Top finishers at the Regional History Day advance to the Minnesota State History Day.
For photos of NRHEG students with their projects at Ellendale Elementary School Tuesday, Feb. 28, pick up a copy of this week's Star Eagle.
Details

Hits: 1126
NRAFS kicks off March campaign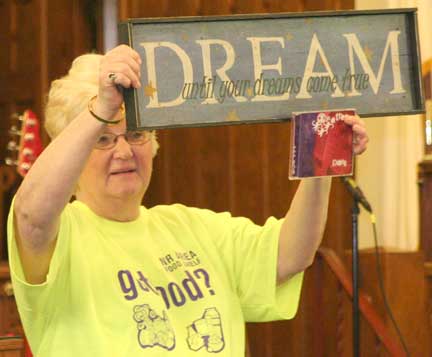 MAKING DREAMS COME TRUE — Sharon Eckart of the New Richland Area Food Shelf holds an item up for bids at the Groove For Food event Sunday, Feb. 26 at Trinity Lutheran. (Star Eagle photo by Jody Wynnemer)
By JODY WYNNEMER
Staff Writer
There must have been more than a few New Richland area residents who attended church twice last Sunday. 
Trinity Lutheran was the site of the first-ever Groove for Food sponsored by the New Richland Area Food Shelf. Food shelf President Larry Goehring welcomed everyone as things got underway. Guests were treated to five different musical groups throughout the afternoon and the home-spun humor of local storyteller Al Batt.
"I was raised near Hartland in the now extinct town of Bath," said Batt. "Hartland was a town of 300 people with only four last names. Hartland Township is now the honeymoon capital of Freeborn County."
Pianist and vocalist Melissa Williams was the first performer with her rendition of "At Last," a song written in 1941 and made famous by Etta James.
Details

Hits: 999
Students listen to X Games medalist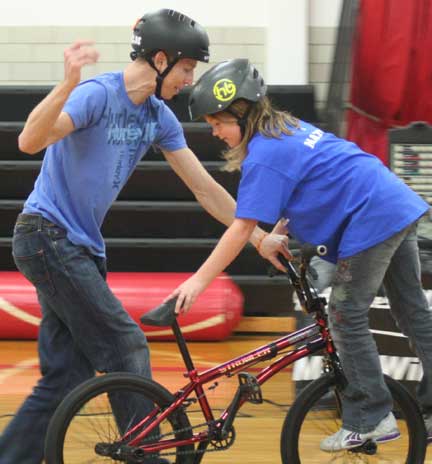 TRICKS OF THE TRADE — X Games BMX medalist Doug Wilhelm, left, teaches a thing or two to an NRHEG Elementary student during his recent presentation. (Star Eagle photo by Jody Wynnemer)
By JODY WYNNEMER
Staff Writer
Last year, for their efforts selling cookie dough, NRHEG Elementary students were treated to a magic show. This year, they enjoyed the tricks of X Games BMX medalist Doug Wilhelm on his bike. 
The gymnasium served as the stage as Wilhelm performed stunt after stunt for the students. Between bike tricks, he shared his experiences, both good and bad, with the kids. As he displayed the three X Games medals he had earned, he had an important message.
"I started doing tricks in eighth grade," said Wilhelm. "Everyone told me I'd never be good enough to make it to the X Games. After eight years of practice, guess who made it? When I was registering, this tall guy walked by me. It was none other than Tony Hawk. I started my routine, and crashed into the front row on my second trick. I crashed four more times during the two minutes. I looked up at the scoreboard and I was in last place. Last place in front of 15 million people. I wanted to quit, but I didn't give up. My message to you is never give up!"
Details

Hits: 1162
NRHEG School Board
By REED WALLER
Staff Writer
The NRHEG School Board discussed alternatives at last Tuesday's regular meeting with respect to two important building improvements. The windows in Ellendale need to be redone, and the New Richland kitchen and cafeteria could use some remodeling to accommodate the additional traffic they will have in the fall when sixth-graders move to New Richland.
Architect
Two architectural firms, The Wold and Collaborative Design, Inc., have submitted brochures and initial estimates for both jobs.
While the windows at Ellendale are a straightforward and immediately important job, the remodeling of the kitchen and/or cafeteria is open ended and several design options were discussed.
Both the serving line and the seating area in the cafeteria could be expanded by 2,400 square feet by moving the south wall of the New Richland Media Center, and expanding into what is now the south part of the Media Center, which isn't heavily used. Adding that area to the cafeteria would also provide outside lighting via the existing skylight.