Details

Hits: 1177
Whitey, LaJune Hagen have quietly said much in their 55 years together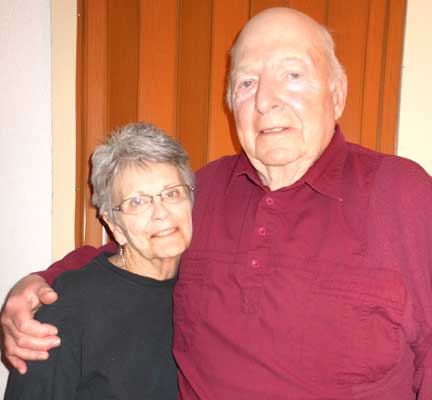 STILL SWEETHEARTS — Fifty-five years after tying the knot, LaJune and Dwayne "Whitey" Hagen remain enamored with each other. (Star Eagle photo by Kathy Paulsen)
By KATHY PAULSEN
Staff Writer
They call him Whitey. He was given that name in his early high school days when he played basketball for Freeborn High School because of his light colored hair. His given name is Dwayne. 
LaJune was the New Richland Homecoming Queen in 1953. Whitey graduated from Freeborn High School in 1950 and LaJune graduated from New Richland in 1954.
They were popular then and they're popular now. They just fit wherever and whatever they do.
How did these two great people meet? Their grandparents and parents knew each other. Whitey's parents were Arnold and Vivian Hagen of Ellendale; LaJune's parents were Art and Ella Strand of New Richland. Whitey had only one brother, Richard. LaJune had three brothers: Lyle, Dale and Vern, and one sister, Elaine.
Casually, they were both part of a crowd that hung out together. When Whitey came home after his tour of duty in Korea in 1954, they were all back together again. The closeness of family, mutual friends, some cousins, and their love of dancing were sort of a clincher. They became a pair and dated for about a year and a half before deciding to tie the knot.
Details

Hits: 1740
Domeier's 8th-graders find novel enlightening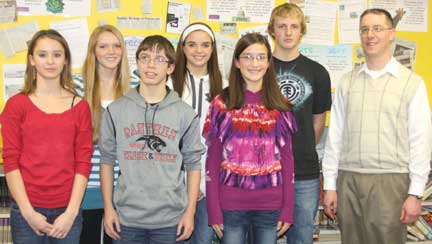 LEARNING EXPERIENCE — Among NRHEG 8th-graders who read the novel, "The Revealers," included, from left, Bayli Possin, Nicole Edon, Aaron Seath, Abby Wacholz, Torrie Stenzel, Brody Hansen and instructor Mark Domeier. (Star Eagle photo by Jessica Lutgens)
By JESSICA LUTGENS
Contributing Writer
Bullying is an issue that sometimes gets overlooked, especially in school. Sure, teachers or parents who witness bullying will step in and stop it. But what about the bullying that happens when adults aren't around, such as outside of school or on the Internet? What happens to the kids who are being bullied and feel as if they can't do anything to stop it? How does it feel to be bullied? 
More and more adults are becoming aware that bullying is a serious issue. It's more than just "kids being kids." Bullying hurts, physically and emotionally, and people are reaching out to students and teachers to teach them about bullying and, hopefully, help prevent it.
Mark Domeier's NRHEG eighth-grade class recently finished reading The Revealers, a book about bullying. Six students were interviewed about the book and bullying itself, and their answers proved to be interesting and will hopefully help gain an insight on what the issue is really like.
Details

Hits: 1120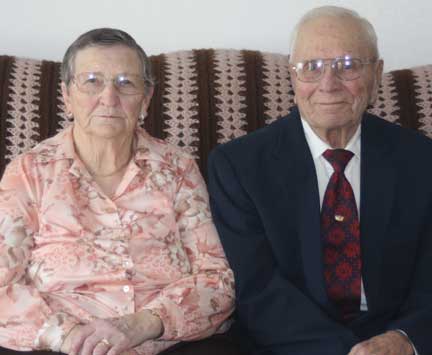 STANDING THE TEST OF TIME ­— After seven decades of give and take, Harlan and Leah Berg's love for one another is as strong as ever. (Star Eagle photo by Rachel Rietsema)
By RACHEL RIETSEMA
Staff Writer
Oblivious to the cumulus clouds forming outside, Leah Routh scurried all about the house preparing for her New Richland Dairy Days date. Of course the butterflies were a raging for this soon-to-arrive escort dressed in green. And, believe it or not, those winged creatures are still at work 76 years later.
Now wedded for a whopping 72 years, Harlan and Leah Berg look back at that rainy date and do one thing. They smile.
"When you get married, it's for always," Leah said. "Those were the only words my mother said to me when I told her about the engagement."
Tying the knot at ages 18 and 20, they had to do what married couples must. They learned to give and take.
"We started out with nothing," Leah said. "Nowadays when kids get married, they want to start out with everything, not just a little bit."
As both Leah and Harlan's upbringing took place on a farm, they knew what hard work was. And they wanted all nine of their children to carry on that legacy.
Details

Hits: 1751
George, Faye Dettman still appreciate one another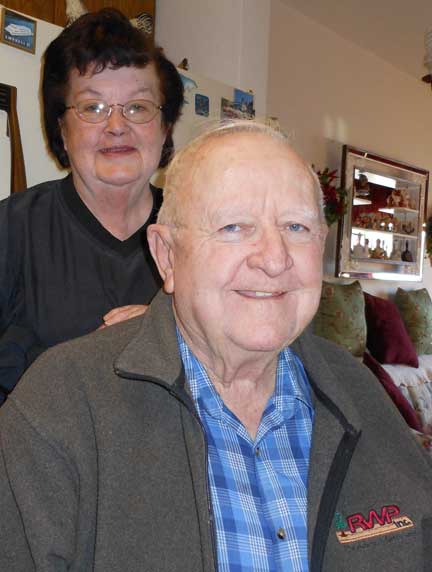 SECOND TIME WAS THE CHARM — In what was a second marriage for both, Faye and George Dettman have enjoyed 50 years of wedded bliss. (Star Eagle photo by Kathy Paulsen)
By KATHY PAULSEN
Staff Writer
They say the way to a man's heart is through his stomach.
And while that may not be the case with George and Faye Dettman, there are some indications this might figure into their chance meeting and subsequent marriage.
It was some 50 years ago that George ordered a steak, done rare, in a restaurant in Cando, North Dakota where Faye was working. When she saw the order she immediately came out of the kitchen to see who ordered their steak rare. Evidently she liked what she saw and he liked how she prepared his steak because they were later married in Havre, Montana back on September 12, 1960.
It was a second marriage for both of them. George's first wife died when she was 26 from kidney cancer. They were the parents of three boys, Robert, Randy and Ronnie. Faye had two children, Dennis and Becky. Their family of yours, mine and ours included two children together, Roger and Roberta — one big, busy family that kept Faye home and busy as a full-time mother. They took family vacations "out west" and even slipped away for a vacation "without the kids" one time by letting them visit and stay with relatives along the way.
George is a man of many interests and experiences and though he recently celebrated his 82nd birthday, he still keeps busy working at Gopher Stop North in Ellendale. It was something he started doing some years ago when he and Faye occupied the house just behind the food and fuel complex owned by Lyle Wayne.
Details

Hits: 3338
Mother Nature wins this year
By JODY WYNNEMER
Staff Writer
For the first time in memory, local sportsmen's groups have had to call off their annual fishing contests. It was deemed the ice on both Beaver and St. Olaf Lakes is not consistent enough to host the fishing derbies.
"You can have 12 or 14 inches in one place," said a local angler. "You go 10 or 20 feet away and only have six to eight inches. It's just one of those years."
Ellendale-Geneva Sportsmen's Club representative Cindi Bartness decided to cancel their contest which was slated to start at noon Sunday. The ice golf and polar plunges are going on as planned.
"The access to the lake isn't in very good shape," said Bartness. "We still want people to come out and either participate or watch the polar plunge. It will be situated so folks can remain on shore to watch and cheer on the plungers."
The warm nights and warmer-than-average days have resulted in less-than-perfect ice conditions on many Minnesota lakes. Various county sheriff water rescue units have kept busy pulling people and/or vehicles out of the water.
In Minnesota, the Department of Natural Resources issues permits for fishing contests. If they say the ice isn't safe or adequate, you don't have a contest. Likewise, sheriffs in their respective counties can also put the kibosh on a fishing contest by denying access to the lake. This year Waseca County Sheriff Brad Milbrath has put up signs on Waseca's Clear Lake warning anglers of thin ice.
The New Richland Area Sportsmen followed the lead of their Ellendale-Geneva counterparts and also decided not to have their fishing contest.
"This is the first time in a long time where we have not been able to have our contest," said Lee Mendenhall of the New Richland Sportsmen. "Several years ago, we had a big rain and we had the event at the American Legion. There was so much water on the ice, we couldn't have the contest. Basically, we just drew the names for the merchandise prizes."
As of this writing, it is unknown as to what the clubs will do about the tickets for the events which have been sold.
The public is still invited to come out to Beaver Lake at 2 p.m. on Sunday to watch the Polar Plunge sponsored by the Ellendale-Geneva Sportsmen. Proceeds will go towards cancer research. 
The New Richland Sportsmen will be having a fish fry on Friday, February 24 at the New Richland City Hall.