Details

Hits: 1756
School board, NR City Council reach consensus on several issues
By JODY WYNNEMER
Staff Writer
Unlike the political posturing we have to endure in Washington and St. Paul, the first ever face-to-face meeting of the NRHEG School Board and New Richland City Council saw agreement and cooperation from both sides.
School Board Vice Chair Michelle Moxon convened the meeting in the absence of Chair Rick Schultz who was supposedly taking hula dancing lessons.
Superintendent Kevin Wellen gave a brief overview of the purpose of the meeting, which was discussion concerning the softball fields, summer recreation and signage for the crosswalk/school zone.
"We share facilities," said Wellen. "They have served their purpose well."
NRHEG Activities Director Dan Stork presented a list of immediate and long-term improvements to the softball fields at Legion Field. 
"The most important items from a safety standpoint are the backstops," said Stork. "They need to be repaired or replaced."
Details

Hits: 1721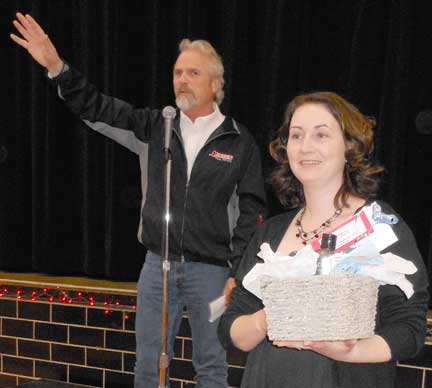 PLENTY OF ITEMS — Greg Jensen calls for bids as Melissa Karl holds one of the many items auctioned off at the NRHEG PTO's Community Night Out. (Star Eagle photo by Kathy Paulsen)
By KATHY PAULSEN
Staff Writer
The inaugural NRHEG PTO Community Night Out was held in the Ellendale school gymnasium on Saturday, February 4. The evening began with a social time and supper, which included a catered meal by Superior Foods. There was a variety of cheesecakes donated by Great American Company. Great American manufactures the cookie dough the elementary students sell to raise funds. 
The event has been in the works for a while. Rich and Penni Mueller actually started working on it last September, as the PTO is always looking at what else they can do as a fundraiser the whole district could get involved in. 
They met with one of the event organizers from the Blooming Prairie Foundation and went from there. They would like to thank all those people who became part of the committee: Ronda Staloch, Melissa Karl, Katie Knudsen, Doug Anderson, and those that helped the day of the event, including Jordan Mueller, Judy Carroll, Julie Anderson, Wendy Schultz, Alison Johnson, Carly Solland and Amy Kitzer.
Details

Hits: 1056
Ellendale City Council
By SCOTT GROTH
Contributing Writer
The Ellendale City Council met February 9 with Mayor Engel and all councilmen present. Also attending the meeting were Clerk Louks, Maintenance Supervisor Swearingen, Municipal Liquor Store consultant Gwen Reiss and Ed Reiss.
The council approved the contract with Steele County for law enforcement protection. The contract calls for a minimum of 19 patrol hours per week in addition to its regular county-wide obligations, with seven days coverage per week. Coverage will be close to 2.71 hours per day but shall be as evenly spread over the seven days as is practical. The city will pay to the county a monthly fee of $3,166 with the payments to be made quarterly. The contract will terminate on December 31, 2012 unless both parties wish to extend the agreement. The contract may be terminated by either party with a 90-day written notice.
Roger Swearingen was called upon for his monthly report. Swearingen started by telling the council he had received two quotes for a new overhead door for the property recently acquired by the city on 8th Ave.
The bids were $1100 and $924 for the door. The council approved the bid of $924. 
Details

Hits: 1225
New Richland City Council
By JODY WYNNEMER
Staff Writer
All members were present when Monday night's New Richland City Council meeting was convened by Mayor Tom McShane. The evening's agenda was approved as presented and after a minor correction to the minutes of January 9th, the consent agenda was unanimously approved.
There were no public hearings scheduled so the council proceeded to adopt the following resolutions:
• 12-05 Approving the issuance of general refunding obligation bonds.
• 12-06 Designation of a bequest from the estate of Adlyn Nelson to the city ambulance service in the amount of $42,500.
• 12-07 Designation of a bequest from the estate of Adlyn Nelson to the city fire department in the amount of $42,500.
• 12-08 Designating the First National Bank of Waseca as a depository of public funds.
Police chief Scott Eads noted his department responded to 92 calls for service with an additional 38 contacts in January. Eads reported the department is still seeing issues with snow parking when it actually snows. Several administrative citations have been issued and a substantially larger number of warnings have been given.
Details

Hits: 834
Ice jumpers raise $3,000 for breast cancer research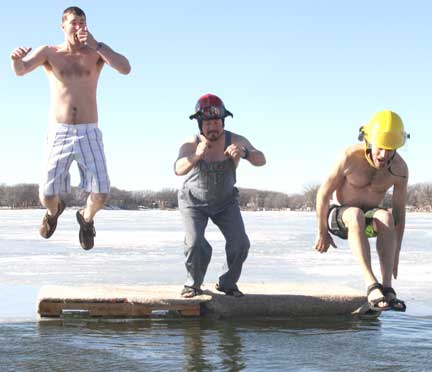 1, 2, 3! — Plungers featured above and below jump off wood pallets, only to discover firsthand just how frigid the waters of Beaver Lake are during the month of February. (Star Eagle photos by Rachel Rietsema)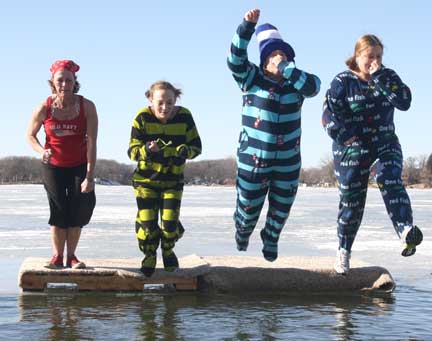 By RACHEL RIETSEMA
Staff Writer
With the wind howling hushed and a full dose of sunshine, 38 daredevils set foot on Beaver Lake last Sunday afternoon.
Staring at the large drilled-out hole, they knew the fate that lay before them. The dreaded countdown began, and before their shivering bodies knew it, they plunged into the deep down under with one goal in mind.
"We decided that all of our proceeds would go to the Susan G. Komen Breast Cancer Research Foundation," said 2nd annual Polar Plunge organizer Cindi Bartness. "So many of us either know of someone who has dealt with breast cancer or been affected by it in some way."
All jumpers were required to be 18 years of age or older, and make at least a $50 donation to the cause. Two of this year's participants, Brandon Bartness and Pat Kruger, gladly claim the founder title for this well-attended event.