Details

Hits: 1311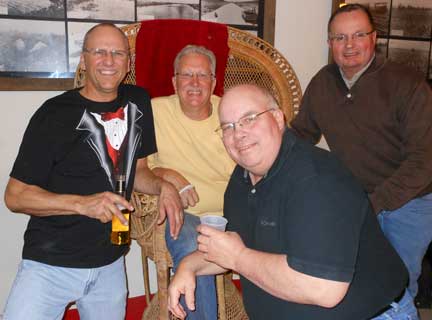 GRAND OLD TIME — A retirement roast for Carl Anderson was held at the 3-in-One in Hollandale March 3. From left are Dale Miller, Anderson, Greg Bartsch and Darrell Hanson. (Star Eagle photo by Kathy Paulsen)
By KATHY PAULSEN
Staff Writer
On Saturday night, March 3rd, an enterprising brother-in-law, Dale Miller, a fellow fire fighter, Greg Bartsch, and good friend Darrell Hanson of Blooming Prairie organized a "Retirement Roast" for Carl Anderson at the 3-In-One Bar in Hollandale, which is owned and operated by Miller. Firemen, along with their spouses or dates, from many of the local fire departments had been invited to the surprise roast.
Carl and his wife, Nancy, along with Carl's mother, Lettie, and Nancy's parents, Eddie and Arlene Miller, were invited for supper at the 3-In-One Bar by Miller, Carl's brother-in-law.
Details

Hits: 2203
NRHEG Elementary to present 'Cinderella' March 23-24
Prairie Fire Theatre and NRHEG Elementary students present "Cinderella" (A rock & roll version set in the 1950s.) Public performances are scheduled for Friday, March 23 at 7 p.m. and Saturday, March 24 at 2 p.m. in Ellendale. Admission is $5.00 adults and $3.00 students. The residency and production is sponsored by the NRHEG PTO. Cast List:
Leads: Cinderella: Lillian Bell; Fairy Godmother: Solveig Stafford; Rona: Michelle Katzung; Zona: Kyra Possin; Dinah: Avery Hill; Click Dark: Caitlin Goette; Mikey: Benjamin Lewer; Queen Cash: Emily Crabtree; Assistant 1: Jazzlyn Johnson; Assistant 2: Sophia Mrotz; Assistant 3: Kylie Lembke; Mistake 1: Lauren Herrmann; Mistake 2: Rebecca Peterson; Mistake 3: Hayleigh Williams; Mistake 4: Karenna Strom; Poppa: Gavin Nachtigall (PFCT Tour Actor and Director); and Wynona: Jo Gimbel (PFCT Tour Actor and Director.)
Details

Hits: 1065
New Richland City Council
By JODY WYNNEMER
Staff Writer
All members were present as Mayor Tom McShane convened the first New Richland City Council meeting of March Monday evening. The night's agenda was approved as presented. The consent agenda items were also approved, notably:
• Permission to close South Broadway Ave. adjacent to the City Park on Sunday, April 15 for the annual Blessing of the Bikes.
• Approval of a purchase order for material for the softball infield at Legion Field.
• Repair and/or replacement of the backstop fence at the softball field.
Police Chief Scott Eads noted 79 calls for service and 42 additional contacts in February. The most serious offense was a domestic assault/disorderly which occurred on the front steps of city hall.
Details

Hits: 1482
NRHEG fourth-grade student publishes book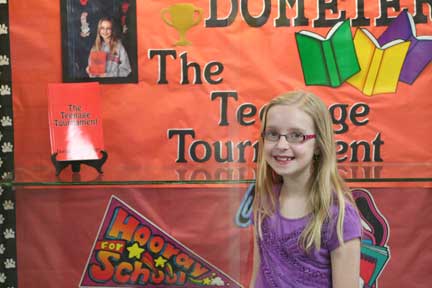 ELEMENTARY AUTHOR — Jayna Domeier, a fourth-grade student at NRHEG Ellendale, is pictured in front of the display window housing her first book "The Teenage Tournament." (Star Eagle photo by Jody Wynnemer)
By JODY WYNNEMER
Staff Writer
The present day educational system in the United States teaches our younger students the ability to read and write. After they learn the basics of reading, students are challenged to put their own thoughts down on paper. It may start out as a sentence, perhaps a paragraph or two, or in some cases, several pages. As students progress through the grades, their writing becomes more focused, with book reports and the dreaded term papers being written.
Imagine a fourth-grade student who likes reading so much she decided to write her own book.
NRHEG Elementary pupil Jayna Domeier is just that student.
Jayna, daughter of Mark and Michelle Domeier of Ellendale, recently published her first book titled, "The Teenage Tournament."
"The idea just came to me," said Jayna. "The book is about some eighth-grade students who are preparing to enter a tournament against some 12th-graders. The tournament isn't sports related; it's about school subjects, like the Knowledge Bowl. It took me about two weeks to complete working on it every day."
Details

Hits: 1143
By SCOTT GROTH
Contributing Writer
The Ellendale City Council met Thursday March 8, 2012 with Mayor Engel and councilmen Helland, Reiter, Goebel and Groth present. Clerk Louks, Maintenance Supervisor Swearingen along with visitors Eric Haffner, Dan Petsinger, Jane Busho, Duane Atchison and Duane Nelson were also in attendance.
Engel asked the council to consider amending the agenda as printed. The council, after some juggling, approved the agenda as amended.
Nelson was first to address the council. He had a request for the city to consider hooking his property up to the sanitary sewer. Nelson told the council he was considering putting a different home on his property. He had drawings to show the council, which showed that he would like to connect to the manhole west of his property. The council directed some questions to Eric Haffner, who works for the city's engineering firm Bolten & Menk. Haffner told the council that from the information he has been given, the connection would be O.K. Engel told Nelson most of the work would be on his property and therefore would be his responsibility. The council made a motion to move forward allowing Nelson to connect.