Details

Hits: 1108
New Richland City Council
By JODY WYNNEMER
Staff Writer
Most of the Waseca County Commissioners were in attendance at the meeting of the New Richland City Council this past Monday evening. Vice-Mayor Christine Gislason called the meeting to order in the absence of Mayor Tom McShane. The evening's agenda and consent agenda items were all approved.
The council heard a request from Vista Lutheran Church to hold their Vacation Bible School at the City Park this summer. There were no objections to the request.
City Maintenance Supervisor Ryan Nissen expects to take delivery on the new tractor sometime in March. The council decided to advertise to sell the old tractor via sealed bids. Nissen also requested $380 for oil and $1,110.68 for filters for the city's vehicles.
The city has been pondering a maintenance contract offer from Utility Services Co. for several months. The company would be responsible for routine and preventative maintenance on the city's water tower. Nissen had done some research with other cities who have done business with Utility Services and was given positive feedback. After hearing this, a motion was made and seconded approving the contract, which Gislason signed. 
Details

Hits: 1094
Ellendale City Council
By SCOTT GROTH
Contributing Writer
The Ellendale City Council met Thursday, February 23 with Mayor Engel and all councilmen present. Also attending meeting were Roger Swearingen, city maintenance; Eric Haffner, engineer; Steve Louks, clerk; Gwen Reiss, Municipal Liquor Store; Jeff Johnson, fire department.
The council discussed strategy with Haffner and Swearingen regarding street repair. The council feels there are quite a few roads within the city that will need attention in the near future. Haffner, who works for Bolten & Menk, told the council about some work his firm had done for another city. Haffner said his firm went through the town and ranked the streets and gave them priorities. Swearingen said he would like to see 3rd St. from Highway 30 to 6th Ave. repaired. Swearingen also felt the same block on 2nd St. would be a good candidate for refurbishing. 
The council also talked about seal coating some areas in town. Haffner said seal coating is good maintenance if started at the right time in the street's life. After some discussion, the council moved to have Bolten & Menk go through the city streets, rank them, and make note of any special repairs needed. The council felt then the city could implement a plan for the future. 
Details

Hits: 1163
Food shelf to kick off March campaign in style
By JODY WYNNEMER
Staff Writer
Now that football season is over, and folks need something to do on a Sunday afternoon, the New Richland Area Food Shelf has come up with a great idea.
Trinity Lutheran Church will be the site of the first-ever "Groove for Food" benefit on Sunday, February 26 from 1:30-3 p.m.
"This will be the kickoff to our March Foodshare Month campaign," said Larry Goehring of the NR Food Shelf. "We will have five different musical acts performing throughout the afternoon. Local humorist and storyteller Al Batt will serve as the Master of Ceremonies. Between sets of each group we will be having a live auction."
The various musical acts scheduled include Just Friends, Mr. and Rev. Pamela Jensen, Pantheria Vox Musica from NRHEG, Pam Brazil and son, and Melissa Williams.
Admission to the fun-filled afternoon is free, but everyone is encouraged to bring non-perishable food donations or cash to help the food shelf.
Details

Hits: 711
NRHEG girls finish regular season unbeaten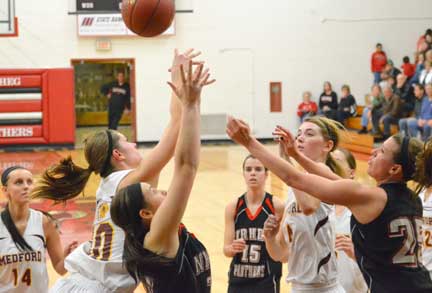 The NRHEG girls' basketball team completed a perfect 26-0 regular season with a pair of victories last week. Pictured above in the Panthers' 67-35 win over Medford are, from left, Hannah Lundberg, Danielle Krueger and Raelin Schue. The Panthers host Triton in the opening round of the sub-section tournament Tuesday, Feb. 28 at 7 p.m. If they win, they'll host a second-round game Friday, March 2 at 7 p.m. See Sports for more. (Star Eagle photo by Chris Schlaak)
Details

Hits: 1063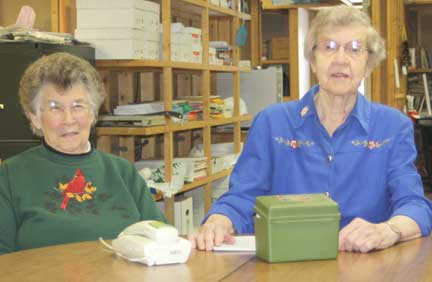 CALLERS THAT CARE — Telecare callers June Holmen and Marie Querna are ready for more area residents to join in on the free service that very well could save a life. (Star Eagle photo by Rachel Rietsema)
By RACHEL RIETSEMA
Staff Writer
A phone call every day keeps the Telecare subscribers okay. At least that's what long-time callers, Marie Querna and June Holmen say.
"Telecare is a service provided by volunteers to check in with elderly every day, at no charge," Querna said. "They are called six days of the week and can be called on Sunday if they want too."
A service since 1976, Telecare has remained strong in its mission. No matter what obstacles stand in their way, they will prevail in the search for an area resident.
"Many years ago, we had a person we couldn't find," Holmen said. "I did a little calling to her next door neighbor. The neighbor walked across the street, hit on the windows and hollered, 'are you ok?'"
She still remembers as plain as day, the big sack of rhubarb placed between the resident's back door. Fishy as all get out, she drove to Budachs to find a close relative of the missing person.