Details

Hits: 1061
Michael Skov, 47, of Manchester died Saturday night after a head-on crash on Minnesota Highway 13 north of Albert Lea.
According to the Minnesota State Patrol, Skov was driving a 1993 Buick LeSabre north on Highway 13 around 10:30 p.m. when he crossed into the southbound lane and collided head on with a 2008 Cadillac CTS.
The driver and passengers of the Cadillac were all treated and released from Mayo Clinic Health System in Albert Lea. They were all wearing their seat belts.
Skov was a co-owner of the Bend in The Road tavern in Manchester. He had been residing in New Richland assisting his father with a recent illness.
Details

Hits: 1648
Johnson sisters proud to wear crowns for Dairy Princess, Milk Maid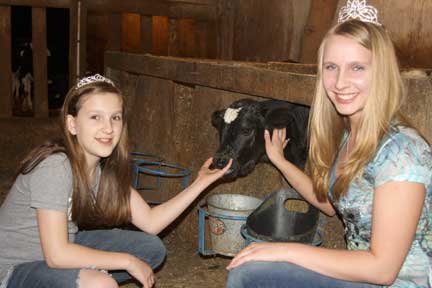 BEAUTIES AND THE BEEF — Moos abounded as the Johnson siblings Aubrey and Hailey quickly nuzzle one of the many calves during feeding time. (Star Eagle photo by Rachel Rietsema)
By RACHEL RIETSEMA
Staff Writer
The Johnson sisters' knowledge of cows is unmistakable. They know how to milk, show and breed beef with the best of them.
They even have crowns to prove it.
"I've been looking forward to this moment for a long time," said recently crowned Freeborn County Dairy Princess Hailey Johnson. "Seeing the princesses in the parades as a little girl really excited me."
Hailey's little sister Aubrey shares that same cow induced fervor. She is the Freeborn County's newest Milk Maid, after all.
"I am really, really happy and proud of myself," Aubrey said.
Fully aware of their new statuses at hand, they look forward to the upcoming summer and fall. Their calendars will be filled with dairy duties up the wazoo.
Details

Hits: 1298
By JODY WYNNEMER
Staff Writer
Council member Anthony Martens was absent as the New Richland City Council convened their first meeting for the month of April last Monday evening. The evening's agenda was approved. The consent agenda was also approved after the city newsletter was pulled for discussion.
Items on the consent agenda included:
• Minutes from previous meetings, accounts payable and financial documents
• Pay request from Abdo, Eick & Meyers for 2011 audit $4,350
• Estimate for repair of windshield city pick-up $288.38
• Pay request from Magney Construction for WWTF Improvements $57,343.90
Police chief Scott Eads reported a busy month of March with 80 calls and another 60 additional contacts.
"It was a busy month for disturbances, traffic and animal complaints," said Eads.
Details

Hits: 1420
Hartland bank celebrates century of service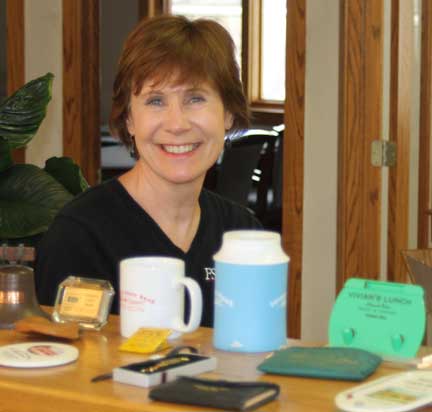 SUMMER CENTENNIAL — Nancy Skophammer, the CEO and President of Farmer's State Bank is all smiles alongside the memorabilia display created in honor of the bank's 100th anniversary. (Star Eagle photo by Rachel Rietsema)
By RACHEL RIETSEMA
Staff Writer
The little hamlet of Hartland has good reason to celebrate this summer. And celebrate they shall on June 14, as their trusted Farmer's State Bank branch has survived and thrived an entire century.
"We have overcome two world wars, a horrendous depression of 1929, numerous cycles of recessions and inflation, an agriculture crisis of the 1980s and the recent economic turmoil of 2008," said its CEO and President Nancy Skophammer.
So, in the spirit of the occasion, all bank customers are invited to fill 72 slots and spoil a good walk in a nine-hole round of golf. Following this green-filled endeavor, attendees can grab a seat at checker-decorated tables for a picnic in the ballpark.
"They will tee off at 1 p.m.," Skophammer said. "Then at 5 p.m., we will be serving hamburgers, brats, and hot dogs."
The younger generation will find entertainment on this day of celebration too. Kids can let loose inside a bouncy house, burn calories in relay races and enjoy many more activities.
"There will also be a drawing later for an iPad," Skophammer said. "I hope to have a total of five giveaways. A Kindle and a Nook might be up for grabs too."
Details

Hits: 1007
With the dry conditions along with winds blowing, Waseca County Sheriff Brad Milbrath has issued a county-wide burning ban until substantial rain falls. 
Camp fires will still be allowed in 3x3 rings with flames no higher than three feet. Please be aware of the conditions and be safe.