Details

Hits: 1258
Students listen to X Games medalist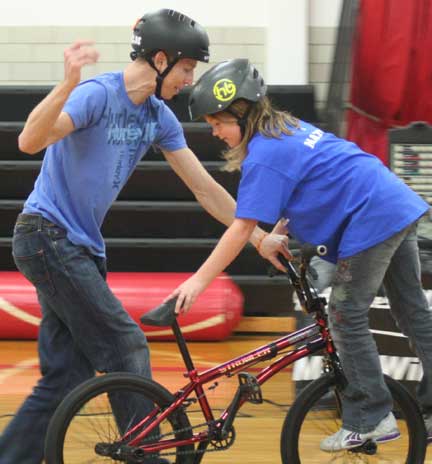 TRICKS OF THE TRADE — X Games BMX medalist Doug Wilhelm, left, teaches a thing or two to an NRHEG Elementary student during his recent presentation. (Star Eagle photo by Jody Wynnemer)
By JODY WYNNEMER
Staff Writer
Last year, for their efforts selling cookie dough, NRHEG Elementary students were treated to a magic show. This year, they enjoyed the tricks of X Games BMX medalist Doug Wilhelm on his bike. 
The gymnasium served as the stage as Wilhelm performed stunt after stunt for the students. Between bike tricks, he shared his experiences, both good and bad, with the kids. As he displayed the three X Games medals he had earned, he had an important message.
"I started doing tricks in eighth grade," said Wilhelm. "Everyone told me I'd never be good enough to make it to the X Games. After eight years of practice, guess who made it? When I was registering, this tall guy walked by me. It was none other than Tony Hawk. I started my routine, and crashed into the front row on my second trick. I crashed four more times during the two minutes. I looked up at the scoreboard and I was in last place. Last place in front of 15 million people. I wanted to quit, but I didn't give up. My message to you is never give up!"
Details

Hits: 1279
NRAFS kicks off March campaign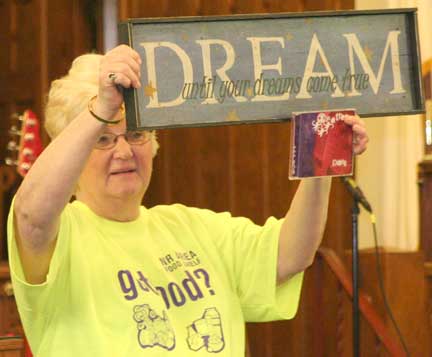 MAKING DREAMS COME TRUE — Sharon Eckart of the New Richland Area Food Shelf holds an item up for bids at the Groove For Food event Sunday, Feb. 26 at Trinity Lutheran. (Star Eagle photo by Jody Wynnemer)
By JODY WYNNEMER
Staff Writer
There must have been more than a few New Richland area residents who attended church twice last Sunday. 
Trinity Lutheran was the site of the first-ever Groove for Food sponsored by the New Richland Area Food Shelf. Food shelf President Larry Goehring welcomed everyone as things got underway. Guests were treated to five different musical groups throughout the afternoon and the home-spun humor of local storyteller Al Batt.
"I was raised near Hartland in the now extinct town of Bath," said Batt. "Hartland was a town of 300 people with only four last names. Hartland Township is now the honeymoon capital of Freeborn County."
Pianist and vocalist Melissa Williams was the first performer with her rendition of "At Last," a song written in 1941 and made famous by Etta James.
Details

Hits: 1225
New Richland City Council
By JODY WYNNEMER
Staff Writer
Most of the Waseca County Commissioners were in attendance at the meeting of the New Richland City Council this past Monday evening. Vice-Mayor Christine Gislason called the meeting to order in the absence of Mayor Tom McShane. The evening's agenda and consent agenda items were all approved.
The council heard a request from Vista Lutheran Church to hold their Vacation Bible School at the City Park this summer. There were no objections to the request.
City Maintenance Supervisor Ryan Nissen expects to take delivery on the new tractor sometime in March. The council decided to advertise to sell the old tractor via sealed bids. Nissen also requested $380 for oil and $1,110.68 for filters for the city's vehicles.
The city has been pondering a maintenance contract offer from Utility Services Co. for several months. The company would be responsible for routine and preventative maintenance on the city's water tower. Nissen had done some research with other cities who have done business with Utility Services and was given positive feedback. After hearing this, a motion was made and seconded approving the contract, which Gislason signed. 
Details

Hits: 1299
NRHEG School Board
By REED WALLER
Staff Writer
The NRHEG School Board discussed alternatives at last Tuesday's regular meeting with respect to two important building improvements. The windows in Ellendale need to be redone, and the New Richland kitchen and cafeteria could use some remodeling to accommodate the additional traffic they will have in the fall when sixth-graders move to New Richland.
Architect
Two architectural firms, The Wold and Collaborative Design, Inc., have submitted brochures and initial estimates for both jobs.
While the windows at Ellendale are a straightforward and immediately important job, the remodeling of the kitchen and/or cafeteria is open ended and several design options were discussed.
Both the serving line and the seating area in the cafeteria could be expanded by 2,400 square feet by moving the south wall of the New Richland Media Center, and expanding into what is now the south part of the Media Center, which isn't heavily used. Adding that area to the cafeteria would also provide outside lighting via the existing skylight.
Details

Hits: 1245
Ellendale City Council
By SCOTT GROTH
Contributing Writer
The Ellendale City Council met Thursday, February 23 with Mayor Engel and all councilmen present. Also attending meeting were Roger Swearingen, city maintenance; Eric Haffner, engineer; Steve Louks, clerk; Gwen Reiss, Municipal Liquor Store; Jeff Johnson, fire department.
The council discussed strategy with Haffner and Swearingen regarding street repair. The council feels there are quite a few roads within the city that will need attention in the near future. Haffner, who works for Bolten & Menk, told the council about some work his firm had done for another city. Haffner said his firm went through the town and ranked the streets and gave them priorities. Swearingen said he would like to see 3rd St. from Highway 30 to 6th Ave. repaired. Swearingen also felt the same block on 2nd St. would be a good candidate for refurbishing. 
The council also talked about seal coating some areas in town. Haffner said seal coating is good maintenance if started at the right time in the street's life. After some discussion, the council moved to have Bolten & Menk go through the city streets, rank them, and make note of any special repairs needed. The council felt then the city could implement a plan for the future.