Details

Hits: 1452
NRCC's Vivian Roesler has treasure trove of memories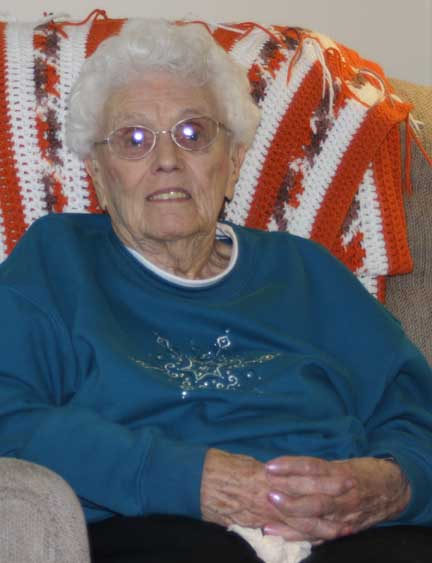 STITCHED TOGETHER — New Richland Care Center resident Vivian Roesler finds strength in the arms of the Lord and prays her family knows that comfort as well. (Star Eagle photo by Rachel Rietsema)
By RACHEL RIETSEMA
Staff Writer
Tucked away in one of the cozy wings of New Richland Care Center is a sharp lady ready to follow the Lord's lead whenever He calls.
It doesn't matter whatever life dishes out, Vivian Roesler knows He will provide the strength to trek through.
"I've known Vivian for many years," said New Richland Care Center Activities Director Kathy Flor. "She is a very nice lady. She's very knowledgeable, fun to visit with and is a Christian lady."
A resident here since May, she has become enamored with the building's pleasant atmosphere. More specifically, these last nine months spent at the care center has helped her to feel so much better.
"I have a tendency to be a jolly person," Vivian said. "I like to smile and laugh a little bit."
More often than not, staff and fellow residents will find her reclining in the chair with a book in hand. Currently, she has her nose in a book written by Beverly Lewis.
"Paradise Valley is a lot about the Amish people," Vivian said. It's very interesting."
Details

Hits: 1233
Ellendale City Council
By SCOTT GROTH
Contributing Writer
The Ellendale City Council met January 26 with Mayor Engel and all council members present. Also attending the meeting was City Attorney Phil Kohl, Clerk Louks and Gwen Reiss, Municipal Liquor Store Consultant.
Mayor Engel opened the public hearing for the purpose of discussing the Anti-Blight Ordinance. The council along with Attorney Kohl have been working on putting together an ordinance that helps the city dictate where a sexually oriented business would be located. As stated in the ordinance, the city is trying to control, through zoning regulations, certain land uses that have a direct and detrimental effect on the character of the city's residential and commercial neighborhoods. Attorney Kohl answered any questions the council had about the ordinance. With no one from the general public at the hearing, Mayor Engel closed the hearing at 7:20 p.m.
Mayor Engel opened the regular council meeting at 7:30 p.m. The council approved the amended agenda for the evening. 
The first item the council reviewed was the Anti-Blight Ordinance. Having held the public hearing prior to the meeting, the council moved to adopt the Anti-Blight Ordinance 01-26-12-01. The council next approved an ordinance that would amend part of the city's zoning ordinance. The council amended three parts of Ordinance 80. The council next approved the summary of the Anti-Blight Ordinance. The city will post in its entirety the Anti-Blight Ordinance in the Community Building. 
Details

Hits: 1253
Arson suspected in Ellendale fires
According to signs posted at the residence, arson is suspected in fires that gutted an Ellendale home in December.
Sometime last Wednesday, Jan. 25, several large black and orange signs were posted on the outside of the home at 403 5th Ave. West (or Hwy. 30), stating that arson is suspected and listing a hotline number and reward up to $2,500 for information leading to identification of those responsible for the fires.
According to Steele County Sheriff Lon Thiele, the signs were not posted by his department but could have been posted by an insurance company.
Investigation into the cause of the fire is ongoing by the State Fire Marshal's Office and Steele County Sheriff's Department.
The home is owned by Mark and Sara Misgen.
PTO Community Night Out Saturday
Tickets are still available for the inaugural PTO Community Night Out taking place Saturday, Feb. 4. at the Ellendale School.
Festivities get underway with social hour from 4:30 - 5:30 p.m. Dinner will be served at 5:30 and a live auction will follow at 7 p.m. 
Tickets can be purchased for only $15 per person at various locations around the NRHEG communities.
For those not wishing to have dinner but attend the auction, the doors will open at 6:30 p.m.  
Details

Hits: 1548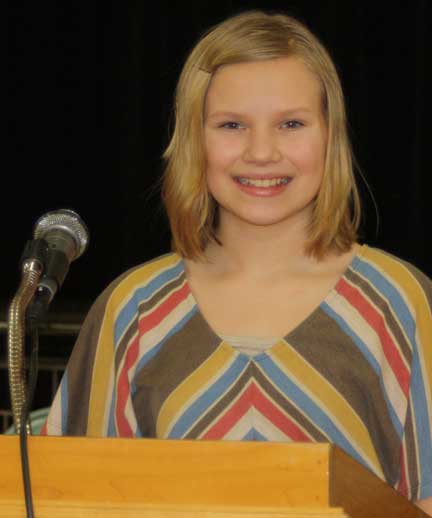 PROUD CHAMPION — Lillian Bell was all smiles after winning the annual NRHEG Spelling Bee last Wednesday. (Star Eagle photo by Jessica Lutgens)
By JESSICA LUTGENS
Contributing Writer
Every year, 24 fifth, sixth, seventh and eighth-graders compete for the title of NRHEG Spelling Bee champion.
The Ellendale gym was filled with elementary and middle school students, parents and teachers, judges Anne Feist and Geoff Stieglebauer, and announcer Mark Domeier for this year's event Wednesday, Jan. 25.
This year's spellers were impressive, with the majority spelling words correctly in the first few rounds. In the first round, only one contestant misspelled a word, leaving 23 students to go onto round two. In the second round, two more students dropped out.
It was obvious after the first two rounds that everyone would be there for a while. The words weren't too challenging, and the kids were hanging in quite well. After about 45 minutes, about half of the kids who were participating were now warming the bleachers on the side, becoming only spectators.
Details

Hits: 1285
As the Sleigh and Cutter festival draws near, you could win some cold, hard cash.
Up to $1,250 is waiting to be won. Someone in Waseca County has been chosen to be "Frosty," an ambassador for the festival. All you need to do is follow the clues and try to guess who Frosty is. Even if you don't know everyone, by following the clues you may gather enough information to win some big money. Possible tools that may help you cash in are the internet, Google, dictionaries and the love of puzzles.
Culligan Water Conditioning of Waseca has been a long-time supporter of the Frosty contest. Additional sponsors are Latham Place of Waseca, iWealth, Domino's Pizza and Mediacom. The grand prize is $250 in cash, to the person who can identify Frosty and is determined to be the Grand Prize winner by the judges. If you are determined the winner and are present during the unmasking of Frosty at 9:30 p.m. during the Sleigh and Cutter Dance at the VFW in Waseca, you will get a $50 cash bonus from Culligan of Waseca. That is a total of $300.
Again this year: $100 to the first person from Janesville, the first person from New Richland and the first person from Waseca who correctly guesses Frosty and submits their entry in their respective towns. (See where to drop off your entries under Rule No. 9) Judges decision is final.
Here's how the contest works:
1) Through February 8, a new clue will be published in the Waseca County News each Wednesday as well as in the NRHEG Star Eagle. Clues will also be available at the Waseca Area Chamber of Commerce and at www.wasecacountynews.com and on the Waseca County News Facebook page. KOWZ/KRUE Radio will also broadcast the clues.
2) Each contestant is allowed only one guess per week.
3) Contestant must be 18 years of age.
4) Contestant must live in Waseca County.
5) If more than one entrant guesses Frosty's identity, a drawing from all of the correct entries will be held during the unveiling of Frosty on February 10. Four names will be drawn for $50 each and the winner must be present during the unmasking to win. Four more names will be drawn for $50 each and the winners need not be present to win these. This is a total of eight $50 winners.
6) If there are no correct entries, a drawing will be held from all entries received.
7) Entries must be received by 3 p.m. on Friday, Februrary 10.
8) The decision of the judges will be final.
9) To enter your guess, if you live in Waseca: mail it to the Golden Touch Salon, 110 South State St., or drop it off in person during business hours. If you live in Janesville: mail it to the Golden Touch Salon or drop it off in person during business hours and mark the ballot, "Janesville." If you live in New Richland, your entry can be dropped off at the office of the Star Eagle during business hours.
The first clue:
The time has come to seek me out, the hints I'll give should help you out.
Three more clues will come your way, so waste no time and start today.
I was born and raised in Waseca town, but I have lived all around.
A few small towns have been my home, but across the border I also roamed.
I've done some coaching in my years, basketball, track and softball, lots of cheers.
One more clue, my age you ask, I was born before 1960 had passed.
The second clue:
I come from a larger family as you will soon see, where there is a mom a dad, five siblings and and me.
There were more girls than boys in our family nest, now put on your thinking caps and figure the rest.
You may be wondering if I am a boy or a girl, just start your guessing and give it a whirl.
While attending college I met the perfect catch, a friend introduced us and thought we were a good match.
Now more than 30 years later and kids of my own, I'm busy as ever, this is well known.
The third clue:
Now if you're still wondering who I could be, maybe you'll get it with clue number 3.
A Scarlet, a Bluejay, a Maverick and more, the places I've been have opened the door.
Two boys have left and one is at home, the halls of Waseca is where I now Roam.
Sleigh and Cutter medallion hunt begins
It's time to begin the 2012 Sleigh and Cutter medallion hunt.
The medallion is hidden outdoors, on public property, within the Waseca city limits. A prize of $1,250 in Chamber dollars will be awarded to the person who finds the medallion. Clues will be published each week in the NRHEG Star Eagle and Waseca Area Shopper, and announced on KOWZ/KRUE Radio.
Clue No. 1:
It may be hard to find redemption for a crook from the court.
Two where three should be might pardon an outlaw from the gallows.
Clue No. 2:
An unfilled cavity can result in an abscess.
Recognizing some forms of depression may require a pick-me-up.
Clue No. 3:
Yards of colliers, bricks and maul lead to ambitious excavation.
After completing the masterpiece, perhaps the creator felt compelled to take a bough.