Details

Hits: 2235
Sixth-graders' move to NR approved; Cyr sniffs out bargain on band uniforms
SCHOOL BOARD — The current NRHEG Board of Education. Front from left: Lori Routh, Michele Moxon, Karen Flatness and Lis Kormann. Back: Mike Moen, superintendent Kevin Wellen, Rick Schultz and John Harrington. (Star Eagle photo by Chris Schlaak)
By REED WALLER
Staff Writer
At the Tuesday, January 17 meeting, the NRHEG school board approved the purchase of new band uniforms, the move of the sixth grade to New Richland, and a February 15 joint meeting date with the New Richland City Council.
Joint meetings with New Richland City Council
Last month's discussion with Jeff Reese led the board to consider arranging a meeting with the New Richland City Council to discuss the poor condition of the jointly-used Legion Field ball fields. 
After discussion with City Clerk Wayne Billing, a date of February 15 was proposed for a meeting of the full city council and the full school board, for the purpose of determining a possible agenda of items the school district and the city could collaborate on working on at future meetings.
What topics could be considered? "Not just the ball field," said Superintendent Kevin Wellen, "but anything that could be discussed or shared, anything where we have a common interest."
This might include crosswalks, parking, or traffic issues, among numerous possibilities.
Details

Hits: 1092
New Richland City Council
By JODY WYNNEMER
Staff Writer
There wasn't a full agenda as the New Richland City Council gathered for its second meeting of 2012 Monday evening. All members were present as Mayor Tom McShane called the meeting to order.
The night's agenda was approved and two items were pulled from the consent agenda for further discussion. They were a conditional use permit and a pay request from Civil Ag Group for work done on the sewer system upgrade.
There were no public hearings or citizen petitions to be heard.
PeopleService representative Brad Field reported normal operations at the Waste Water Treatment Facility and progress being made on the upgrade to the plant.
Maintenance Supervisor Ryan Nissen was present and appeared dressed for snow removal.
"We start moving snow at 7:30," said Nissen.
Details

Hits: 1217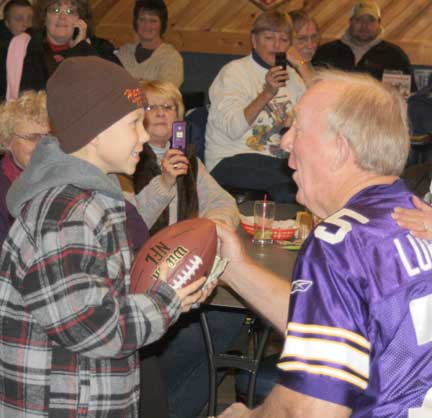 PRIZED POSSESSION — Tanner Oquist, left, got his football autographed by Bob Lurtsema Friday at the Geneva Cancer Auction. He had Jim Marshall autograph the ball last year. (Star Eagle photo by Rachel Rietsema)
By RACHEL RIETSEMA
Staff Writer
There's nothing like a little Bob Lurtsema banter to stir up the 28th Annual Geneva Cancer Auction crowd.
"I love small towns, so you people are right up my alley," said the former Minnesota Viking player of six years.
Sure enough, this special guest's ability to light up a room spread to even the smallest guests in attendance. But, he wasn't the only one there to amplify the Geneva Bar & Grill's atmosphere.
"When I heard you [Lurtsema] were coming and bringing the cheerleaders with you, I was really happy because you always seem to know what you are talking about," said event CEO Whitey Hagen. "That's what we like here."
Not a moment later, Hagen extended a word of thanks for both Jacqui and Mary's participation at this "28-year-old thing."
"It's always a pleasure to have the cheerleaders here," Hagen said. "We're proud to have them here at the cancer auction."
Mind you, this pompom toting pair and former defensive end's presence didn't come free. Frontier Communications made it all possible with a generous sponsorship.
Details

Hits: 1783
2011 Year in Review, Part 4 of 4
Compiled by JODY WYNNEMER
Staff Writer
OCTOBER
• The one-year anniversary of the New Richland flood of September 2010 was observed at the Care Center. After a blessing by Pastor Andree, Mikenzi Hebel released Monarch butterflies.
• Harold "Hap" Hagen of New Richland as his license plate says is a HAP-E-1. He received his nickname from his high school basketball coach.
• The Labor Day Harvest Festival Association of Freeborn collected over 45,000 aluminum can tabs which were given to the Miller Coors Brewing Co. as part of their "Give a Veteran a Piece of the High Life" program.
• Beaver Lake Fact or Fiction writer Bob Hanson bids Semper Fi to Russ Anderson, a classmate and former Marine who recently passed away.
• Gene Dodge's 1936 hospital bill from Albert Lea's Naeve hospital totaled $36.25 for removing Gene's appendix. The average cost today would be around $20,761.
• A last-minute touchdown spoiled the NRHEG Panthers' homecoming celebration. Lake Crystal-Wellcome Memorial edged the home team 13-12.
Details

Hits: 2711
NOW UP FOR BIDS — Above, Jesse Quam hoists one of the many items auctioned off during the 28th Annual Geneva Cancer Auction that wrapped up Saturday at Geneva Bar and Grill. (Star Eagle photo by Kathy Paulsen)
By KATHY PAULSEN
Staff Writer
He called it the "people's auction" as Whitey Hagen opened the Geneva Cancer Auction Friday, Jan. 13.
"It's the people in our area that know how to raise money for cancer research," said Hagen. "It's the people who continue to donate and contribute to this great cause that keep these events going and money coming in to help fund a cure for cancer."
The 28th annual two-weekend event wrapped up Saturday at Geneva Bar & Grill.
Friday started with a jar of Vi Blazek's prize pickles, now made by her daughter, Sue Hill. Vi was instrumental in the early auction days with jars of her famous pickles, homegrown from her own patch and made with loving care. Sadly, Vi succumbed to cancer, but her legacy carries on through the loving efforts of her daughter, Sue, and this year her great granddaughter, Jade, contributed to the auction with her very first pickle donation, and it raised $60. Many years ago Vi had a jar of her pickles sell for $1,800.
Troy Hagen was the winning bidder of a jar of Sue Hill's pickles, the first item up for bid Friday night. The cancer auction is noted for that: tradition; families and friends continuing to ever enlarge the efforts to fight this dreaded disease.