Details

Hits: 1676
NRHEG School Board
By REED WALLER
Staff Writer
A proposal for a "1:1 iPad Initiative" engendered lively discussion at the March meeting of the NRHEG School Board last Monday.
"With $5,000 technology grant money from HickoryTech and $5,000 return from the Panther Card," declared Supt. Kevin Wellen, "we are halfway toward another class of iPads."
The goal is to supply an iPad to each student, which would make the education process mobile and close to paperless, and would make current technology available for student use.
The iPad would be the student's companion for the school year, would go home with him/her every night, and would host his/her daily work, projects and materials.
The NRHEG Technology Committee and staff have visited with other school districts doing similar programs, and did a site visit to Heritage Middle School in West St. Paul, which is doing a 1:1 program with iPads for grades 5-8.
Details

Hits: 2574
Years of preparation behind NRHEG students' barrel racing quest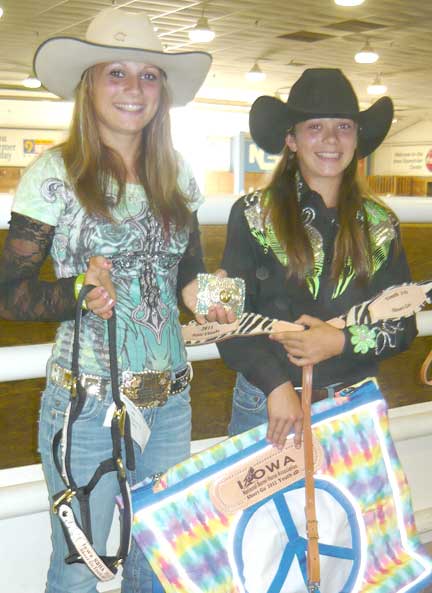 WORLD FINALS QUALIFIERS — NRHEG students Hannah Lewison, left, and her sister Grace have qualified for the National Barrel Horse Association Youth World Finals in Perry, Georgia this July. Both girls had a love of horses at an early age. (Submitted photo)
By RACHEL RIETSEMA
Staff Writer
The Lewison kitchen table is all abuzz these days, and it isn't all about glitter and glam for NRHEG students Hannah and Grace Lewison. 
Prom dresses and Hello Kitty are important and all, but these National Barrel Horse Association Youth World Finals qualifiers have bigger fish to fry.
"We are very excited to represent the Midwest as we travel to Perry, Georgia in July," said Hannah, 2011 youth 2D Reserve Champion. "The event is invitation only. Competitors all under age 18 must ride in their respective NBHA District Barrel Races to earn points."
Her sister Grace, the 2011 Youth 3D Champion, added, "The top five point earners in each division qualify for the NBHA Youth World show. The NBHA Youth World Show is one of the largest barrel races in the World. Contestants will come from all over the U.S., Canada, Italy, and Australia to compete."
Of course, this ginormous feat came with a combination of factors in their favor, the first two on that list being great determination and an undying love for horses.
Details

Hits: 1518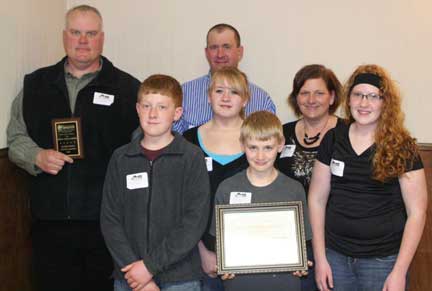 AG AWARDS — The Waseca County Farm Family of the Year and Outstanding Young Farmer were honored at the annual Farm and City Luncheon on Thursday, March 22 in Waseca. Pictured front (l-r): Trevor, Travis and Amy Beckstrand. Middle: Jamie and Marijo Beckstrand. Back: Jason Norton and Paul Beckstrand. (Star Eagle photo by Jody Wynnemer)
By JODY WYNNEMER
Staff Writer
The spring agricultural season in Waseca County officially kicked off with the Farm and City Luncheon at the Waseca American Legion Thursday, March 22. The annual affair, sponsored by the Waseca Area Chamber of Commerce, brings together agri-business leaders and recognizes individual accomplishments.
Following the Invocation by Father Marty Schaefer, guests were treated to a heaping platter of beef, pork, baked potato and corn, served up by blue-jacketed FFA members. As was custom, third grade students from Hartley Elementary provided hand-drawn placemats for the head tables.
Attendees were welcomed by Tracy Jevning, chair of the WACC who introduced Master of Ceremonies Hugh Chester-Jones. The keynote speaker was Ron Eustice, Executive Director of the MN Beef Council.
"My roots are very deep in this community," said Eustice, who was born in Waseca. He was selected for the 4-H International Youth Exchange program where he spent six months in Uruguay in 1967-68.
Details

Hits: 2450
Refurbished Byron Township Hall is something to behold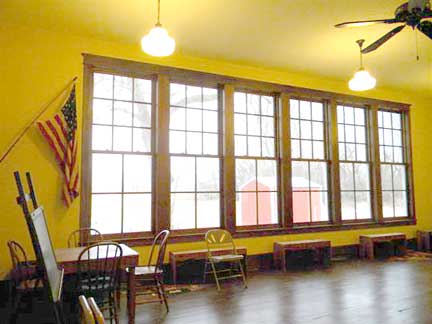 SOMETHING TO BE PROUD OF — It is hoped the newly refurbished Byron Township Hall in Matawan makes the National Historic Registry. (Submitted photo)
By RACHEL RIETSEMA
Staff Writer
Located in the whereabouts of Matawan, remains a white building that has had its share of alterations.
This historic structure has been a chameleon of sorts, adapting to the natures of both rambunctious elementary students and Byron Township board members. Not all at once of course.
"The town hall had become so run down that it wasn't useful anymore," said Geoff Jessen, township supervisor. "At one point, we considered it a teardown, but everyone involved soon found out that is a pretty cool, structurally sound building. That's when the public got involved and voted to renovate it."
The drop ceiling eradicated for good, this place of town meetings has returned to its 20th-century roots. No more musty smells either, that's for sure.
"We have restored it to its original function, a schoolhouse," Jessen said. "We gutted the whole building and tore out all the old plaster. We rewired, replastered walls, installed better heating and plumbing systems, and replaced windows and all the roof shingles."
Details

Hits: 1522
New Richland City Council
By JODY WYNNEMER
Staff Writer
The New Richland City Council met for its second meeting of March on Monday, March 26, with all members in attendance. Following the customary Pledge of Allegiance, the evening's agenda was approved.
Maintenance supervisor Ryan Nissen was first up with his monthly report. Nissen and the council discussed crack filling and chip sealing for the coming season. 6th Street NW has some issues that require fixing. Bids were received from Ulland Brothers with possible options ranging from $5,000 for milling and overlay to $12,400 for removal and replacement. The company will be contacted to see when the job can be scheduled. The council next approved a request for 108 ton of rock at a cost of $1,774 for repair of alleys throughout the city. A request for a portable pump at a cost of $640 was approved less $245 received for recycled metal.
Brad Field of PeopleService reported the Waste Water Treatment Facility had received its five-year permit from the Minnesota Pollution Control Agency.