Details

Hits: 2790
Forum urges return to Mother Nature's origins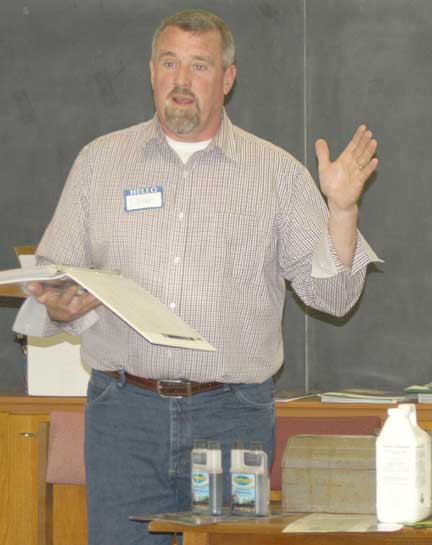 WHOLESOME TALK — Envirosense owner Dean Goette addresses the crowd gathered at the South Central Sustainable Farming Association meeting held March 17 in Clarks Grove. (Star Eagle photo by Rachel Rietsema)
By RACHEL RIETSEMA
Staff Writer
They may not all sport Pioneer hats and overalls, but the South Central Sustainable Farming Association members still have one particular farming goal in mind: to wave back in an older, more wholesome food chapter.
"I don't want to criticize, or be a martyr or crusader," said Dean Goette, keynote speaker at the chapter's March 17 meeting. "Mother nature is infallible. If we work with her, it's amazing what happens."
An advocate of three major soil companies, this Envirosense owner knows the pitfalls of processed food backwards and forwards. But, in order to spur change, big doses of teamwork and ingenuity must occur.
"We are what we eat," Goette said. "Our cows and sows are no different."
Fellow keynote speaker Jim Stiles, owner of Austin's Superfresh, is just as enthusiastic about returning to Mother Nature's origins.
Details

Hits: 1835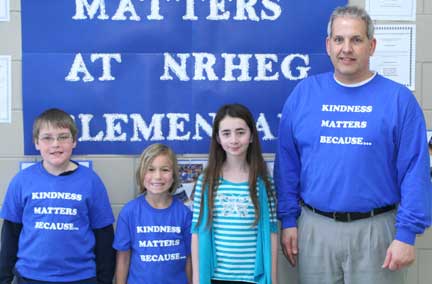 KINDNESS MATTERS — NRHEG Elementary students chosen as winners for the third quarter were Spencer Christensen, Olivia Smith and Elizabeth Karl. For their efforts and actions, they were rewarded by having lunch with Elementary Coordinator Doug Anderson. (Star Eagle photo by Jody Wynnemer)
By JODY WYNNEMER
Staff Writer
The NRHEG Elementary school students held a pep rally of sorts Wednesday morning, March 28. The 2012 Panther girls' basketball team was welcomed to a standing ovation by the student body. Mark Domeier, the voice of the Panthers, introduced each player. The basketball team was in attendance to speak about sportsmanship, a part of the yearlong Kindness Matters program at the school.
Several students were chosen to ask questions of the players in a news conference type of format. The topics ranged from how to be good sports to treating your opponents with respect. The players said that in order to be a team, you have to put your teammates ahead of yourself.
Sophomore guard Carlie Wagner told the younger kids of her experiences during the recent state tournament.
Details

Hits: 1266
By KATHY PAULSEN
Staff Writer
The Ellendale Fire Department held an all-you-can-eat fish fry Saturday, March 10th at the Ellendale Community Building. Many of the firemen sported dark navy blue shirts, which had an American Flag on the right sleeve, a gold star and the year 1904, the year the Ellendale Fire Department was formed, on the left sleeve, and their fire department badges over their hearts. 
The firemen set up the community building with tables and chairs for approximately 120 people and supporters of the event started arriving around 5. Shawn Larson greeted people as they arrived.
The Ellendale Fire Department consists of 19 members. Jeremy Reese, who first came on the department 16 years ago and will be marking his first anniversary as fire chief in April; Mark Lee, who joined the department 17 years ago is assistant chief; Jeff Johnson, secretary; and Kaylee Reese, department administrator.
Details

Hits: 1012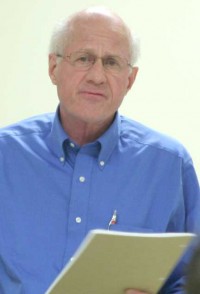 THE PROFESSOR SPEAKS — Dr. Gyles Randall, Professor Emeritus, addressed the attendees at the Agro-Economics annual meeting Wednesday, March 28 at NR City Hall. (Star Eagle photo by Jody Wynnemer)
By JODY WYNNEMER
Staff Writer
New Richland's City Hall was the setting for the Agro-Economics annual get together prior to spring planting season. Host Mark Bernard welcomed the 30 or so agricultural specialists Wednesday, March 28, as the meeting kicked off about 10 a.m.
Jim Jirik, from the Waseca office of the Minnesota Natural Resource Conservation Service, was the first speaker on the morning's agenda. Jirik mentioned several ongoing programs still available such as CRP and nutrient management.
"The nutrient management program pays you to have a test plot on your farm," said Jirik. "Even consultant fees are reimbursed."
Details

Hits: 1568
NRHEG School Board
By REED WALLER
Staff Writer
A proposal for a "1:1 iPad Initiative" engendered lively discussion at the March meeting of the NRHEG School Board last Monday.
"With $5,000 technology grant money from HickoryTech and $5,000 return from the Panther Card," declared Supt. Kevin Wellen, "we are halfway toward another class of iPads."
The goal is to supply an iPad to each student, which would make the education process mobile and close to paperless, and would make current technology available for student use.
The iPad would be the student's companion for the school year, would go home with him/her every night, and would host his/her daily work, projects and materials.
The NRHEG Technology Committee and staff have visited with other school districts doing similar programs, and did a site visit to Heritage Middle School in West St. Paul, which is doing a 1:1 program with iPads for grades 5-8.