Details

Hits: 1040
New Richland City Council
By JODY WYNNEMER
Staff Writer
Council members Amy Ihrke and Anthony Martens were absent as Mayor Tom McShane convened the second regular council meeting of April at New Richland City Hall Monday, April 23.
Mayor McShane signed a proclamation designating the month of May as Poppy Month and making Friday, May 11 the official Poppy Day for New Richland.
Maintenance supervisor Ryan Nissen noted there were 21 delinquent water bills in March. Nissen requested the council hire Grant Berg again for the part-time summer employee. It was approved.
Details

Hits: 2311
 NRHEG High School Principal Paul Cyr has announced the names of students selected to the Honor Roll for 3rd Quarter 2011-12:
"A" Honor Roll
Grade 12 — Emily Beenken, Dustin Esplan, Amanda Groskreutz, Michaela Hansen, Ashton Hareid, Hannah Haroldson, Hailey Johnson, Megan Judd, David Lassahn, Brandon LeBlanc, Samuel Lundberg, Lucas Meyer, Cody Mosher, Samuel Nafe, Tori Raimann, Tiara Robran, Eric Sorenson, Jillian Theuer, Amy Thompson, Carter Tollefson, Jade Waltz and Lexi Wayne.
Grade 11 — Brendon Arnold, Noelle Bartness, Kiley Beenken, Paige Bolduan, Elizabeth Eder, Hans Frank, Jarred Hanson, Emilia Hobbs, Erin Larson, Mikayla Lindell, Alicia Merritt, Brooke Olson, Crystal Olson, Stephanie Root, Casey Rosacker, Raelin Schue, Madison Schwierjohann, Tara Simon, Nathaniel Wallin and Chandler Wisler.
Grade 10 — Adam Anderson, Emily Christensen, Kellen Ferber, Carson Field, Presley Johnson, Noah Krell, Hannah Lundberg, Jadyn Nelson-Spies, Laura Ranniger, Douglas Rudau, Morgan Staloch, Carlie Wagner and Alexis Wyatt.
Details

Hits: 1496
'Gus' Station' may be moved to fairgrounds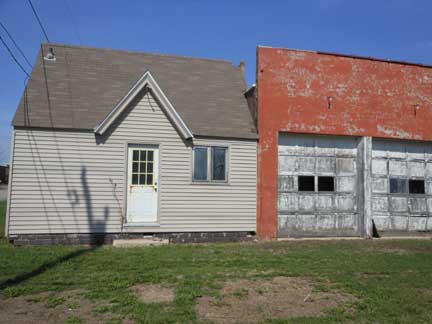 'Gus' Station' as it sits today
By KATHY PAULSEN
Staff Writer
For many years, the highlight of the day for a kid at the Ellendale School was a quick run across the street for candy at Gus' Service Station.
Those days are long gone.
The kids are probably grandparents now and the little building on the corner of School Street and 8th Avenue has been closed since 1981. But look inside and you can still see the image in your mind of the good times it provided. It looks just as it did when LuAnn ran the candy counter.
Now, the building's future is in doubt. But there's a movement afoot to preserve the building and the memories.
The owner of the building has agreed to donate it to the Ellendale Area Historical Society with the stipulation that the building be moved and the lot cleaned up.
The Steele County Historical Society found a place suitable for Gus' Station at their Village Of Yesteryear at the Steele County Fairgrounds.
Details

Hits: 1342
Francis Misgen was once featured in the Minneapolis Tribune for never, ever missing a day of country school. It's a trait that has followed him since.
Francis Misgen (Star Eagle photo by Kathy Paulsen)
By KATHY PAULSEN
Staff Writer
For eight years, Francis Misgen followed his brothers and sisters to school in heat and rain and snow.
Some years, the winter snow drifts covered the telephone lines.
Francis never missed a day, or came in tardy one time, when he attended school at the Berlin Country School north of Beaver Lake. So outstanding was his feat that he was featured in the Minneapolis Tribune.
It's a trait that followed him for 84 years: Pride in what he was expected to do and doing his best.
Francis Misgen was born and raised on a farm northeast of Beaver Lake. The trek to school was a good two miles, a trip he took with his siblings and other area relatives.
Francis could tell you endless stories about the neighbors then who liked each other and weren't afraid to lend a helping hand to whoever needed it. At one time, they moved a house from the Issac Muri farm to their farm with men and horses.
In 1942, Francis was a medic in the U.S. Army and, because of his earlier trucking experience, was the only one in his outfit who could legally drive the heavy machinery and ambulance. One of his stopping places was Camp Grant, Illinois, but most memorable was Jackson, Mississippi because of all the rattlesnakes and copper heads in the area. Francis still finds it hard to believe the men swam in the river there with all those dangerous reptiles.
Details

Hits: 1079
Michael Skov, 47, of Manchester died Saturday night after a head-on crash on Minnesota Highway 13 north of Albert Lea.
According to the Minnesota State Patrol, Skov was driving a 1993 Buick LeSabre north on Highway 13 around 10:30 p.m. when he crossed into the southbound lane and collided head on with a 2008 Cadillac CTS.
The driver and passengers of the Cadillac were all treated and released from Mayo Clinic Health System in Albert Lea. They were all wearing their seat belts.
Skov was a co-owner of the Bend in The Road tavern in Manchester. He had been residing in New Richland assisting his father with a recent illness.