Details

Hits: 930
Farm & City Days 2016

 I KNOW THIS! — "Lawn Boy and his Weed Whippers" won the Family Feud competition in downtown New Richland Thursday, July 7. From left: Megan Manthey, Brenda Strenge, Katie Manthey, Laura Wenzel, Ethan Strenge. At right is Sydney Schultz. (Star Eagle photo by Jessica Lutgens)
By JIM LUTGENS
Editor/Publisher
Cherry Gun rocked, the Weed Whippers rolled, and the Town and Country Garden Club ruled.
That was the synopsis for 2016 New Richland Farm and City Days, which wrapped up four days of festivities on Sunday, July 10.
The Little Miss/Little Mr. Pageant was held Thursday night at NR City Hall. Winners were: Miss NR Colorful, Kynzlie Garza; Miss NR Thoughtful, Brynlee Neitzel; Miss NR Artist, Hazel Botten; Miss NR Considerate, Violette Botten; Miss NR Graceful, Izley Boerner. There were no misters.
The New Richland Lions Potato Bake/Root Beer Float event at city hall Friday evening was well attended.
For the second year in a row, Family Feud was the Friday night entertainment on Broadway Ave. in front of the Star Eagle office. The winning team was "Lawn Boy and his Weed Whippers," which included Ethan Strenge, Brenda Strenge, Megan Manthey, Laura Wenzel and Katie Manthey. Just for Kix dancers performed.
Details

Hits: 1080
Town & Country Garden Club honored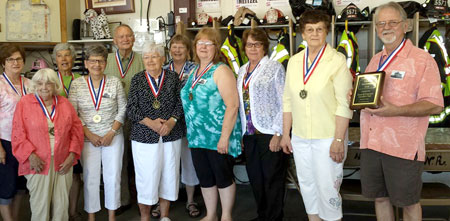 Members of the Town and Country Garden Club were chosen grand marshals for the 2016 New Richland Farm & City Days parade. From left: Kris Pfeffer, Delores Bartholmey, Mary Sack, Joanie Proehl, Pastor Charles Espe, Lou Anderson, Julie Phinney, Jodi Johnson, Betty Hullopeter, Avis Rugroden, Mike Phinney. Not pictured: Barb Finseth, Kay Adams, Dawn Halgren, Gerald Hullopeter, Eleanor Schlaak, Janae Janike. (Photo by Pam Goehring)
Details

Hits: 7430
2nd annual 5K set for July 9

 THE SMILE — That's what will be remembered most about Preston Peterson by his parents, Tammy and Tom. Entry forms for the Press On For Preston 5K can be found on the Facebook page Preston Fund Memorial 5K Run/Walk. (Star Eagle photo by Jim Lutgens)
 By JIM LUTGENS
Editor/Publisher
Usually, Tammy Peterson is the parent who breaks down when thinking or talking about her late son, Preston.
Not this time.
It was the dad, the strong and stoic Tom Peterson, who got up from the table to compose himself as the Petersons talked about the second annual fun run/walk in Preston's honor, set for July 9 during New Richland's Farm and City Days. The Press On For Preston 5K begins at 8 a.m. at NR City Hall, where you can pick up entry forms.
Lyndsay Carlson, Abbey Holland and Cyndi Bartness, friends of the Peterson family, organized the first run last year to remember Preston and fund a memorial scholarship.
What does Tammy remember about Preston?
"His smile," she said. "Just his good-natured, kind attitude. He really was just so kind-hearted and loving."
Details

Hits: 1256
NRHEG band presents personal performance
When preparing to march in the St. Peter 4th of July parade last weekend, the NRHEG band learned the home they were parked in front of belonged to Jim and Margaret Miller. The 91-year-old Jim is not able to get around well and would not be attending the parade, so the band decided to give the Millers a private show in their front yard. Between the performance and the hugs and handshakes from band members, Jim Miller (one of three remaining WWII vets in St. Peter) and Margaret were moved to tears. NRHEG Band Director Jacob Bender posted the following message on Facebook for his students: "This was the highlight of the day in St. Peter. I hope you all realize the special impact you made by performing for this wonderful couple. Years from now you won't remember marching in the parade but you will remember this moment. This is what music can do!" (Photo by Laina Rajala)
Details

Hits: 1884
Teacher Recognition 2016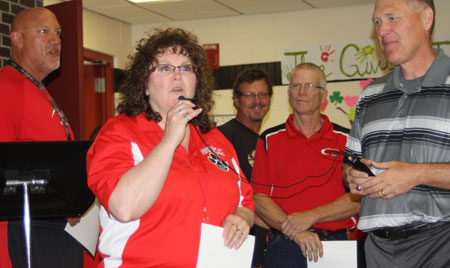 Staff members at NRHEG were recognized at the annual ceremony Friday, June 3. Above from left: John Schultz (30 years), Ann Howe (30 years), custodian Dan Bell (30 Years), Richard Ellerbusch (30 years), superintendent Dale Carlson. Below, retirees Chuck Crabtree (bus driver, 23 years), Marty Nelson (bus driver, 23 years), Sue Hill (lead cook, 25 years), Joanne Phillips (11 years) and Bonnie Jacobson (24 years); not pictured: Jill Schlaak (23 years). (Star Eagle photos by Eli Lutgens)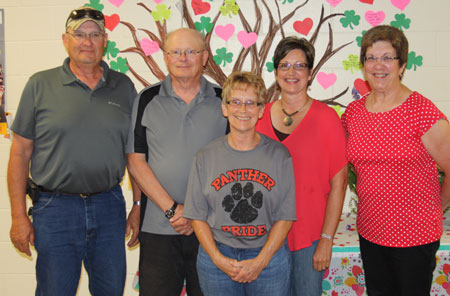 By ELI LUTGENS
Editorial Assistant
Staff members at NRHEG Schools were recognized during the annual Years of Service and Retirement Recognition program Friday, June 3 at the high school in New Richland.
After a reception, including slideshow and refreshments, Years of Service Awards were presented.
They were as follows:
• 5 years — Kari McNeil, teacher; Kelsey Pederson, teacher; Emily Schultz, paraprofessional; Mychelle Lynch, paraprofessional
• 10 years — Jenny Bunn, teacher; Diana Foster, teacher; Sara Ihrke, teacher; Clarice Clausen, paraprofessional
• 15 years — Beckie Johnson, custodian; Jim Steen, custodian; Michelle Thiele, community education