Details

Hits: 2967
French foreign exchange student brings family to town for mini-reunion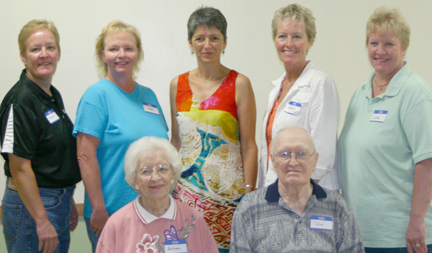 LONG-AWAITED VISIT — After 34 years, former New Richland exchange student Ghyslaine Longefay-Perroud returned to town Sunday, Aug. 12 for a reunion with her host family and classmates. Front from left: Don and Audreene Smith. Back: Alison Hagen, Jayne Busho, Longefay-Perroud, Anne Hagen and Lori Towle. (Star Eagle photo by Nicole Billing)
By NICOLE BILLING
Editorial Assistant
Ghyslaine Longefay-Perroud came to New Richland from France during the 1977-78 NRHEG school year as a foreign exchange student.
Ghyslaine was back visiting old classmates at City Hall on Sunday, August 12, after 34 years of being away. She mentioned she would be staying and visiting for a week.
In 1977-78, she stayed with the Donald L. Smith family for an entire year.
"Living in America was very different," said Ghyslaine. "I came from a very small village and had never been abroad before. The people were very welcoming."
Details

Hits: 1291
NRHEG junior T.J. Schiltz sets sights high for cross country, track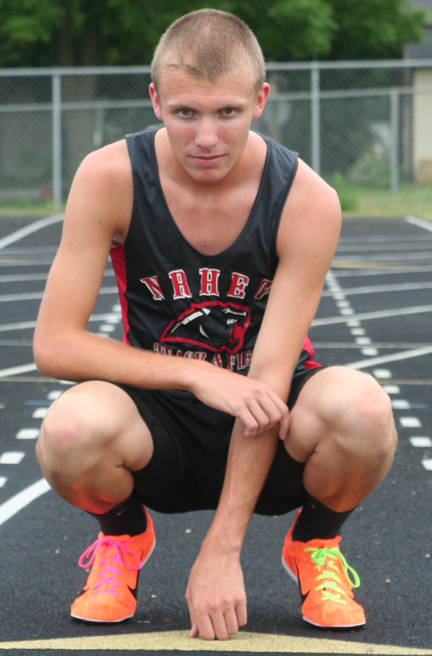 SIGHTS SET — NRHEG High School junior and school-record holder T.J. Schiltz looks for big things during the upcoming cross country season. (Star Eagle photo by Rachel Rietsema)
By RACHEL RIETSEMA
Staff Writer
NRHEG High School's track and cross country teams have a star runner amongst them. And, his career continues to climb the record charts even when injury presents hardship.
"My first year of varsity track, I ran three miles in about 23 minutes," said junior T.J. Schiltz. "Three years later, I finished the state meet with a 16:48."
Evidently, Schiltz has made excellent strides since his 8th-grade season. His determination and hate-to-lose attitude have everything to do with the improvement.
"I don't want all my hard work wasted," he said. "I just keep chugging along so that I can put myself well ahead of the competition."
Details

Hits: 995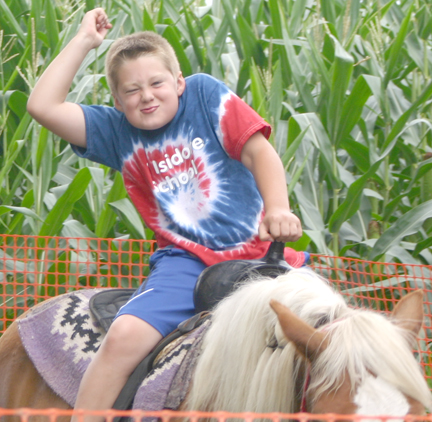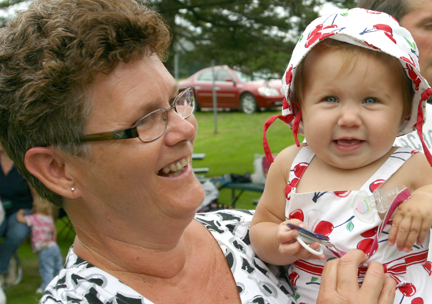 FUN FOR ALL — Young and old alike enjoyed Litomysl's 41st Annual Summer Festival Sunday, July 29. (Star Eagle photos by Nicole Billing)
By NICOLE BILLING
Editorial Assistant
Despite the cloud-filled skies threatening to bring rain, there was still a huge crowd at Litomysl's 41st Annual Summer Fesitval Sunday, July 29. A crowd of kids and adults alike had fun playing games and eating food. 
It turned out to be a truly gorgeous day. All of the money Litomysl recieved during the festival will be donated to support the preschool through fifth-grade school, St. Isidore.
The outdoor activities began at 11 a.m., which included such things as food booths, a flea market, a silent auction in the school, a country store with garden produce, and games for all ages.
Details

Hits: 1000
Geneva man creates mini Civil War cannons
HOLDING HISTORY — Scott Stohr of Geneva holds one of the many model cannons he has created. (Star Eagle photo by Kathy Paulsen)
By KATHY PAULSEN
Staff Writer
Following the news and some of the miserable and unacceptable things some people do, it helps to pause and think about all the good people in the world.
Even better, a good share of them live right next door. We may know them as a good neighbor, helpful and friendly, but often we don't know of the interesting things that make them tick.
Scott Stohr is one of those people.
Stohr moved to Geneva in 1991 and enjoys living there because small towns don't have traffic signals. He has a fascinating hobby concerning knowledge of the Civil War, guns, ammunition and a lot of other things — and we mean a lot — things we won't go into right now.
Details

Hits: 1990
Former NRHEG, RCTC standout takes his skills to South Dakota State
BIG STEP — NRHEG High School graduate Kevin Klocek, a football standout at Rochester Community and Technical College the last two years, is making a big step this fall to the Division I level at SDSU. (Star Eagle photo by Nikki Erickson)
By NIKKI ERICKSON
Contributing Writer
He said it was the hardest decision of his life. But Kevin Klocek packed his bags and left for South Dakota State University with his dreams of playing Division I football coming to fruition.
Once a Yellowjacket linebacker, Klocek finished most of his general college credits while playing on scholarship at RCTC in Rochester, within 50 miles of his home in New Richland. His new journey will move him more than 200 miles from home.
There, he will walk-on after a standout career at RCTC, where he served as captain. The prospects are bright as Klocek takes to SDSU a 6-foot-4, 220-pound frame that can run the 40-yard dash in 4.47 seconds.
Most would say 200 miles isn't that far, but Klocek's ties to his family and local community are the biggest influences in his life, and that will be hard to leave behind.