Details

Hits: 3170
Win at Waseca caps another successful year under Siewert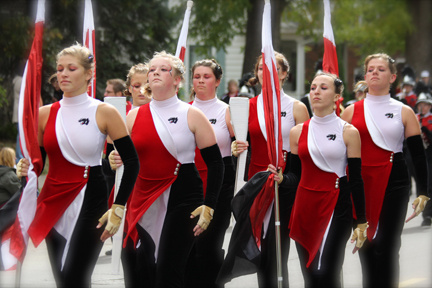 MARCHING ON — Above, members of the NRHEG Marching Band Color Guard lead the band during the 2012 Waseca Marching Classic. From left: Hailie Mahlman, Abby Crabtree, Maddie Reed, Elizabeth Eder, Emmy Hobbs, Jessica Phillips and Crystal Olson. Below, director Tim Siewert cheers the band during the Waseca Marching Classic. (Star Eagle photos by Nikki Erickson)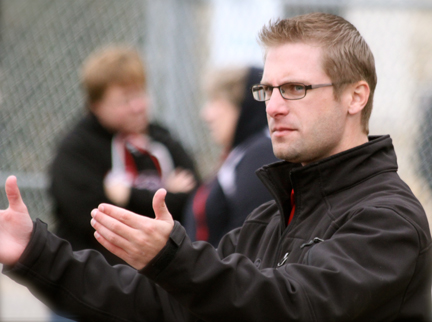 By JESSICA LUTGENS
Editorial Assistant
The NRHEG High School Band has been very successful in recent years, shown not only by their excellent performances, but also by awards they've received. The band has won the Waseca Marching Classic the last three years in a row, and six out of the last seven years. 
Two years ago, they didn't win first place, but they did win the People's Choice award, which some could argue is even better.
"This summer was very successful for our marching band," said Tim Siewert, band director. "We had a whole new look with great uniforms and drums we were able to purchase, but our reputation stayed at the high level it's always been at."
Details

Hits: 1161
Schwierjohann crowned queen, Schue king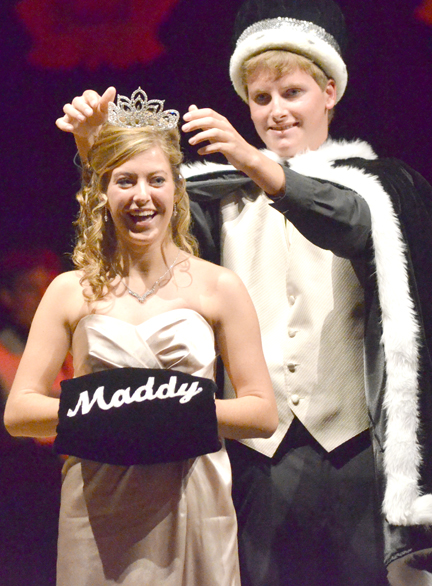 NRHEG 2012 Homecoming King Riley Schue, right, crowns Maddy Schwierjohann Homecoming Queen during coronation ceremonies Monday night at NRHEG High School in New Richland. See Pages 6-7 of this week's Star Eagle for a photo of the full Homecoming court and a list of past queens and kings. (Star Eagle photo by Chris Schlaak)
Details

Hits: 3030
Long family opens 5th Avenue Pizza in Ellendale
AT YOUR SERVICE — Ricky and Sarah (Lundberg) Long have renovated the old Maggio's Pizza building and turned it into the 5th Avenue Pizza Shoppe in downtown Ellendale. (Star Eagle photo by Kathy Paulsen)
By KATHY PAULSEN
Staff Writer
Who doesn't like pizza, especially since there are so many choices to choose from and it is so easy to find?
Ricky and Sarah (Lundberg) Long recently decided to open the 5th Avenue Pizza Shoppe, on the top of the hill in Ellendale at 301 5th Avenue West.
Ricky is originally from West Texas, where his dad works for a natural gas company and his mother was a stay-at-home Mom for his brother, sister, and him. Sarah is a New Richland native who went to college at Christ for the Nations Institute in Dallas, Texas, where she and Ricky met. She plays piano and writes songs, while Ricky is a drummer. They attend and are active members of Vibrant Life Assembly of God Church in Ellendale.
Ricky and Sarah moved to Ellendale in 2006 and purchased a home there in 2007. Ricky worked for the previous pizza restaurant, Maggio's, for four years. 
Details

Hits: 1574
HOMECOMING CANDIDATES — NRHEG's 2012 Homecoming candidates are, front from left: Kiley Beenken, Maddy Schwierjohann, Raelin Schue, Dana Jensen and Paige Bolduan. Back: Casey Rosacker, Nic Mangskau, Dustin Burshem, Brad Claycomb and Riley Schue. (Star Eagle photo by Chris Schlaak)
By JIM LUTGENS
Editor/Publisher
Homecoming royalty candidates have been selected at NRHEG High School. They are:
Queen
• Kiley Beenken, Geneva, daughter of Jim and Tammy Beenken. She has two older siblings, Alex and Jady. She's involved in fall and winter competition cheerleading and a class officer.
• Paige Bolduan, New Richland, daughter of Dennis and Melissa Bolduan. She has two brothers, Brandon Jensen and Tyler Bolduan. Post-secondary studies take up most of her free time these days.
• Dana Jensen, Geneva, daughter of Wayne and Diane Jensen. She has a brother, Brady, and a sister, Tara. She's involved in cheerleading and student council.
Details

Hits: 1091
First-year teacher relishes return to small town life
RIGHT AT HOME — Megan Steuck, originally from the Medford area, feels fortunate to land a job teaching first-graders in a rural community. (Star Eagle photo by Rachel Rietsema)
By RACHEL RIETSEMA
Staff Writer
Straight out of college, Megan Steuck landed her dream job. But, Steuck doesn't and will not take all the credit.
Instead, she gives the glory to God for allowing her to lead one of Ellendale's first-grade classrooms.
"I worked hard to get here, but this would be because of Him, absolutely," Steuck said. "I wanted a small country school and I wanted first grade. I feel so blessed."
Persistence also played a huge role in acquiring her new title.
"After finishing school in May, I stopped by and talked to the school secretaries to see if they had any openings," she said. "I came back another time and ran into Mr. Anderson. I then gave him a brochure that outlined who I am as an educator."