Details

Hits: 1032
Bartness recalls post-combat World War II days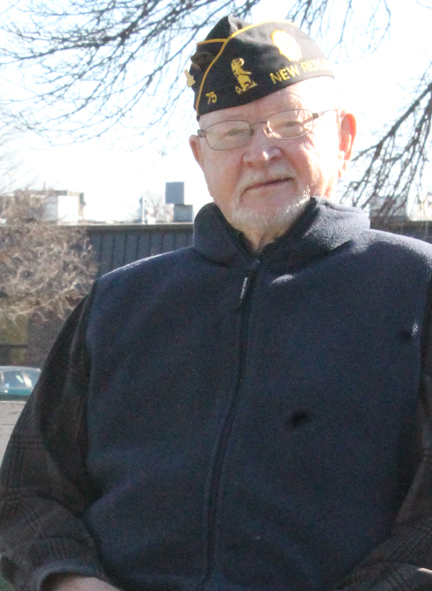 Don Bartness
By RACHEL RIETSEMA
Staff Writer
The year was 1945, and things overseas were still as they say, dicey.
But, luckily for New Richland native Don Bartness, World War II combat had just ended.
"On our ship ride to Japan, I was really sea sick," Bartness said. "I was ordered to keep watch for mines, but I didn't care if the mine hit us or not. That's how sick I was."
Toward the latter part of this 18-day journey, he and his stomach were on better terms. However, when he set foot on land, his luck continued as the ground began swaying from side to side.
Details

Hits: 3486
New manager at New Richland's Country Neighbors relishes her job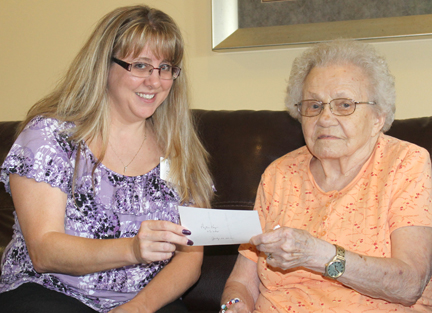 NEIGHBORLY — Julie Strong, left, visits with Country Neighbors resident Floa Finholdt. (Star Eagle photo by Rachel Rietsema)
By RACHEL RIETSEMA
Staff Writer
For an hour straight, Julie Strong's eyes have glazed over so many numbers she can't see straight. Well, not really. She just needs to hit the pause button for a few minutes and gain some human interaction.
What better way to do that, than to walk outside her office door.
"The residents are special in every way," said Strong, New Richland's newest manager for Country Neighbors. "I just graduated from Minnesota State University in Mankato and am a licensed social worker. It's not a requirement, but it's certainly an asset to the job."
For one, Strong can really advocate for the 13 residents activity-wise.
Details

Hits: 1521
For new NRHEG special education instructor, teaching is in her genes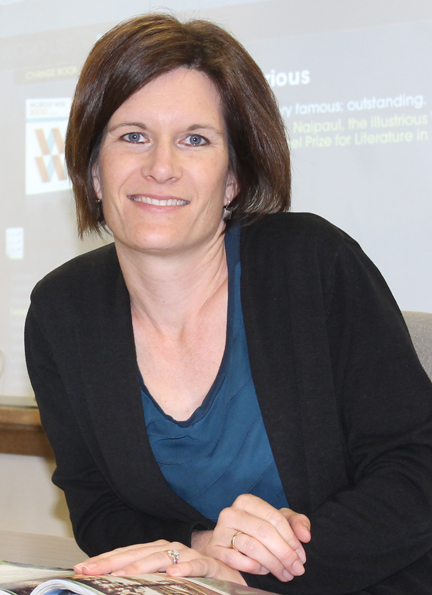 HOUSE OF EDUCATORS — Stacie Ebnet-Dietz, originally from Albany, Minn., comes from a family of teachers, and her husband is also involved in education. (Star Eagle photo by Rachel Rietsema)
By RACHEL RIETSEMA
Staff Writer
"It is a great school with a wonderful staff. I have enjoyed becoming part of Panther Pride at the NRHEG Secondary school."
Those exact words came straight from the new sixth and seventh-grade special education teacher, Stacie Ebnet-Dietz. She has much more to say about the teaching position however.
"It has been reassuring to see smiling faces and helpful advice and guidance," Dietz said. "The NRHEG staff has been welcoming and they have made me feel part of the team. I appreciate working with such talented and innovative professionals."
As they bind together, she can see her students' academic gaps shrink on a daily basis.
Details

Hits: 1728
NRHEG School Board

THANKS, MONSANTO! — Monsanto presented a $25,000 check to the NRHEG school during the high school pep fest on Friday, October 5. Pictured from left: Paul Cyr, Kevin Wellen, Mike Pruat, Anne Feist, Amanda Inouye, Jennifer Hatton, Rick Schultz, Chris Beyer and Tom Chandler. (Star Eagle photo by Nicole Billing)
By REED WALLER
Staff Writer
The list of donations approved by the NRHEG school board for the month of October topped $40,000. 
Monsanto grant
Topping the list was the $25,000 grant gift from Monsanto.
The Monsanto Grow Community Farm Progress grant was made available to school districts with a choice of taking $10,000 per district, or submitting their district to be nominated by area farmers for a possible $25,000.
The project description states, "NRHEG will use the grant to update science laboratories to state-of-the-art facilities. The district will be acquiring 13 Labquest Interface equipment and sensors that will broaden the scope of scientific investigation in the classrooms. The grant will also be used to purchase two digital microscopes that will be integrated with SMART Boards that are already in use."
Details

Hits: 1017
For first time ever, Minnesota to lead U.S. in corn production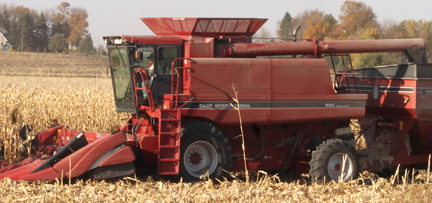 EARLY OUT — It's been an unusually early harvest for area farmers who, according to local agronomist Mark Bernard, should be thankful for another fruitful season. (Star Eagle photo by Rachel Rietsema)
By RACHEL RIETSEMA
Staff Writer
Here in our little neck of the woods, local agronomist Mark Bernard believes farmers should count their blessings, every single bushel.
"They could've had diddley squat like some other unfortunate areas of the country," Bernard said. "If it had been a little hotter and a lot drier, it could've happened here too."
So, what saved area crops? The soil moisture deficit we had coming out of last fall.
"There were certainly times when we could've used rain, but it was amazing how little the crop showed stress," he said. "That's a tribute to the moisture-holding capacity these soils have. We can typically hold 11-12 inches in the top 5 feet of soil."