Details

Hits: 79691
Back in the day, Carlie Wagner's grandmother, Joie Somage, showed athletic tendencies herself
BIT OF A TOMBOY — Country Neighbors resident Joie Somage admits she had somewhat of a tomboyish side as a youngster, riding horses bareback, climbing trees and stacking hay. (Star Eagle photo by Rachel Rietsema)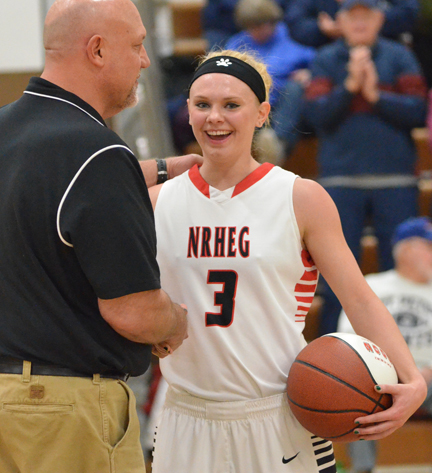 BASKETBALL MILESTONE — Carlie Wagner (3), Joie Somage's granddaughter, is congratulated by coach John Schultz after scoring her 2,000th career point Saturday. (Star Eagle photo by Chris Schlaak)
By RACHEL RIETSEMA
Staff Writer
Country Neighbor resident Joie Somage's birth certificate isn't what you think it would be. Neither are her prescription bottle labels, White Pages listing and check blanks.
Her daughter Jane's comment at age 10 sums it up well: "The pill bottle fell out of the cupboard and I asked, "Who's Shirley?"
After Joie's laughter subsided, she carefully explained to her little squirt how her middle name in fact became her first name at a very young age. And, that as they say, was that.
The goings on inside the Somage household still continued on as crazily as ever too.
Details

Hits: 1149
NRHEG grad Adam Moen loves the stage
LOVING LIFE — NRHEG High School graduate Adam Moen (lower right) and the cast from "Bye Bye Birdie" currently being performed at the Chanhassen Dinner Theatre. (Submitted photo)
By RACHEL RIETSEMA
Staff Writer
One of New Richland's very own has struck gold you might say, on the theater stage that is.
There's no stopping him either.
"I am currently working at Chanhassen Dinner Theatre in Bye Bye Birdie," said NRHEG graduate Ryan Moen. "I will also be in their next production of Joseph and the Amazing Technicolor Dreamcoat."
Under these bright spotlights, Moen feels "completely honored."
"Every day I go to work I have a blast," he said. "It's the time of my life."
Details

Hits: 6038
Cafeteria project detailed at special public meeting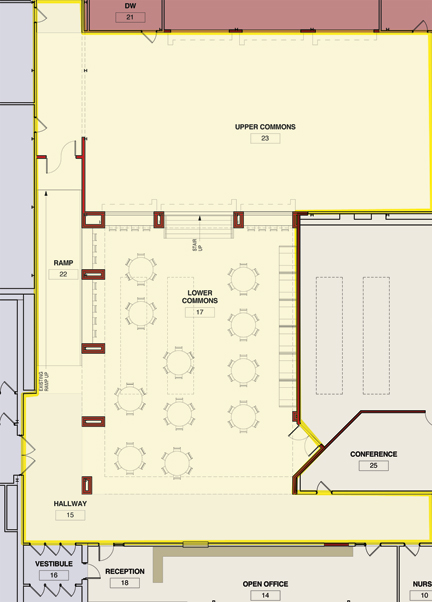 NEW SCHOOL COMMONS AREA – The light yellow area indicates the proposed new Cafeteria/Commons area of the New Richland school building. The building's main entrance, to be converted to secure double entry, is at lower left. The Upper Commons is in place of the current cafeteria, and the Lower Commons (area 17) is in place of the current south portion of the Media Center. The new Lower Commons will retain two skylights inherited from the Media Center. At lower right is the diagonally-placed main door to the smaller Media Center. At top is the facing wall of the new kitchen area, indicating large service openings with drop-down firewall dividers. (Drawing detail courtesy of SGN Wendel, recolored by Star Eagle)
By REED WALER
Staff Writer
A special public meeting to display and answer questions on the proposed kitchen-commons-entryway remodeling of the New Richland school building was held last Tuesday at 7 p.m. immediately following the district's annual Truth in Taxation hearing at 6:30.
Present were representatives of ICS Consulting and SGN Wendel Architects, to present the drawings and explain financing. 
Visitors were first given a quick history of the project.
"It's been in our minds for quite some time that the kitchen facility was aging quite rapidly," said Supt. Kevin Wellen. "The kitchen and its equipment are over 50 years old, and the cafeteria is the same."
History
"We involved some companies," explained board chair Rick Schultz, "and we prioritized some other areas that could be improved."
Details

Hits: 1299
Bench for Odd Fellows building displayed at bank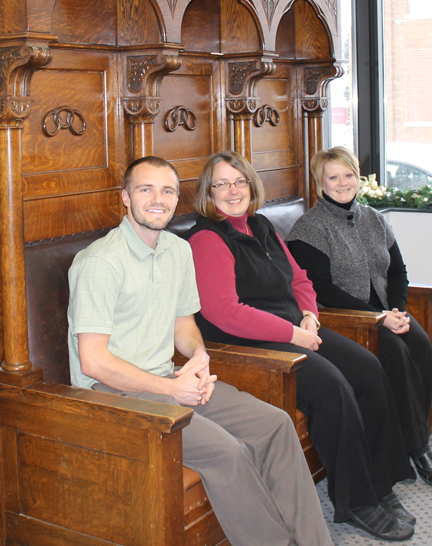 STROKE OF LUCK — That's what members of the New Richland Area Historical Society felt about finding an authentic Odd Fellows bench, whose original purpose remains a mystery. It's currently on display at State Bank of New Richland, with employees pictured above from left, Matt Harrington, Jean Billing and Jenny Thompson. (Star Eagle photo by Carrie Gilbertson)
By CARRIE GILBERTSON
Staff Writer
The New Richland Historical Society has acquired its latest piece of history intended for the new library, an Independent Order of Odd Fellows Bench. Currently, the artifact is being stored in the State Bank of New Richland. It will remain there until the Odd Fellows building renovation is completed. 
According to Barb Wildgrube, co-founder of the New Richland Area Historical Society and Chairperson for the New Richland Historic Preservation Commission, funding for the purchase was donated by the New Richland Area Foundation and By the Grace of God Fund. Both groups donated money to the purchase of furniture for the renovated building. This particular piece is intended for the lobby.
"We expect this to be the huge statement piece," said Wildgrube.
Details

Hits: 3645
GETTING ACQUAINTED — New Richland Care Center's new administrator, Lyn Sebenaler, left, chats with resident Robert "Swan" Tollefson. (Star Eagle photo by Rachel Rietsema)
By RACHEL RIETSEMA
Staff Writer
It's no secret that New Richland Care Center residents are having a holly, jolly time this holiday season. And no, it's not because of the mistletoe or colorful lights.
Sure, these Christmas-oriented things might liven up everybody's spirits, but the core of their happiness stems from the newly-hired administrator, Lyn Sebenaler.
"I enrich lives that normally would be lonely," Sebenaler said. "Nursing homes are notorious for being cold and impersonal, but I thought this place to be very warm and open."
Actually, the moment she walked on the premises, there was an instant connection. Smaller-bed facilities just have a way of doing that to her.