Details

Hits: 2933
Discussion proves educational, even for longtime area residents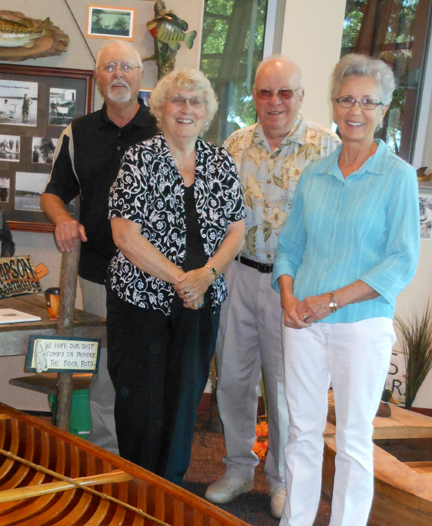 PRESERVING HISTORY — Ellendale Area Historical Society members Ed Jensen, Norrine Jensen, Lloyd Kaplan and Barbara Mrotz were at the Steele County History Center June 21 for a roundtable discussion on Beaver Lake. (Star Eagle photo by Kathy Paulsen)
By KATHY PAULSEN
Staff Writer
While driving around the east end of Beaver Lake, which includes 99 acres of water, one will glimpse 103 seasonal cottages, 13 year-round homes and a sandy beach with children taking swimming lessons and having fun in the water.
It brings back wonderful memories of when my family camped in our first motor home, a renovated school bus, on the south shore.
Many more memories were rekindled during a roundtable discussion about Beaver Lake at the Steele County History Center June 21.
I learned to swim in Beaver Lake, so its history was most interesting. I can remember how the beach back in the 1960s and '70s could be so crowded, people would reserve a spot on the shore by going early and laying down their towels on the beach area hillside.
It was mind boggling all the things I learned that night. I wasn't disappointed.
Details

Hits: 1673
After 22 months, Meierding bids farewell to NR area churches
TOUGH TO SAY GOOD BYE — After 22 months, LeSueur River and Vista Lutheran interim pastor Paul Meierding delivered his final sermon there last Sunday. The Meierding family, from left, Paul, Erika, Karl and Jorun. (Submitted photo)
By RACHEL RIETSEMA
Staff Writer
For the last 22 months, the two-point perish of the LeSueur River Church and Vista Lutheran has experienced an interim phase.
All the while, they waited patiently for a full-time candidate to come along, and finally, their prayers have been answered. But, before Brian Gegel takes the lead, the congregation must say a bittersweet goodbye to Paul Meierding.
"As an interim pastor, people often tell you they want you to stay," Meierding said. "It's an honor to hear that. It's also fun to hear people appreciating my ministry."
Meierding can't get over how great this interim time has been. Sundays won't be the same, he says.
Details

Hits: 1621
Schmidt named parade grand marshal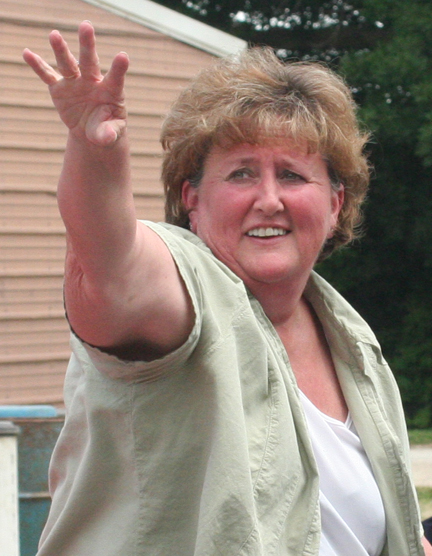 Gail Schmidt waves to the crowd during the 2012 New Richland Farm and City Days parade Sunday, July 8. Schmidt was selected grand marshal. (Star Eagle photo by Jim Lutgens)
By JIM LUTGENS
Editor/Publisher
Pastor Charles Espe always does a great job of announcing the grand marshal for the New Richland Farm and City Days parade, so Gail Schmidt was an eager listener at the Fire Hall Saturday morning.
The clues went right over her head.
Even as Jim Kozan played "Six Days on the Road," Schmidt, with her husband truck driver Joe sitting next to her, looked around the room for truck drivers.
Then, as Espe was reading the nomination letters, Schmidt was thinking, "Wow, those are really nice words to say about someone," never once thinking he was talking about her.
But he was.
Details

Hits: 1285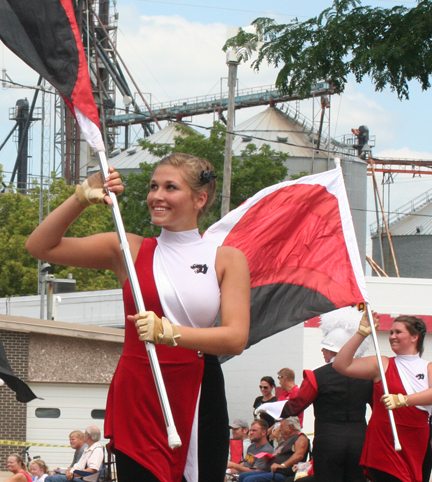 Scenes from the 2012 Farm and City Days parade held Sunday, July 8. See Pages 2, 13 and 14 of this week's Star Eagle for more color Farm and City Days photos. (Star Eagle photos by Jim Lutgens)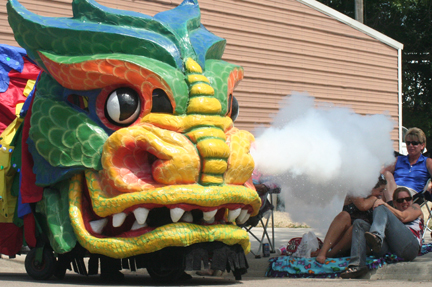 Details

Hits: 1150
Crops looking good at this point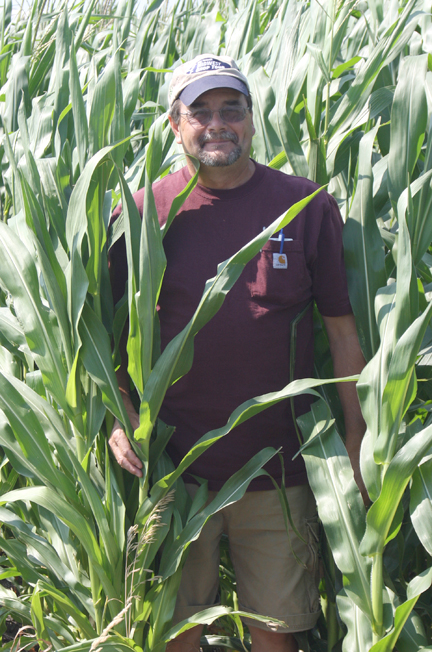 TASSEL TIME — Local agronomist Mark Bernard has high hopes for the 2012 harvest. (Star Eagle photo by Rachel Rietsema)
By RACHEL RIETSEMA
Staff Writer
Like humans, crops of all kinds need their "beauty sleep."
And, now that we are in the heart of summer, local agronomist Mark Bernard has chosen to divulge a few of the imperative conditions the local fields need to survive and even thrive.
"When overnight temperatures fail to drop into the 60s and dew points remain high, the plants expend more energy to maintain themselves," Bernard said. "If it continues to happen for extended periods of time, weeks in a row especially with corn, the yield can be compromised as a result of the energy diverted from grain fill."
Bernard also says that beastly hot temperatures may also cause weaker, more disease-prone corn stalks.