Details

Hits: 1297
Thanksgiving Special
When Kari (Schlaak) Rettig was a little girl growing up in New Richland, she owned more than 100 dolls and used to tell people she wanted a dozen children someday. With the birth of her second set of twins this year, she now has an even dozen — and countless reasons to be thankful
A DOZEN AND THEN SOME — The Rettig family, front from left: Rockford, Victoria, Keira, Emma and one of the newest twins. Back: Elisabeth, Jacob, Mercedes, Christian, Lee, Hudson, Kari (holding the other twin) and Hannah. The new twins are named Abraham and Benjamin. (Submitted photo)
By RACHEL RIETSEMA
Staff Writer
The saying, "The more the merrier," well, the Rettig household has taken that one literally.
Yes, Kari and Lee Rettig definitely have their hands full, with 12 children in all. And they wouldn't have it any other way.
"People remember me saying I wanted a dozen children," said Kari, a New Richland native and daughter of Lyle and Diane Schlaak. "I remember having over a hundred dolls and I named most of them. My husband was the older of two; he debated about even having children before we were married. He then said four and once we had about two, he was fine with six."
But, after bearing their first set of twins (numbers four and five) Lee's exact words at the time were, "However many God blesses us with is fine."
Details

Hits: 3000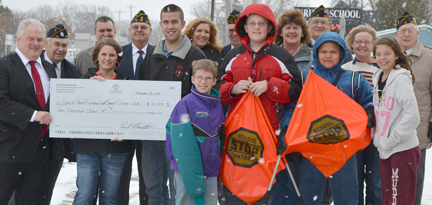 Alliance Pipeline presented a check for $10,000 to the NRHEG School District and the City of New Richland after the annual Veteran's Day program held in the high school Nov. 12. The money is part of their community investment program and will be used toward the new signs and lighting at the crosswalk. From left: Superintendent Kevin Wellen, Elmer Quiram, Rick Schultz, Shannon Bode of Alliance, Geoff Jessen, Cody Dobberstein, Senator Julie Rosen, Jacob Kohnert, Orville Bolduan, Mitchell Westrum, Brenda Kampen, Dennis Dinneen, Louis Gaona, Gretchen Supalla, Rayna Crosson and Winston Evenson. (Submitted photo)
Details

Hits: 1176
Bartness recalls post-combat World War II days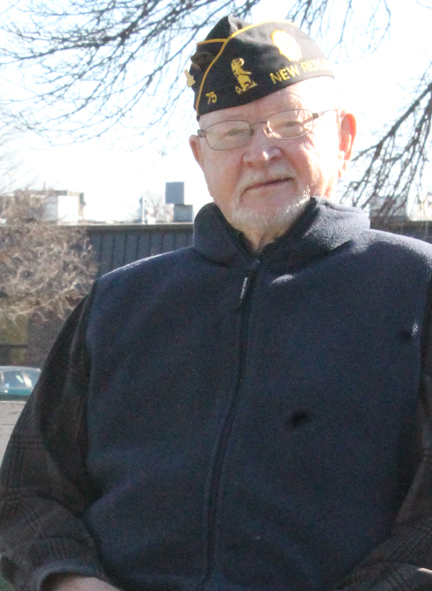 Don Bartness
By RACHEL RIETSEMA
Staff Writer
The year was 1945, and things overseas were still as they say, dicey.
But, luckily for New Richland native Don Bartness, World War II combat had just ended.
"On our ship ride to Japan, I was really sea sick," Bartness said. "I was ordered to keep watch for mines, but I didn't care if the mine hit us or not. That's how sick I was."
Toward the latter part of this 18-day journey, he and his stomach were on better terms. However, when he set foot on land, his luck continued as the ground began swaying from side to side.
Details

Hits: 3592
Veteran's Day observed at NRHEG schools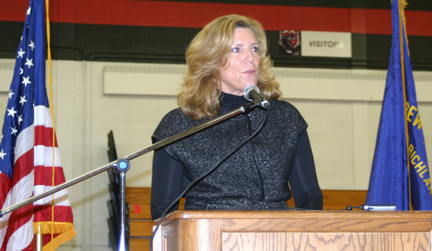 VETERAN'S DAY PROGRAM — State Senator Julie Rosen addresses students as the keynote speaker during NRHEG High School's Veteran's Day program Monday, Nov. 12. (Star Eagle photo by Jessica Lutgens)
By JESSICA LUTGENS
Editorial Assistant
What does patriotism mean to you?
That's what State Senator Julie Rosen asked the students of NRHEG High School when speaking at this year's Veteran's Day Program, held on Monday, November 12. Along with her speech, the program consisted of readings from various students, performances by both the band and choir, and awards for the poster and essay contests.
Details

Hits: 3621
New manager at New Richland's Country Neighbors relishes her job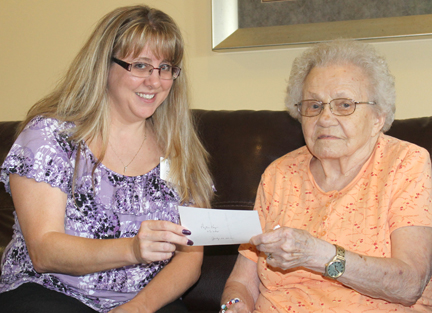 NEIGHBORLY — Julie Strong, left, visits with Country Neighbors resident Floa Finholdt. (Star Eagle photo by Rachel Rietsema)
By RACHEL RIETSEMA
Staff Writer
For an hour straight, Julie Strong's eyes have glazed over so many numbers she can't see straight. Well, not really. She just needs to hit the pause button for a few minutes and gain some human interaction.
What better way to do that, than to walk outside her office door.
"The residents are special in every way," said Strong, New Richland's newest manager for Country Neighbors. "I just graduated from Minnesota State University in Mankato and am a licensed social worker. It's not a requirement, but it's certainly an asset to the job."
For one, Strong can really advocate for the 13 residents activity-wise.