Details

Hits: 779
Homecoming 2012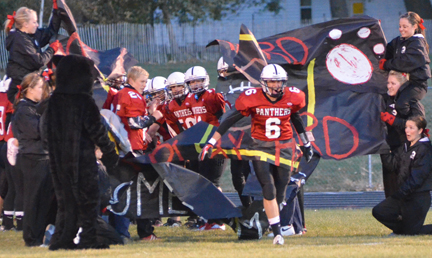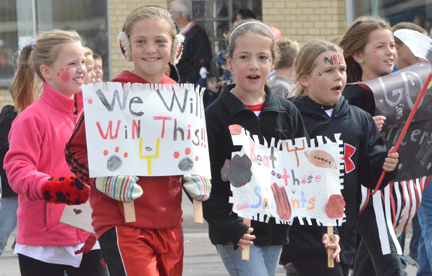 Spirits and hopes were high for Homecoming week at NRHEG High School last week. Above, Spencer Tollefson leads the Panthers on the field for the big game. Below, elementary students get into the act during the parade at Ellendale. See Pages 8 and 12 of this week's Star Eagle for more Homecoming photos. See Page 6 for results of the game. (Star Eagle photo by Chris Schlaak)
Details

Hits: 1139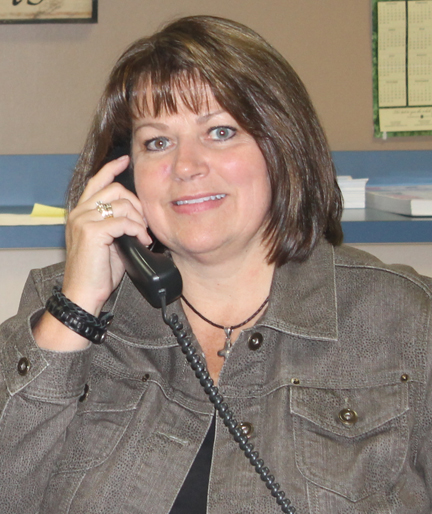 AT HOME — There's a good reason Teri Kormann feels at home as Mr. Cyr's secretary at NRHEG High School. (Star Eagle photo by Rachel Rietsema)
By RACHEL RIETSEMA
Staff Writer
If high school secretaries could fly, NRHEG's newly hired one would.
That's just how dedicated and driven Teri Kormann is.
"As Mr. Cyr's secretary, I enter lunch payments and student data, make changes in data if the phone number and or addresses have changed," Kormann said. "I also update e-mail addresses, update attendance daily, look up student schedules and interact with students."
All of these daily tasks keep her busy from 7:45 a.m. to 4:15 p.m. from Monday through Friday.
"Every day is different," she said. "The time at school flies by. I love it."
Details

Hits: 1055
Schwierjohann crowned queen, Schue king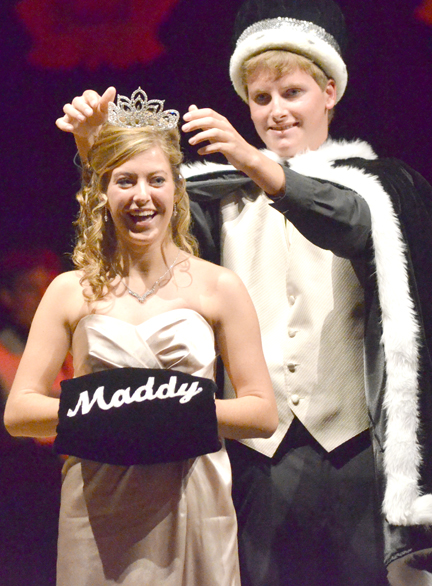 NRHEG 2012 Homecoming King Riley Schue, right, crowns Maddy Schwierjohann Homecoming Queen during coronation ceremonies Monday night at NRHEG High School in New Richland. See Pages 6-7 of this week's Star Eagle for a photo of the full Homecoming court and a list of past queens and kings. (Star Eagle photo by Chris Schlaak)
Details

Hits: 2988
Win at Waseca caps another successful year under Siewert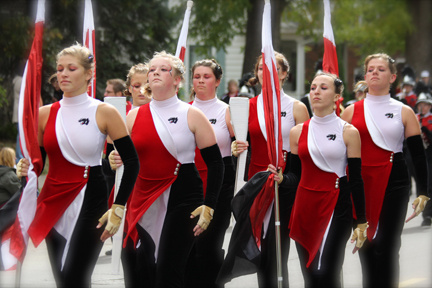 MARCHING ON — Above, members of the NRHEG Marching Band Color Guard lead the band during the 2012 Waseca Marching Classic. From left: Hailie Mahlman, Abby Crabtree, Maddie Reed, Elizabeth Eder, Emmy Hobbs, Jessica Phillips and Crystal Olson. Below, director Tim Siewert cheers the band during the Waseca Marching Classic. (Star Eagle photos by Nikki Erickson)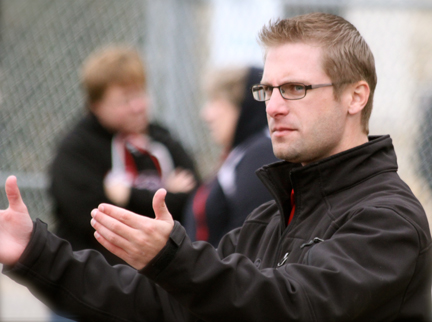 By JESSICA LUTGENS
Editorial Assistant
The NRHEG High School Band has been very successful in recent years, shown not only by their excellent performances, but also by awards they've received. The band has won the Waseca Marching Classic the last three years in a row, and six out of the last seven years. 
Two years ago, they didn't win first place, but they did win the People's Choice award, which some could argue is even better.
"This summer was very successful for our marching band," said Tim Siewert, band director. "We had a whole new look with great uniforms and drums we were able to purchase, but our reputation stayed at the high level it's always been at."
Details

Hits: 1428
HOMECOMING CANDIDATES — NRHEG's 2012 Homecoming candidates are, front from left: Kiley Beenken, Maddy Schwierjohann, Raelin Schue, Dana Jensen and Paige Bolduan. Back: Casey Rosacker, Nic Mangskau, Dustin Burshem, Brad Claycomb and Riley Schue. (Star Eagle photo by Chris Schlaak)
By JIM LUTGENS
Editor/Publisher
Homecoming royalty candidates have been selected at NRHEG High School. They are:
Queen
• Kiley Beenken, Geneva, daughter of Jim and Tammy Beenken. She has two older siblings, Alex and Jady. She's involved in fall and winter competition cheerleading and a class officer.
• Paige Bolduan, New Richland, daughter of Dennis and Melissa Bolduan. She has two brothers, Brandon Jensen and Tyler Bolduan. Post-secondary studies take up most of her free time these days.
• Dana Jensen, Geneva, daughter of Wayne and Diane Jensen. She has a brother, Brady, and a sister, Tara. She's involved in cheerleading and student council.