Details

Hits: 1694
Vista, LeSueur River's search for full-time pastor concludes with first-time pastor
A GATHERING PLACE — LeSueur RIver and Vista Lutheran's full-time pastor Brian Gegel invites you to his spacious garden for a time spent in connection with God. (Star Eagle photo by Rachel Rietsema)
By RACHEL RIETSEMA
Staff Writer
Seated amongst his home congregation in Indiana, Brian Gegel felt an urgent sense of both an internal and external sense of call to become a pastor.
However, it just never seemed to be the right timing. Until now that is.
"There is faith and hope in the call of the church," said Gegel, the newest full-time pastor for the two-point perish of Vista Lutheran and LeSueur River Lutheran churches. "There's a little bit of anxiety in a new atmosphere, but I'm excited about being established in a new place and discovering what it is God brought me to these congregations to learn and do together."
Originally from southwestern Illinois, Gegel and his wife Jane have happily settled into the character-filled parsonage that clearly has been loved for many years. The stewardship of the church is obvious, he says.
Details

Hits: 3177
French foreign exchange student brings family to town for mini-reunion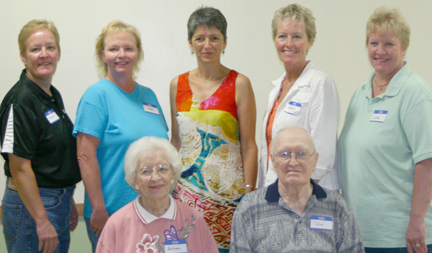 LONG-AWAITED VISIT — After 34 years, former New Richland exchange student Ghyslaine Longefay-Perroud returned to town Sunday, Aug. 12 for a reunion with her host family and classmates. Front from left: Don and Audreene Smith. Back: Alison Hagen, Jayne Busho, Longefay-Perroud, Anne Hagen and Lori Towle. (Star Eagle photo by Nicole Billing)
By NICOLE BILLING
Editorial Assistant
Ghyslaine Longefay-Perroud came to New Richland from France during the 1977-78 NRHEG school year as a foreign exchange student.
Ghyslaine was back visiting old classmates at City Hall on Sunday, August 12, after 34 years of being away. She mentioned she would be staying and visiting for a week.
In 1977-78, she stayed with the Donald L. Smith family for an entire year.
"Living in America was very different," said Ghyslaine. "I came from a very small village and had never been abroad before. The people were very welcoming."
Details

Hits: 1212
Geneva man creates mini Civil War cannons
HOLDING HISTORY — Scott Stohr of Geneva holds one of the many model cannons he has created. (Star Eagle photo by Kathy Paulsen)
By KATHY PAULSEN
Staff Writer
Following the news and some of the miserable and unacceptable things some people do, it helps to pause and think about all the good people in the world.
Even better, a good share of them live right next door. We may know them as a good neighbor, helpful and friendly, but often we don't know of the interesting things that make them tick.
Scott Stohr is one of those people.
Stohr moved to Geneva in 1991 and enjoys living there because small towns don't have traffic signals. He has a fascinating hobby concerning knowledge of the Civil War, guns, ammunition and a lot of other things — and we mean a lot — things we won't go into right now.
Details

Hits: 1559
NRHEG junior T.J. Schiltz sets sights high for cross country, track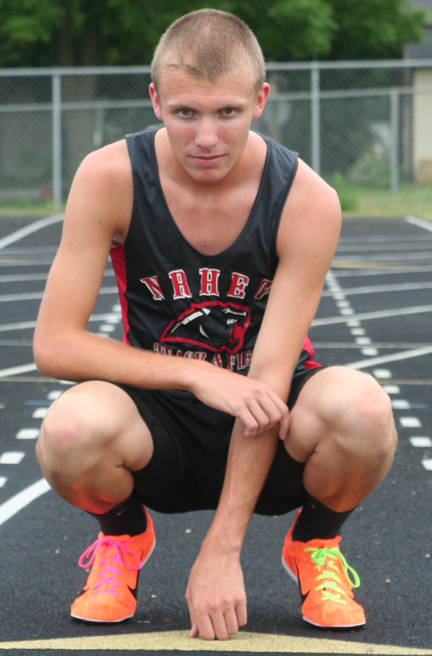 SIGHTS SET — NRHEG High School junior and school-record holder T.J. Schiltz looks for big things during the upcoming cross country season. (Star Eagle photo by Rachel Rietsema)
By RACHEL RIETSEMA
Staff Writer
NRHEG High School's track and cross country teams have a star runner amongst them. And, his career continues to climb the record charts even when injury presents hardship.
"My first year of varsity track, I ran three miles in about 23 minutes," said junior T.J. Schiltz. "Three years later, I finished the state meet with a 16:48."
Evidently, Schiltz has made excellent strides since his 8th-grade season. His determination and hate-to-lose attitude have everything to do with the improvement.
"I don't want all my hard work wasted," he said. "I just keep chugging along so that I can put myself well ahead of the competition."
Details

Hits: 1199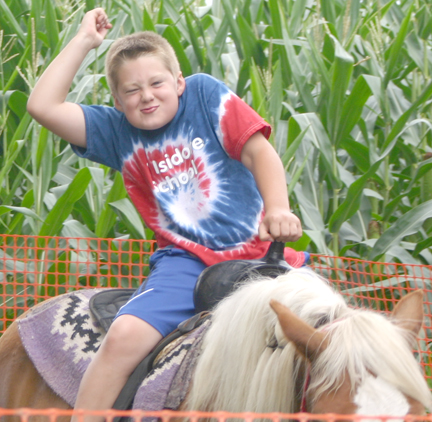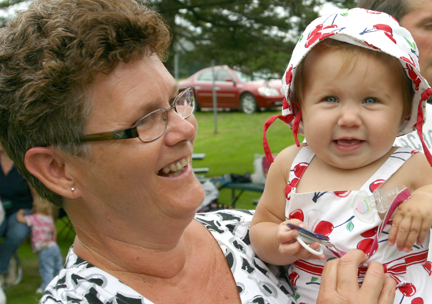 FUN FOR ALL — Young and old alike enjoyed Litomysl's 41st Annual Summer Festival Sunday, July 29. (Star Eagle photos by Nicole Billing)
By NICOLE BILLING
Editorial Assistant
Despite the cloud-filled skies threatening to bring rain, there was still a huge crowd at Litomysl's 41st Annual Summer Fesitval Sunday, July 29. A crowd of kids and adults alike had fun playing games and eating food. 
It turned out to be a truly gorgeous day. All of the money Litomysl recieved during the festival will be donated to support the preschool through fifth-grade school, St. Isidore.
The outdoor activities began at 11 a.m., which included such things as food booths, a flea market, a silent auction in the school, a country store with garden produce, and games for all ages.