Details

Hits: 1002
Ice jumpers raise $3,000 for breast cancer research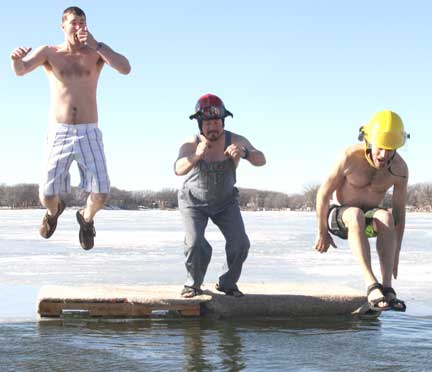 1, 2, 3! — Plungers featured above and below jump off wood pallets, only to discover firsthand just how frigid the waters of Beaver Lake are during the month of February. (Star Eagle photos by Rachel Rietsema)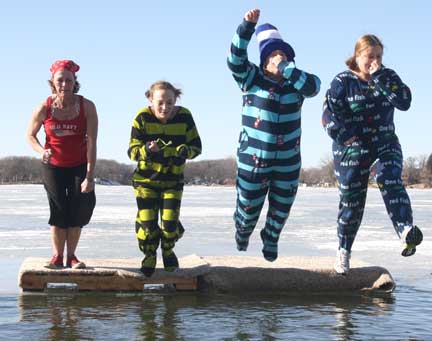 By RACHEL RIETSEMA
Staff Writer
With the wind howling hushed and a full dose of sunshine, 38 daredevils set foot on Beaver Lake last Sunday afternoon.
Staring at the large drilled-out hole, they knew the fate that lay before them. The dreaded countdown began, and before their shivering bodies knew it, they plunged into the deep down under with one goal in mind.
"We decided that all of our proceeds would go to the Susan G. Komen Breast Cancer Research Foundation," said 2nd annual Polar Plunge organizer Cindi Bartness. "So many of us either know of someone who has dealt with breast cancer or been affected by it in some way."
All jumpers were required to be 18 years of age or older, and make at least a $50 donation to the cause. Two of this year's participants, Brandon Bartness and Pat Kruger, gladly claim the founder title for this well-attended event.
Details

Hits: 2273
Domeier's 8th-graders find novel enlightening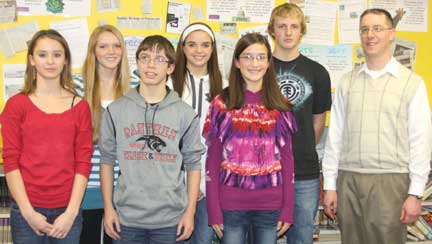 LEARNING EXPERIENCE — Among NRHEG 8th-graders who read the novel, "The Revealers," included, from left, Bayli Possin, Nicole Edon, Aaron Seath, Abby Wacholz, Torrie Stenzel, Brody Hansen and instructor Mark Domeier. (Star Eagle photo by Jessica Lutgens)
By JESSICA LUTGENS
Contributing Writer
Bullying is an issue that sometimes gets overlooked, especially in school. Sure, teachers or parents who witness bullying will step in and stop it. But what about the bullying that happens when adults aren't around, such as outside of school or on the Internet? What happens to the kids who are being bullied and feel as if they can't do anything to stop it? How does it feel to be bullied? 
More and more adults are becoming aware that bullying is a serious issue. It's more than just "kids being kids." Bullying hurts, physically and emotionally, and people are reaching out to students and teachers to teach them about bullying and, hopefully, help prevent it.
Mark Domeier's NRHEG eighth-grade class recently finished reading The Revealers, a book about bullying. Six students were interviewed about the book and bullying itself, and their answers proved to be interesting and will hopefully help gain an insight on what the issue is really like.
Details

Hits: 1378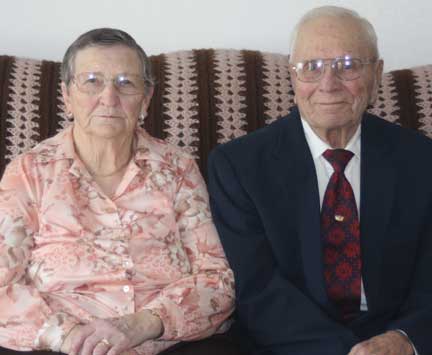 STANDING THE TEST OF TIME ­— After seven decades of give and take, Harlan and Leah Berg's love for one another is as strong as ever. (Star Eagle photo by Rachel Rietsema)
By RACHEL RIETSEMA
Staff Writer
Oblivious to the cumulus clouds forming outside, Leah Routh scurried all about the house preparing for her New Richland Dairy Days date. Of course the butterflies were a raging for this soon-to-arrive escort dressed in green. And, believe it or not, those winged creatures are still at work 76 years later.
Now wedded for a whopping 72 years, Harlan and Leah Berg look back at that rainy date and do one thing. They smile.
"When you get married, it's for always," Leah said. "Those were the only words my mother said to me when I told her about the engagement."
Tying the knot at ages 18 and 20, they had to do what married couples must. They learned to give and take.
"We started out with nothing," Leah said. "Nowadays when kids get married, they want to start out with everything, not just a little bit."
As both Leah and Harlan's upbringing took place on a farm, they knew what hard work was. And they wanted all nine of their children to carry on that legacy.
Details

Hits: 2025
George, Faye Dettman still appreciate one another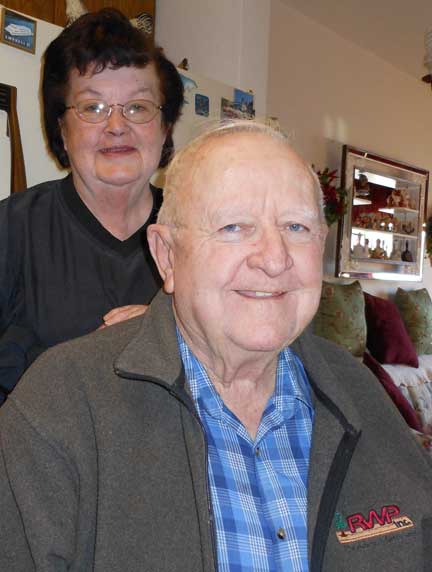 SECOND TIME WAS THE CHARM — In what was a second marriage for both, Faye and George Dettman have enjoyed 50 years of wedded bliss. (Star Eagle photo by Kathy Paulsen)
By KATHY PAULSEN
Staff Writer
They say the way to a man's heart is through his stomach.
And while that may not be the case with George and Faye Dettman, there are some indications this might figure into their chance meeting and subsequent marriage.
It was some 50 years ago that George ordered a steak, done rare, in a restaurant in Cando, North Dakota where Faye was working. When she saw the order she immediately came out of the kitchen to see who ordered their steak rare. Evidently she liked what she saw and he liked how she prepared his steak because they were later married in Havre, Montana back on September 12, 1960.
It was a second marriage for both of them. George's first wife died when she was 26 from kidney cancer. They were the parents of three boys, Robert, Randy and Ronnie. Faye had two children, Dennis and Becky. Their family of yours, mine and ours included two children together, Roger and Roberta — one big, busy family that kept Faye home and busy as a full-time mother. They took family vacations "out west" and even slipped away for a vacation "without the kids" one time by letting them visit and stay with relatives along the way.
George is a man of many interests and experiences and though he recently celebrated his 82nd birthday, he still keeps busy working at Gopher Stop North in Ellendale. It was something he started doing some years ago when he and Faye occupied the house just behind the food and fuel complex owned by Lyle Wayne.
Details

Hits: 1472
NRHEG cheer team crowned academic state champion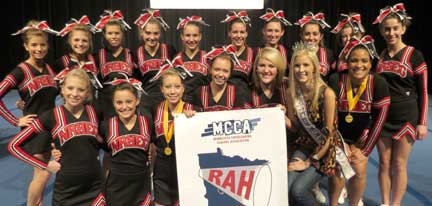 SUCCESS AT STATE — The NRHEG High School competition cheer team finished third on the floor and were crowned academic state champions in Saturday's state competition at Roy Wilkins Auditorium in St. Paul. Front from left: Brenna Hagen, Kiley Beenken, Lexi Wayne, Tiara Robran, Brina Bergland, Miss Minnesota and Michaela Hansen. Back: Jadyn Nelson- Spies,  Hannah Lewison, Tara Simon, Emmy Hobbs, Hailey Johnson, Stormi Hagen, Harlee Voukon, Dana Jensen, Maddy Schierjohann and Presley Johnson. Missing is Hannah Light. (Submitted photo)
By JIM LUTGENS
Editor/Publisher
After countless hours of practice, practice, practice, it all came down to one routine for the NRHEG High School competition cheer team.
They nailed it.
But, more importantly, they aced it where it counts most: the classroom.
Their routine was good for third place for the defending champions, who competed against much larger schools in Saturday's State Cheerleading competition at Roy Wilkins Arena in St. Paul.
But that was just the start.
The Panthers were recognized as not only the regional academic champions, but posted the highest grade point average of any cheer team in the state.
"It was better than any first-place trophy," said coach Kari Buendorf. "This is quite exciting as it shows that not only on the sidelines and on the competition floor do these girls have determination, but also in the classroom."