Details

Hits: 2239
Sixth-graders' move to NR approved; Cyr sniffs out bargain on band uniforms
SCHOOL BOARD — The current NRHEG Board of Education. Front from left: Lori Routh, Michele Moxon, Karen Flatness and Lis Kormann. Back: Mike Moen, superintendent Kevin Wellen, Rick Schultz and John Harrington. (Star Eagle photo by Chris Schlaak)
By REED WALLER
Staff Writer
At the Tuesday, January 17 meeting, the NRHEG school board approved the purchase of new band uniforms, the move of the sixth grade to New Richland, and a February 15 joint meeting date with the New Richland City Council.
Joint meetings with New Richland City Council
Last month's discussion with Jeff Reese led the board to consider arranging a meeting with the New Richland City Council to discuss the poor condition of the jointly-used Legion Field ball fields. 
After discussion with City Clerk Wayne Billing, a date of February 15 was proposed for a meeting of the full city council and the full school board, for the purpose of determining a possible agenda of items the school district and the city could collaborate on working on at future meetings.
What topics could be considered? "Not just the ball field," said Superintendent Kevin Wellen, "but anything that could be discussed or shared, anything where we have a common interest."
This might include crosswalks, parking, or traffic issues, among numerous possibilities.
Details

Hits: 1223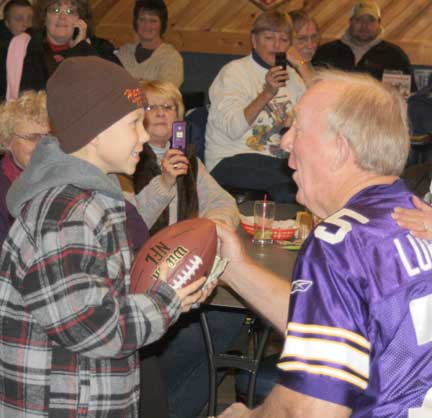 PRIZED POSSESSION — Tanner Oquist, left, got his football autographed by Bob Lurtsema Friday at the Geneva Cancer Auction. He had Jim Marshall autograph the ball last year. (Star Eagle photo by Rachel Rietsema)
By RACHEL RIETSEMA
Staff Writer
There's nothing like a little Bob Lurtsema banter to stir up the 28th Annual Geneva Cancer Auction crowd.
"I love small towns, so you people are right up my alley," said the former Minnesota Viking player of six years.
Sure enough, this special guest's ability to light up a room spread to even the smallest guests in attendance. But, he wasn't the only one there to amplify the Geneva Bar & Grill's atmosphere.
"When I heard you [Lurtsema] were coming and bringing the cheerleaders with you, I was really happy because you always seem to know what you are talking about," said event CEO Whitey Hagen. "That's what we like here."
Not a moment later, Hagen extended a word of thanks for both Jacqui and Mary's participation at this "28-year-old thing."
"It's always a pleasure to have the cheerleaders here," Hagen said. "We're proud to have them here at the cancer auction."
Mind you, this pompom toting pair and former defensive end's presence didn't come free. Frontier Communications made it all possible with a generous sponsorship.
Details

Hits: 3024
Bernard says enjoy it while it lasts, because it could change quickly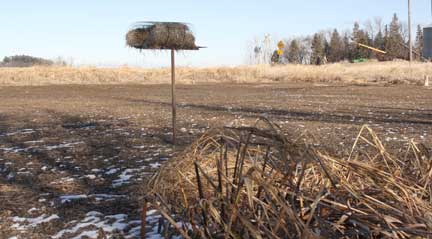 BROWN GROUND — Above, a dried-up pond just north of New Richland illustrates just how dry and unseasonably warm it's been in the area lately. The pond usually is filled with a couple feet of water, normally frozen in January. Below, a small group of ice fishermen kept close to shore on Beaver Lake Sunday. (Star Eagle photos by Jim Lutgens)
By RACHEL RIETSEMA
Staff Writer
Old man winter has been acting a tad peculiar this past December and January. Of course, there's seemingly little room for complaint, but it would still be satisfying to hear a solid explanation.
So, here to shed some wisdom on our unseasonable brown surroundings is local agronomist, Mark Bernard.
"I seem to remember that the winters of 2006-07 and 01-02 were rather warm as well," Bernard said. "But, why is there no snow on the ground? Well, there is no one reason. There are many factors to consider when this happens."
According to Bernard, the matter at which these "open winters" occur is never predictable, due to frequency and magnitude of occurrence.
"The La Niña event in the Pacific, a cooling of the surface sea temperatures, is usually associated with above normal winter precipitation and colder than normal temperatures for us," Bernard said. "That is why most forecasters were convinced we were in for a wetter and colder than normal winter. The same conditions existed last year, so it seemed like a slam dunk."
Details

Hits: 2718
NOW UP FOR BIDS — Above, Jesse Quam hoists one of the many items auctioned off during the 28th Annual Geneva Cancer Auction that wrapped up Saturday at Geneva Bar and Grill. (Star Eagle photo by Kathy Paulsen)
By KATHY PAULSEN
Staff Writer
He called it the "people's auction" as Whitey Hagen opened the Geneva Cancer Auction Friday, Jan. 13.
"It's the people in our area that know how to raise money for cancer research," said Hagen. "It's the people who continue to donate and contribute to this great cause that keep these events going and money coming in to help fund a cure for cancer."
The 28th annual two-weekend event wrapped up Saturday at Geneva Bar & Grill.
Friday started with a jar of Vi Blazek's prize pickles, now made by her daughter, Sue Hill. Vi was instrumental in the early auction days with jars of her famous pickles, homegrown from her own patch and made with loving care. Sadly, Vi succumbed to cancer, but her legacy carries on through the loving efforts of her daughter, Sue, and this year her great granddaughter, Jade, contributed to the auction with her very first pickle donation, and it raised $60. Many years ago Vi had a jar of her pickles sell for $1,800.
Troy Hagen was the winning bidder of a jar of Sue Hill's pickles, the first item up for bid Friday night. The cancer auction is noted for that: tradition; families and friends continuing to ever enlarge the efforts to fight this dreaded disease.
Details

Hits: 4105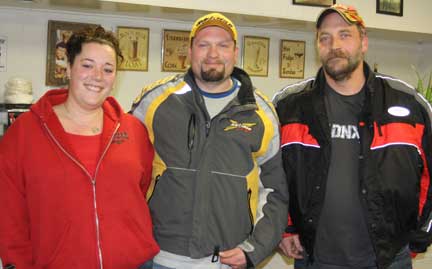 OFFICERS — The inaugural meeting of the Powder Hounds Snowmobile Club was held Sunday, Jan. 8 at Blondie's in New Richland. Officers are, from left, Jessie Shaffer, Secretary/Treasurer; Brian Hoffman, Vice President; and Joe Ranniger, President. (Star Eagle photo by Jessica Lutgens)
By JESSICA LUTGENS
Contributing Writer
Eventually, it will snow.
At least that's what New Richland's new snowmobile club is hoping.
The Powder Hounds held their inaugural meeting on Sunday, January 8th at Blondie's Grill, during which they discussed what the group plans to do, and who they'd like to see be a part of the club.
They're looking for new, younger members who will be able to bring new ideas and be the future of the club. They are hoping it will be something for everyone to be able to take part of and enjoy as a group.