Details

Hits: 1266
NRHEG clinches share, then gets help from WEM for outright title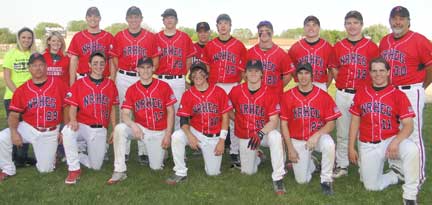 The NRHEG High School baseball team has captured the 2012 Gopher Conference championship. Front from left: coach Jon Meyer, Nic Mangskau, David Lassahn, Lucas Meyer, Sam Jewett, Brad Claycomb and Sam Lundberg. Row two: statistician Marissa Claycomb, statistician Natalie Donovan, Eric Sorenson, Carter Tollefson, Tyler Sorenson, coach Al Shultz, Casey Rosacker, Mitch Akemann, Jake Staloch, Matt Dahle and head coach Jeff Reese. (Submitted photo)
By JIM LUTGENS
Editor/Publisher
The NRHEG baseball players did what they needed.
Then they got a little unexpected help.
The Panthers defeated Blooming Prairie 7-3 last week to secure a share of the Gopher Conference title. Two days later, WEM knocked off then conference co-leader Mankato Loyola to give NRHEG the outright crown. It's the Panthers' 12th conference championship in coach Jeff Reese's 34 seasons at the helm and their first since 2006. It's also a big turnaround from last spring, when NRHEG was seventh in the conference at 3-8 and 7-13 overall.
Details

Hits: 1098
Annual award winners
THE NRHEG High School Department of Music presented the 2012 Pops Concert Monday, May 7. Above from left are band award winners Amanda Groskreutz and Betsy Johannsen, Phillip Sousa Award; Director Tim Siewert; and Jill Theuer, Louie Armstrong Award. Below from left are choral award winners Hailey Johnson, National Choir Award; director Jennifer Fredrickson; and Stormy Mulder, Senior Award. (Star Eagle photos by Chris Schlaak)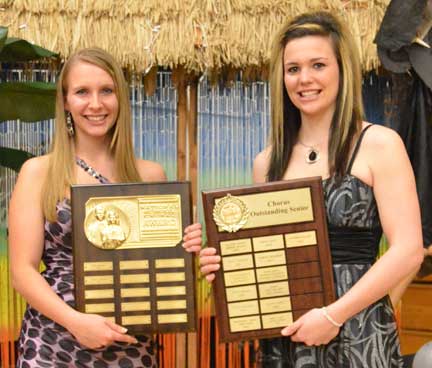 Details

Hits: 1065
NRHEG Prom 2012
NRHEG High School prom goers went through an informal "grand march" in the theme of the evening, "Moonlight on the Pier," following the traditional grand march Saturday, May 5. Above from left: Michaela Hansen, Paige Bolduan, Jenika Jongbloedt, Dana Jensen, Brenna Hagen, Brina Bergland and Jadyn Nelson-Spies. Below from left: Colton Ryg, Pete Blowers, Jared Reyant, Casey Rosacker and Ashton Hareid. Anne and Rick Feist chaired the prom committee. Michaela Hansen and McKenna Thiele served as emcees and sophomore waiters/waitresses were Jade Schultz, Carlie Wagner, Caitlin Hinz, Jarek Schendel, Alec Holland and Noah Krell. See Pages 2, 15 and 16 of this week's Star Eagle for more color photos. (Star Eagle photos by Jim Lutgens)
Details

Hits: 1593
Crafty ladies come from near and far to roll up their sleeves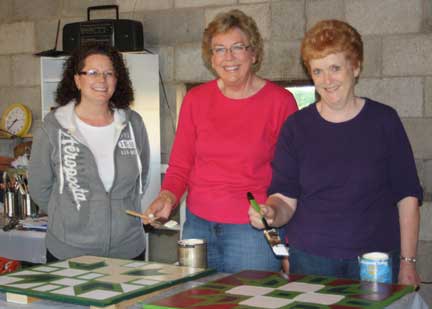 FINAL BRUSH STROKES — Chris Donovan, Paula Hansen and Sue Cory all dipped paintbrushes on May 9, so as to complete their very first barn quilt at Holmes' farm. (Star Eagle photo by Rachel Rietsema)
By RACHEL RIETSEMA
Staff Writer
Word on the street folks, is that barn quilting has become quite the dandy around the Ellendale area lately.
Hard evidence of such wooden creations numbers 10 to be exact, simply due to a joint effort of NRHEG and USC Community Education Director Marilyn Dobberstein and Special Education Paraprofessional Renee Holmes leading their Second Annual Barn Quilting Community Education class.
"Some people think I have hung fabric quilts on my barns," said Holmes. "But, they are actually pieces of wood painted to look like quilts."
This year's students created things a little differently. Instead of a red, white and blue theme, they designed and painted a two-by-two dimensioned board with free reign in colors. It's a task Holmes says is much more difficult than meets the already artistic eye.
Details

Hits: 1404
Rudau, Frank attain Eagle Scout status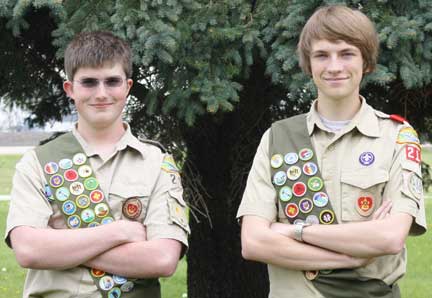 ONE BADGE AT A TIME — Eagle Scouts Douglas Rudau and Hans Frank proudly adorn their troop uniforms and scarves outside the Clarks Grove First Baptist Church. (Star Eagle photo by Rachel Rietsema)
By RACHEL RIETSEMA
Staff Writer
Douglas Rudau and Hans Frank's ability to take charge around campfires is unparalleled. Even their compasses seem to have become extensions of themselves.
After all, these two fine chaps have officially graduated to Eagle Scout status.
"A lot of our Boy Scout skills came from learning by example," said Rudau. "Both of us hope to provide a good example for the younger scouts and encourage them to keep advancing."
Both Rudau and Frank can't take all the credit for the prestigious honor. Only with the help of their scout leaders and fellow members did they achieve such a goal.
"This is taking scouts as far as it goes," Frank said. "It makes me feel like I accomplished something."