Details

Hits: 4552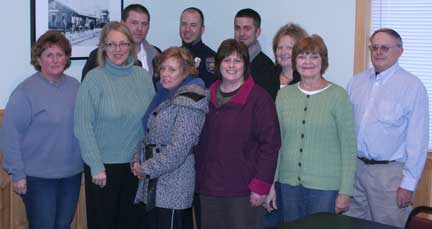 BY THE GRACE OF GOD — New Richland Area Foundation Fund representatives and grant recipients gathered at The Willows restaurant in New Richland for a recent grant presentation ceremony. Pictured front from left: Gail Schmidt, Cindy Coy, Toni Larson, Kathy Flor, Pam Goehring and Kermit Schoenrock. Back: Jeremy Parpart, Scott Eads, Cody Dobberstein and Jennie Johnson. (Star Eagle photo by Jody Wynnemer)
By JODY WYNNEMER
Staff Writer
Giving back to the community.
This is exactly what the New Richland Area Foundation Fund expects to accomplish, and they are exceeding expectations. 
Thanks to an anonymous donor or donors, the grant committee handed out $5,100 on Thursday, December 29 at The Willows restaurant in New Richland. The money came from the By The Grace Of God Fund, which is part of the NRAFF.
"This $5,100 brought the total to $14,600 granted by the NRAF and the BTGOG Fund to various projects in the New Richland area in 2011," said Gail Schmidt, NRAF representative. "Added to this amount is another $9,400 from the Waseca Area Foundation and the EF Johnson Foundation Funds. That's a total of $24,000 given back to our schools and community in 2011."
Area organizations who recently benefited from the benevolence were the New Richland Care Center ($700); Waseca Area Neighborhood Service Center ($700); NR Legion Field Improvements ($700); NR Ambulance Dept. ($1,000); NR Fire Dept. (1,000); and NR Police Dept. ($1,000.) Representatives from the organizations were on hand to receive their various grants.
Schmidt wanted to again thank the anonymous donor who gave the gift of grain this past fall.
Details

Hits: 3801
The web is interactive! You don't have to just read these stories, you can talk back!
To add your comment to one of our online stories, all you have to do is click the link at the bottom of the story that says "Add new comment" or "Add comment" and contribute! If you're a registered member, your comment will show up right away!
To view the comments just click where it says "Comments," and reply if you want!
It's easy! But be careful, someone might answer you!